The End of the Oregon Standoff
All four holdouts at the Malheur National Wildlife Refuge have surrendered.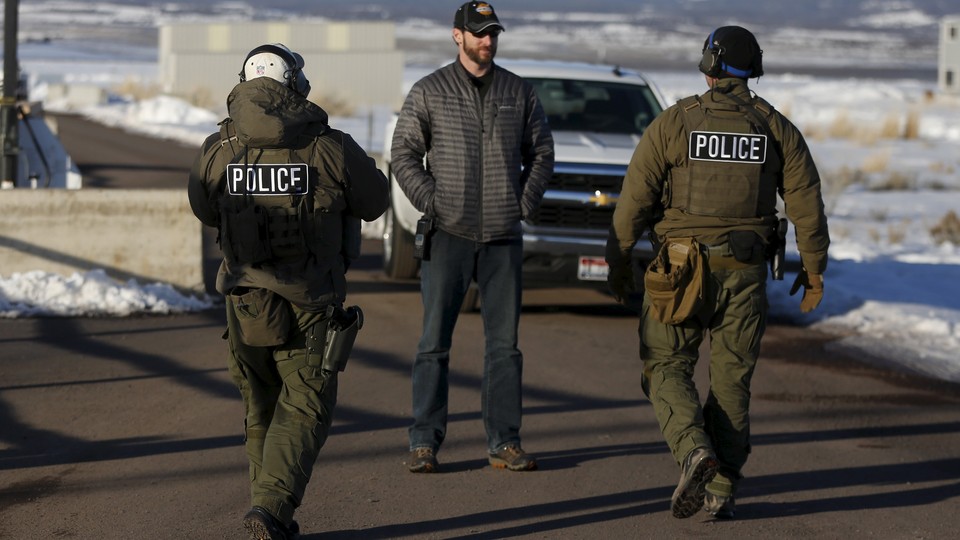 Updated on February 11 at 6:04 p.m. ET
The armed militia takeover of Malheur National Wildlife Refuge is over: The final holdout at the Malheur National Wildlife Refuge turned himself in to the FBI after earlier saying he will "die a free man."
David Fry walked out of the refuge and into custody, ending the standoff 41 days after it began. He gave himself up after calling on people to say Hallelujah.
"I heard hallelujahs from the SWAT team. I heard hallelujahs in unison from an entire building that was watching that, hoping to God they could get everybody out alive," Dave Ward, the sheriff of Harney County, said later.
Fry was the lone holdout for part of Thursday after his three companions surrendered to the FBI earlier. Speaking via telephone to his supporters, in a conversation that was broadcast online, Fry appeared to be disturbed over a variety of issues, including the federal government, UFOs, and marijuana. And, he said, he
will not leave
.
"I declare war against federal government," he said. "There's no way to beat this anymore. Liberty or death."
His three comrades,  Jeff Banta, 46, of Elko, Nevada; Sean Anderson, 47, and his wife, Sandy, 48, of Riggins, Idaho; were all taken into custody by the FBI earlier Thursday.
The three of them—and, later, Fry—were met by the Reverend Franklin Graham, the Christian evangelist, and Michele Fiore, the Nevada Assemblywoman, as they left their encampment at the refuge.
"As we have said since day one, our goal has been to end this illegal occupation peacefully, and we are grateful that we were able to do so today," Greg Bretzing, the FBI special agent in charge, said.
He added that though the occupation is over, work still needs to be done before Malheur can be reopened to the public. The agents, he said, will man checkpoints at the edge of the refuge to maintain security, inspect and secure buildings to ensure no one else is hiding, and look for any weapons or explosives on the scene.
The entire process is expected to take a few weeks, he said.
The fast-moving developments on Thursday developments came just hours after authorities arrested Cliven Bundy, the father of Ammon Bundy, one of the leaders of the protest on Wednesday night; and after
FBI agents in armored vehicles rushed
the building where the last four occupiers remained.
On Wednesday, the FBI said one of the militia members
rode an ATV outside of the barricaded refuge
, approached an officer, then quickly sped off. The FBI then moved on the building. The bureau said there were no shots fired during the siege, and, after a few hours, a militia member said the group would turn themselves over Thursday morning, but only to a  religious figure and a member of the Nevada state legislature. Fiore and Graham offered to intervene, and Bretzing, the FBI special agent in charge, said he "c
an't say enough about specifically about" his role in the resolution.
Cliven Bundy had said he planned to go to the refuge, but it's not clear what his intentions were when he said he'd fly from Las Vegas to Portland International Airport. There, the 74-year-old was arrested by authorities.
Cliven Bundy became famous after that standoff. He had illegally let his cattle graze on Bureau of Land Management property and run up $1 million in fees. When agents came to round up Cliven Bundy's cows they were met by a militia of armed men. The siege eventually ended, the agents withdrew, and Cliven Bundy has not yet paid the fine.
They "had learned some lessons from their father's turbulent fight in Nevada. Despite being in clear and flagrant violation of the law during that Nevada standoff, Cliven Bundy had initially gained support from many national conservatives," Graham wrote. "But once he started offering racist soundbites, they abandoned him. Ammon Bundy was careful not do the same, with message for the most part carefully controlled."
It's hard not to wonder how much Cliven Bundy's triumph in Nevada encouraged his sons and their supporters, creating an expectation that the federal government would easily roll over when challenged by a group of outlaws with guns.
But both Ammon and Ryan Bundy were arrested last month along with other members of their group. During that incident, one member of their protest, LaVoy Finicum, was shot and killed by police. Four holdouts remained in Malheur on Thursday, the 41
st
day of the standoff, and Ammon Bundy had previously urged them to surrender. His father, however, told the remaining militia members
to holdfast
. They did—until Thursday.
"I don't think there's anything that's been done that can't be worked through," Ward, the sheriff of Harney County, said later. "If we can't work through the differences we've found in our little community right here, how can we expect the rest of the nation to work through the division that we face?"