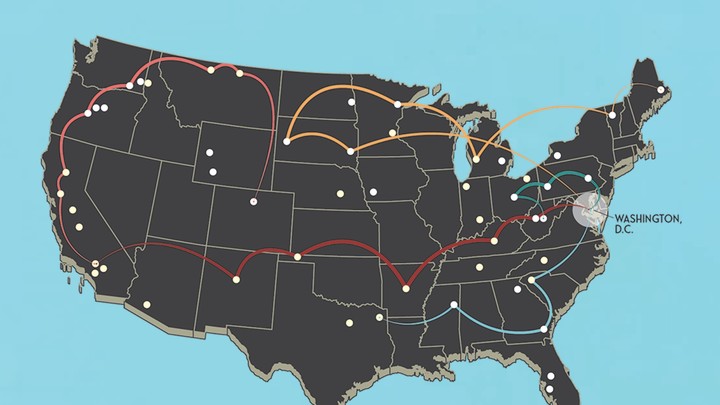 In my article in the current issue, I say this about the places that my wife Deb and I have been visiting to learn about local responses to economic strain and failed national-level politics:
In early 2013, I placed a short item on The Atlantic's web site asking for advice from readers about cities of a certain type. We wanted to hear about cities whose recent dramas might reveal something about the economic and cultural resilience of the United States. I asked about cities that had suffered some kind of economic, political, environmental, or other hardship during the financial crash or earlier, and whose response was instructive in either good or bad ways….

In the end we got more than 1,000 responses—nearly 700 within a few days!—including several hundred making an extended case for the significance of what had happened in the writer's town. Suggestions have kept coming in. The knowledge that I cannot possibly ever see most of the places I've now read about makes me surprisingly sad.
I'm not usually a sad guy — though of course the recent news about a link between Neanderthal heritage and depression has been a downer. (Just a little joke!) But to convey the kind of scale I'm talking about, and why it can be daunting to think of how small a share of these places anyone could ever see, I'll show a list of places about which Deb and I have received essays arguing the importance of each story-of-my-town.
A major theme of my article, and of this ongoing project, is that Americans tend to think of any part of the country they don't personally know as mainly being the object of the worst economic, political, environmental, and cultural trends of the day. People generally think of themselves, their families, their companies, their communities as doing their respective best to shape and improve their prospects. It's easy to forget, or fail to imagine, that many other people are doing the same.
For instance, about a popular performing-arts festival called The Rogue that Deb and I saw in Fresno:
Last February, on the opening evening of the 2015 Rogue, the capacity crowd filing into the restored Tower Theater passed belly dancers, men on stilts, fire-breathers, mimes, and acrobats; inside they saw strictly timed two-minute performances by more than two dozen dramatic, musical, and stand-up-comedy artists who would be part of the festival. Nothing about it said small-town talent show. Instead it said, "There is more going on, in more places, than you imagined."
"There is more going on..." is the running theme of the essays we've received, selections of which our colleagues John Tierney and Svati Narula collected and quoted back in 2013. (The first selection is here and will give you the idea.)
***
Here's the list. It's grouped by state but otherwise deliberately left in non-copy-edited mode, with varying capitalization and versions of a state's name. When the same city appears several times in a row, each mention is a separate essay that came in.
Fairbanks, AK
Juneau, Alaska
Kokhanok, Alaska
Sitka, AK

Atmore, Al
Auburn, AL
Birmingham, AL
Centreville, AL
Demopolis, AL
Guntersville, AL
Mobile, AL
Mobile, Alabama
Moontown, AL
Selma, AL

Blytheville, AR
De Queen, Arkansas
El Dorado, Arkansas
Fayetteville, AR
Fayetteville, AR
Fayetteville, AR
Fayetteville, Arkansas
Fort Smith, AR
Hughes, AR

Ajo, Arizona
Bisbee, Arizona
Bisbee, AZ
Flagstaff, Arizona
Morenci, AZ
Nogales, Arizona
Prescott, AZ
San Luis, Arizona
Williams, Arizona

Arcata, CA
Arcata, CA
Avalon, CA
Barstow, CA
Blythe Ca
Bodie, CA
Brisbane, CA
Camarillo, CA
Carmel Valley, CA
Claremont, CA
Coalinga, California
Crescent City, CA
Davis, California
Del Mar, CA
Eureka Calif.
Eureka, California
Ferndale, California
Fresno, CA
Happy Camp, CA
Hemet, CA
humboldt county, california
Idyllwild, CA
Julian, CA
La Verne, CA
Locke, CA
Lompoc, CA
LOMPOC, CA
Merced, CA
Napa, CA
Ojai, CA
Paso Robles, CA
Porterville, CA
Porterville, CA
Pt. Reyes Station
Redlands, ca
Redlands, CA
Redlands, CA
Redwood City, CA
Salinas, CA
San Bernardino, CA
San Luis Obispo, CA
Santa Cruz, CA
Santa Cruz, CA
Scotia, California
Stockton, CA
Sunnyvale, CA
Truckee, CA
Watsonville, CA
Watts, California
Weaverville, California
Willits, CA

Boulder, CO
Boulder, CO
Crested Butte, CO
Durango, CO
Durango, CO
Fort Collins, CO
Fort Collins, CO
Fort Collins, CO
Fort Collins, CO
Fort Collins, CO
Fruita, CO
Glenwood Springs, CO
Joes, CO
La Veta,Co
Leadville, CO
Leadville, Colorado
Montrose, CO
Paonia,CO
Ridgway, CO
Salida, Colorado
Silverton, CO
Telluride, CO
Trinidad, co
Trinidad, CO
Trinidad, CO
Trinidad, Colorado
Trinidad, Colorado
Trinidad, Colorado
Trinidad, Colorado
Trinidad, Colorado
Westcliffe, CO

Hartford, Connecticut
Simsbury, CT
Storrs, CT
Willimantic, CT
Woodbridge, CT

Lewes DE
Lewes, DE
Middletown, Delaware
Newark, DE

Bartow, FL
Crystal River, FL
High Springs, Florida
Lakeland FL
Lakeland, FL
Panama City Beach, FL
Pompano Beach, FL
Saint Augustine, FL
Tallahassee, FL
Tampa, Florida
Titusville, FL

Athens, Ga
Athens, GA
Avondale Estates, Georgia
Covington, GA
Dahlonega, GA
Decatur, GA
Donalsonville, GA
Kennesaw, GA
Macon, Ga
Peachtree City, GA
Rome, Georgia
Suwanee, GA
Thomasville, Georgia

Ames, IA
Ames, Iowa
Cornucopia, IA
Dubuque, IA
Eldon, Iowa
elkader, iowa
Indianola, IA
Indianola, IA
Iowa City, IA
Iowa City, IA
Iowa City, Iowa
Keokuk, IA
Marshalltown, Iowa
Postville, IA
Quad Cities, IA/IL
Sioux City, IA
Sioux City,Iowa
Spencer, Iowa
Spirit Lake, Iowa
Webster City, Iowa
West Liberty, Iowa

Boise, ID
Boise, Idaho
Coeur d'Alene, ID
Moscow, ID
sandpoint idaho
Sandpoint, Idaho
Wallace, Idaho

Argenta, Illinois,
Cairo IL
Cairo, IL
Cairo, Illinois
Carlinville, Illinois
Champaign/Urbana, IL
Chicago, Illinois
Eureka, IL
Freeport, Illinois
Galena, Illinois
Galesburg, IL
Kankakee, Illinois
Park Forest, Il
Quincy, IL
South Side Chicago, IL

Bloomington, IN
Bloomington, Indiana
Columbus, In
Columbus, Indiana
Columbus, IN
Connersville,Indiana
Crane, Indiana
Fort Wayne, IN
Fort Wayne, IN
Gary, Indiana
Goshen, IN
Huntington, Indiana
Indianapolis, IN
Lebanon, Indiana
Muncie, Indiana
Richmond, Indiana
South Bend, IN
South Bend, Indiana
South Bend, Indiana
Valparaiso, Indiana

Ashland, Kansas
Beloit, Kansas 67420
Caldwell, Kansas
Concordia, KS
Garden City, KS
Greensburg KS
Lawrence, Kansas
Lucas, Kansas
Lucas, KS
Marysville, KS
Meade's Ranch, near Lucas, KS
Olathe, Ks
Sabetha , ks
Scott City, KS
Wichita, KS

Berea, KY
Booneville, KY
Carrollton, KY
Greensburg, KY
Hazard, Ky.
Lexington, Kentucky
Lexington, KY
Lexington, KY
Liam with suggestions KY
Morganfield, Kentucky
Morganfield, KY
Murray, Kentucky
Murray, KY
Owensboro, KY

Covington, Louisiana
LaPlace, LA
New Orleans
New Orleans, LA
Shreveport, LA

Amherst, MA
Concord, MA
Concord, MA
Fall River, MA
Gloucester, ma.
Great Barrington, MA
Lawrence, MA
Lawrence, MA
Lowell, MA
Milton, MA
New Bedford, MA
New Bedford, MA
New Bedford, Mass
North Adams, MA
North Adams, Massachusetts
Northampton, MA
Northampton, MA
Pittsfield, MA
Plymouth, Massachusetts
Provincetown, MA
Springfield, Mass.
Taunton, MA
Woods Hole (Falmouth, MA)

Annapolis, MD
Baltimore, MD
Cambridge, MD
Chestertown, Maryland
Chestertown, MD
North East, MD

Bangor  ME
Belfast ME
Belfast, Maine
Belfast, ME
Castine, ME
Lewiston, Maine
Rockland, Maine
Rockland, Maine
wiscasset, maine

Ann Arbor, MI
Ann Arbor, Michigan
Battle Creek, MI
Cadillac, Michigan
Detroit
Detroit Aviation High School, MI
Detroit, Michigan
Grand Rapids, MI
Grand Rapids, MI
Grand Rapids, Michigan
Hillsdale, MI
Hillsdale, MI
Holland,  Michigan
Holland, MI
Holland, Michigan
Houghton, MI
Houghton, Michigan
Kalamazoo, MI
Kalamazoo, MI
Kalamazoo, MI
Lansing, MI
Leland, MI
Leslie, MI
Leslie, Michigan
Leslie, Michigan
Leslie, Michigan
Manistee, Michigan
Manistee, Michigan
Marquette, MI
Marquette, MI
Marquette, Michigan
Marquette, Michigan
Northport, Michigan
Oxford, Michigan
traverse city, Mi
Traverse City, MI
Traverse City, MI
Traverse City, Michigan
Traverse City,MI

Austin, Minnesota
Austin, MN
Bemidji, MN
Dawson, MN
Duluth, MN
Duluth, MN
Duluth, MN
Duluth, MN
Duluth, MN
Duluth, MN
Faribault, MN
International Falls, MN
International Falls, MN
Lanesboro, Minnesota
Minneapolis, MN
Morris, MN
Palo MN
Perham, MN
Red Wing Minnesota
Redwood Falls, MN
Rochester, MN
Saint Peter MN
Thief river fall, Minnesota
Winona, MN
Winona, MN
Winona, MN
Worthington, MN

Branson, MO
Cape Girardeau, MO
Columbia, Missouri
Columbia, MO
Independence, MO
Kansas City, MO
Kirksville, MO
Maysville, Mo
St. Elizabeth, MO
St. Louis, MO

Bay St. Louis/Waveland, MS.
Belzoni, MS
Columbus,  MS
Hattiesburg, MS
Holly Springs, Mississippi
jackson, ms
Meridian Ms
Mississippi Delta, MS
Ocean Springs, MS
Oxford, MS
Richton, MS
Tupelo, Mississippi
Tupelo, MS

American Prairie Reserve, mT
Bozeman, Montana
bozeman, mt
Bozeman, MT
Bozeman, MT
Butte, Montana
Butte, Montana
Butte, MT
Butte, MT
Hardin or Billings, Montana
Helena, Montana
Lewistown, MT
Miles City, Montana
Missoula, MT
Montana
Philipsburg, Montana
Sydney, Montana
Thompson Falls, Montana
Thompson Falls, Montana
Twin Bridges, MT
Wolfpoint, MT

Asheville, NC
Asheville, NC
Asheville, NC
Asheville, NC
Asheville, North Carolina
Boone, NC
Boone, NC
carrboro, nc
Chapel Hill, NC
Durham, NC
Edenton, NC
Fayetteville, NC
Fayetteville, NC
Forest City, NC
Garland, NC
Gerton, NC
Greensboro, NC
Greensboro, NC
Greensboro, NC
Henderson, NC
Hillsbourgh, North Carolina
Huntersville, NC
Lenoir, NC
Mayodan, NC
Ocracoke, NC
Southern Pines, NC
Spruce Pine, NC
Sugar Valley, NC
Utopia, NC
Wilmington, NC

Bismarck, North Dakota
Makoti, ND
Minot, ND
Mott, ND
Secret, ND
Valley City, North Dakota
Watford City, ND
Williston, North Dakota

Alliance, Nebraska
Fremont, Nebraska
Gothenberg NE
Grand Island, NE
Hebron, Nebraska
Imperial, NE
Lincoln, NE
Lincoln, Nebraska
O'Neil, Nebraska
Omaha, Nebraska
Schuyler, Nebraska
Scottsbluff, NB

Berlin, NH
Bethlehem, NH
Portsmouth, NH
Sanborton, New Hampshire

Asbury Park, NJ
Chatham, NJ
Glen Rock, NJ
Hopewell, NJ
Lakewood, NJ
Lambertville, NJ
Ortley Beach, NJ
Pompton Lakes, NJ
Tuckerton, NJ
Tuckerton, NJ

Acoma, New Mexico
Albuquerque,NM
Dulce, New Mexico
Hatch, NM
La Mesa, NM
Las Cruces, NM
Las Cruces, NM
Las Cruces, NM
Los Alamos, NM
Magdalena, NM
Silver City, NM
Silver City, NM
Taos, NM
Taos, NM
Tucumcari, NM

Boulder City, NV
Elko, Nevada
Elko, Nevada
Ely, Nevada
Ely, Nevada
Ely, Nevada
Reno, nevada
Reno, Nevada
Reno, NV

Lake Placid NY
Binghamton, New York
Binghamton, NY
Buffalo, N.Y.
Buffalo, New York
Buffalo, NY
Buffalo, NY
Buffalo, NY
Buffalo, NY
Buffalo, NY
Buffalo,New York
Chenango County, NY
Clayton, NY
Cooperstown, NY
Elmira, NY
Fairport, New York
Fleischman, NY
Gloversville, NY
Ithaca, ny
Ithaca, ny
Ithaca, NY
Ithaca, NY
Ithaca, NY
Keene, NY
Massena, NY
Oswego, NY
Parishville, NY
Peekskill, NY
Plattsburgh, New York
Plattsburgh, NY
Poughkeepsie, NY
Rhinebeck, New York
rochester, new york
Rochester, New York
Rochester, NY
Rochester, NY
Rochester, NY
Schenectady, NY
Seneca Falls, NY
Syracuse, New York
Syracuse, NY
Tupper Lake, NY
Utica, New York
Utica, New York
Utica, NY
Wassaic, NY

Ashtabula, OH
Athens and Albany, OH
Athens, Ohio
Athens, Ohio
Athens, Ohio
Celina, Ohio
Cleveland/Akron, OH
Columbus, OH
Coshocton, OH
Cuyahoga County, Ohio
Dayton, OH
Findlay OH
Gambier, OH
Grandview Hts., OH
Granville, Ohio
Hillsboro,Ohio
Hudson, Ohio
KETTERING, OH
Mansfield, ohio
Morrow, OH
Newark, Ohio
Perrysburg, Ohio
Toledo, OH
Toledo, OH
Toledo, OH
Toledo, Ohio
Warren, OH
Wooster, Ohio
Yellow Springs, OH
Yellow Springs, Ohio
Youngstown, OH

Bartlesville, OK
Bartlesville, OK
Clinton, Oklahoma
El Reno, Oklahoma
enid, ok
Guthrie, OK
Guthrie, OK
Midwest City, Ok
Tulsa, ok
Tulsa, OK

Ashland, Oregon
Astoria, OR
Astoria, Oregon
Bandon, Oregon
Bend, OR
Bend, OR
Bend, OR
Bend, Oregon
Eugene, OR
Grants Pass, OR
Grants Pass, OR
Medford, Oregon
Ontario, Oregon
Oregon Coast
Port Orford, Oregon
Portland, Oregon
Portland, Oregon
Reedsport, Oregon

Allentown PA
Ambler, PA
Bethlehem, PA
Bethlehem, PA
Carlisle, PA
Chester, PA
Conshohocken, PA
Downingtown, PA
Downingtown, PA
Franklin, Pennsylvania
Harrisburg, PA
Harrisburg, PA
Hershey, PA
Honesdale, PA
Jim Thorpe, PA
Jim Thorpe, PA
Lancaster, PA
Lock Haven, PA
Meadville, PA
Mifflinberg, PA
Milford, PA
New Castle, PA
Pittsburgh, PA
Pittsburgh, PA
Pottsville, PA
Pottsville, Pa.
Washington County, Pa.
Williamsport, PA
Williamsport, PA
Williamsport, PA
York, PA

Greenville, SC
Greenville, SC
Greer, SC
Spartanburg, SC

Aberdeen, SD
Brookings, SD
Brookings, South Dakota
De Smet,  SD
Gary, SD
Mitchell, SD
Mobridge, SD
Rapid City, SD
Rapid City, South Dakota
Sioux Falls, SD
Sioux Falls, SD
Sioux Falls, South Dakota
Wounded Knee, SD

Centerville TN
Chattanooga, TN
Knoxville, TN
Nashville, Tn
Nashville, TN
Nashville, TN
Union City, TN

Amarillo, Texas
Austin, TX
Austin, TX
Conroe, TX
El Paso, TX
Fracking, TX
Galveston, Texas
houston. TX
Jacksonville, Texas
Marfa TX
Marfa, TX
McAllen, Texas
McAllen, TX
McAllen, TX
Presidio, Texas
Rockport, Texas
San Antonio, Texas
San Elizario, TX
Shiner, TX
Shiner, TX
Tunis, Texas
West, TX
West,TX

Boulder, UT
Cedar City, Utah
Green River, Utah
Hanksville, UT
Hurricane, Utah
Moab, Utah
Ogden, UT
Vernal, Utah
Vernal, Utah

Abingdon, Virginia
Blacksburg, va
Blacksburg, VA
Blacksburg, VA
Charlottesville va
Charlottesville, VA
Charlottesville, Virginia
Fairfax, Virginia
Farmville, VA
Harrisonburg, VA
Harrisonburg, Virginia
Hopewell, VA
Logan, West Virginia
Middleburg, VA
Newport News, Virginia
Northern neck Virginia
Richmond, Virginia
Richmond, Virginia
Roanoke, VA
Stafford County, Virginia
Staunton, Virginia
Wytheville, Va

Burlington, Vermont
Burlington, VT
Essex Junction, VT
Essex, Vermont
Middlebury, Vermont
Montpelier, VT
Vergennes, Vermont
White River Jct, VT
White River Junction, VT

Anacortes, WA
Anacortes, WA
Bainbridge Island, WA
Bellingham, WA
Bellingham, Wash
Bellingham, Washington
Concrete, WA
Ellensburg, WA
Everett, WA
Friday Harbor, WA
Kennewick, Washington
Lopez Island, WA
Monroe, WA
Olympia, WA
Olympia, WA
Point Roberts, WA
Port Townsend, WA
Pullman, WA
San Juan County, WA
Sedro-Woolley, WA
Skagit Valley, WA
Spokane, WA
Twisp, Washington
Walla Walla, WA
Walla Walla, WA

Appleton, WI
Appleton, WI
Appleton, WI
Appleton, WI
Bayfield, WI
Eau Claire, WI
Eau Claire, Wisconsin
Ephraim, WI
Ephraim, WI
Green Lake
Kaukauna, Wisconsin
La crosse, wi
La Crosse, Wisconsin
Ladysmith, Wisconsin
Madison, WI
Madison, WI
Milwaukee
Pepin, Wisconsin
racine Wisconsin
Richland Center, WI
Shebioygan County, WI
Shiocton, Wisconsin
Stockholm, WI
Sturgeon Bay , WI
Sturgeon Bay, WI
Superior, WI
Viroqua, WI
Watertown, WI
Waunakee, WI

Beckley, West Virginia
Charleston, WV
Charleston, West Virginia

Kemmerer, WY
Lander, Wyoming
Laramie, WY
Laramie, WY or Ft Collins CO
Lusk, WY
Thermopolis, Wyoming
***
This spring we are heading out for a new round of visits and reporting, an election-year counterpoint to the main campaign reporting we'll all be reading. We'll work our way down a little part of this list and wish we could do more.
We want to hear what you think about this article. Submit a letter to the editor or write to letters@theatlantic.com.
James Fallows
is a staff writer at
The Atlantic
and has written for the magazine since the late 1970s. He has reported extensively from outside the United States and once worked as President Jimmy Carter's chief speechwriter. He and his wife,
Deborah Fallows
, are the authors of the 2018 book
Our Towns: A 100,000-Mile Journey Into the Heart of America
, which was a national best seller and is the basis of a forthcoming HBO documentary.