America by Air: San Bernardino National Forest
Editor's Note:
This article previously appeared in a different format as part of The Atlantic's Notes section, retired in 2021.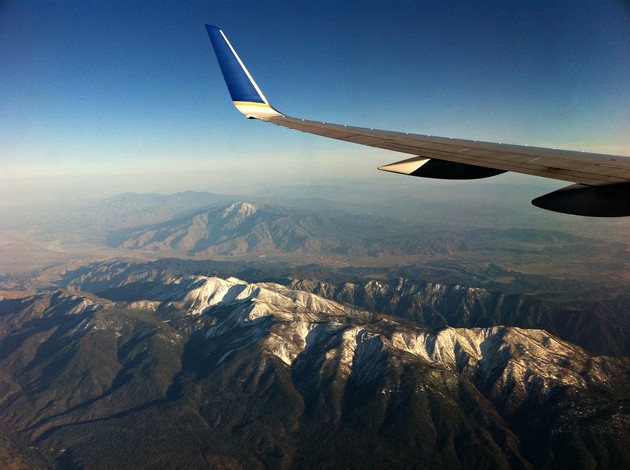 For our new photo series, reader Marco Pallotti happened to send a view captured on my 29th birthday—May 3, 2011—on a flight from Newark to Los Angeles:
In the foreground is snow-capped San Gorgonio Mountain, in the San Bernardino National Forest, with Mt. San Jacinto in the distance. In the valley between the two peaks is the town of Cabazon, and on the far left is the western edge of the Coachella Valley.
Fun facts about that forest: It was the filming location for Daniel Boone (1936) and Paint Your Wagon (1969). That area of Southern California also features prominently in Jim's new cover story, specifically the nearby cities of San Bernardino and Redlands, his hometown:
When I was growing up [in Redlands], in the Baby Boom era, its economy rested on the orange-growing business, the neighboring Norton Air Force Base, and a medical community serving the nearby desert area. Now the orange groves are nearly gone, the Air Force base is closed, and the desert communities have their own doctors—but the city has been transformed by the presence of a tech firm that by all rights should be in some bigger, fancier place. This company, Esri, is a world leader in geographic information systems, or GIS. These are essentially the industrial-strength counterparts to Google Earth, which governments and companies around the world use for everything from tracking pothole repairs to monitoring climate change.