America by Air: Denver Against the Foothills
Editor's Note:
This article previously appeared in a different format as part of The Atlantic's Notes section, retired in 2021.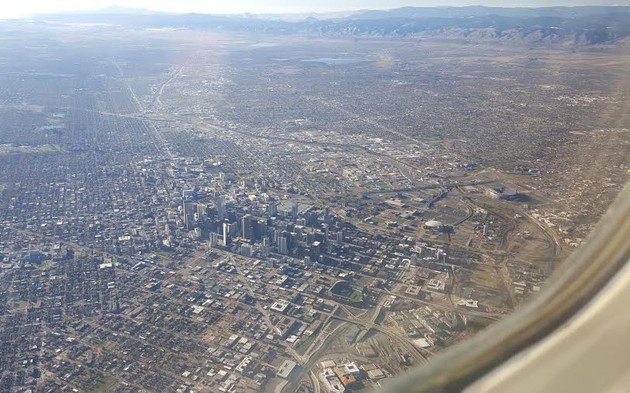 It was a city built on gold:
The Denver area, part of the Territory of Kansas, was sparsely settled until the late 1850s. In July 1858, Green Russell and Sam Bates found a small placer deposit near the mouth of Little Dry Creek (in the present-day suburb of Englewood) that yielded about 20 troy ounces (620 g) of gold, the first significant gold discovery in the Rocky Mountain region. News spread rapidly and by autumn, hundreds of men were working along the South Platte River. By spring 1859, tens of thousands of gold seekers arrived and the Pike's Peak Gold Rush was under way. In the following two years, about 100,000 gold seekers flocked to the region.
In the summer of 1858 a group from Lawrence, Kansas, arrived and established Montana City on the banks of the South Platte River (modern-day Grant-Frontier Park). This was the first settlement in what would become the Denver Metropolitan Area.

The name of the site was changed to "Denver City" after Kansas Territorial Governor James W. Denver, in an attempt to ensure that the city would become the county seat of then Arapaho County, Kansas. Ironically, when General William Larimer, a land speculator from eastern Kansas, named the city after Denver to curry favor with him, Denver had already resigned as governor and no longer had say in naming the capitol.

Denver at first was a mining settlement, where gold prospectors panned gold from the sands of Cherry Creek and the South Platte River. Larimer, along with associates in the Denver City Land Company, laid out the roads parallel to the creek and sold parcels in the town to merchants and miners, with the intention of creating a major city that would cater to new immigrants. In the early years, land parcels were often traded for grubstakes or gambled away by miners in Auraria.

But the prospectors discovered that the gold deposits in these streams were discouragingly poor and quickly exhausted. When rich gold deposits were discovered in the mountains west of Denver in early 1859 it appeared that Denver City might become a ghost town as prospectors left for more lucrative claims. But once the gold rush began there was a great need for materials that couldn't be produced locally which assured Denver's future as a supply hub for the new mines.