America by Air: Chicago's Front Lawn
Editor's Note:
This article previously appeared in a different format as part of The Atlantic's Notes section, retired in 2021.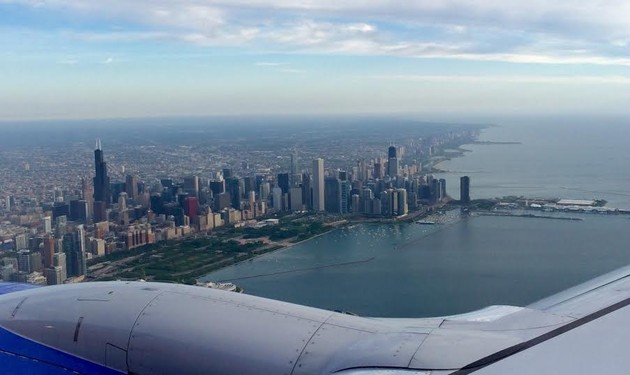 A well-framed shot of Chicago from May 2015:
I was onboard a Southwest flight into Midway and caught this view of the loop, all the skyscrapers and even Navy Pier! What's really striking is the huge swath of green right along the lake—Grant Park and Millennium Park.
The latter got off to a rough start:
Some observers consider Millennium Park to be the city's most important project since the World's Columbian Exposition of 1893.[4][5] But it far exceeded its originally proposed budget of $150 million. The final cost of $475 million was borne by Chicago taxpayers and private donors. The city paid $270 million; private donors paid the rest, and assumed roughly half of the financial responsibility for the cost overruns. The construction delays and cost overruns were attributed to poor planning, many design changes, and cronyism.
From a promotional profile of the park:
Millennium Park celebrated its 10th anniversary season last year [2004] and in 2015 will continue to present dozens of free events and programs including art installations, outdoor concerts, films screenings, alfresco workouts and more.

All year round, "The Bean" is an iconic draw for visitors and locals alike. Take a picture in front of Cloud Gate, the official name for the massive, stainless steel structure that's become Chicago's signature landmark. In its mirror-like surface you'll see not only your own reflection but the downtown skyline.

During the winter months, lace up your skates for ice skating amid twinkling tree lights at the McCormick Tribune Ice Rink. Or escape into Lurie Garden, an urban oasis that pays homage to Chicago's motto — "Urbs in Horto," or City in a Garden.

In the warmer months, spread out a blanket in front of the award-winning Pritzker Pavilion for a live performance. Cool off by splashing around in Millennium Park's Crown Fountain, a shallow reflecting pool bookended by 50-foot towers. Grab food and drinks at the alfresco patio Park Grill, or burn off those calories during a Saturday morning workout on the Great Lawn.