America by Air: Alaskan Glacier
Editor's Note:
This article previously appeared in a different format as part of The Atlantic's Notes section, retired in 2021.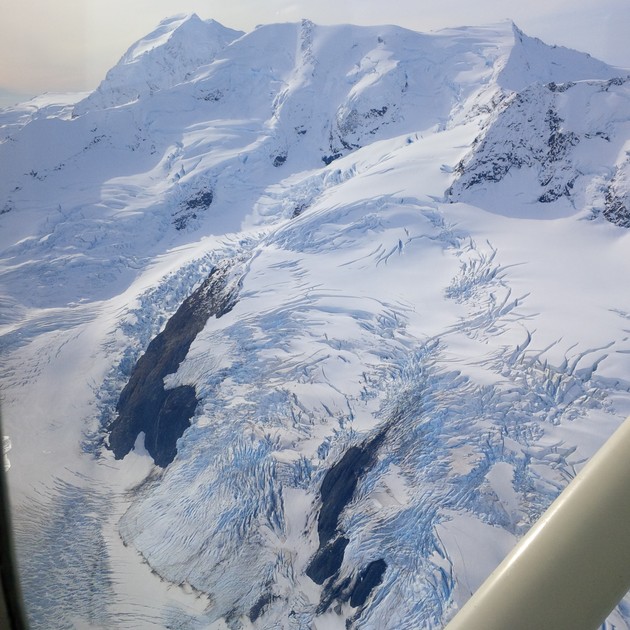 A reader recounts an incredible trip:
This past September I accompanied my boyfriend when he piloted his Cessna 170 on a cross country flight from Anchorage, Alaska to Lockhart, Texas (30 miles from Austin). The entire trip took eight days. We passed over these glaciers and mountains on the first day en route to Prince William Sound.

From there, we proceeded south down the coast. We camped on the beach at Icy Bay the first night and stayed in a historic hotel in Juneau the next. We went inland at Prince Rupert, British Columbia, the following day and spent the next two nights in Canada—in a hotel in Terrace one night and camping on a grass strip maintained by a hang gliding club in Hope on the second night.

We crossed back into the states at Oroville, Washington, camping on the tarmac that night in Odessa, where we ended up crashing their annual Deutschesfest celebration. The next day, we flew out of Washington, eastern Oregon, Idaho, Nevada, and on into Utah, spending the night in South Provo. On the second to last day, we flew over the four corners—Utah, Arizona, Colorado, and New Mexico—and spent our final night in Santa Rosa, New Mexico.

It was a tremendous way to experience an incredible number of stunning landscapes in a relatively short segment of time.