A Guilty Verdict in the Akai Gurley Case
A Brooklyn jury convicts Officer Peter Liang of manslaughter and official misconduct in the 2014 shooting.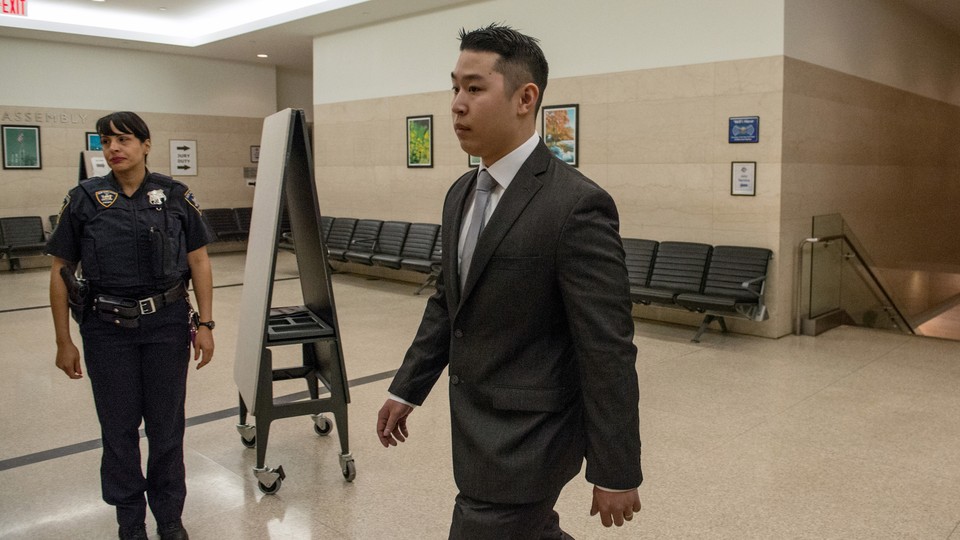 A New York jury found an officer guilty on Thursday for the 2014 shooting and death of Akai Gurley, an unarmed black man killed in the stairwell of a Brooklyn apartment building.
The Brooklyn Supreme Court found Officer Peter Liang guilty of manslaughter and official misconduct, for shooting, then failing to help Gurley after he lay dying. Liang had faced five counts in all, including assault, reckless endangerment, and criminal negligent homicide.
The trial went to jury Tuesday. At closing arguments, Liang's lawyers asked the judge to declare a mistrial, saying the prosecution made an "
inflammatory and inappropriate
" argument when they said Liang intentionally shot Gurley.
"
He chose to point his gun," said the prosecutor, Joseph Alexis. "He chose to put his finger on the trigger, to fire the gun."
"What happened here is a tragedy," argued
Rae Koshetz
, one of Liang's attorneys. "It's a terrible tragedy, but it's not a crime."
Liang shot Gurley, a 28-year-old father of two in a dark hallway of a public-housing building. The rookie officer and his parter were on a routine patrol of the Louis H. Pink Houses when they opened a door to the stairwell on the eighth floor. With the lights out, Liang unholstered his 9mm Glock handgun and held a flashlight. When he walked into the stairwell, Liang told jurors he heard a "quick" sound that startled him, "and the gun just went off after I tensed up."
The defense had argued that unholstering the gun––despite no obvious threat––fell in line with protocol, because the building was known to be dangerous. They said as he entered, Liang held his finger off the trigger, just as he was supposed to.
Liang's willingness to walk around a public-housing building with a drawn weapon raised the issue of reasonable force––something that has played out across the nation and has gained increasing attention amid the shootings by police of unarmed black men and women. In this case, the prosecution argued that Liang's decision to to unholster his gun was "
reckless and deadly choice
."
Just before Liang fired, Gurley and his girlfriend,
Melissa Butler, had walked into the stairwell one floor below. The elevator was out. As Liang's gun fired, the bullet hit Gurley in the chest.
Liang said he wasn't immediately aware of this. Not yet. While Butler screamed and ran to find help and a phone, Liang and his partner, Shaun Landau, walked back into the hallway they'd come from and debated who would call in to report that Liang had fired his gun. It was only after Liang went to search for his bullet that he heard someone crying, he said. It was then he he realized what had happened.
But even then, neither Liang nor Landau tried to save Gurley. Instead, the prosecution said Liang worried "whether his mistake would cost him his job,"
as The New York Times wrote
.
Gurley's girlfriend tried to save him. A 911 operator coached her over the phone in CPR. Landau later testified under immunity that he'd never fully learned CPR at the police academy––where Liang and he had graduated the same year. He said his CPR training consisted of little more than two minutes with a dummy, and that an instructor fed recruits answers for the exam. At trial, Liang said he called an ambulance. But that too
has been questioned
.
"Peter Liang was sworn to protect and serve Akai Gurley, but he shot him for no good reason,"
said Alexis, the prosecutor
. "He heard a noise in a dark stairwell and instead of shining a light, he pointed his gun and shot Akai Gurley."
Liang will be sentenced on April 14. He faces 15 years in prison.