A Deadly Tornado in the South
A storm ripped through Southern states late Tuesday and killed three people, injured dozens, and destroyed homes.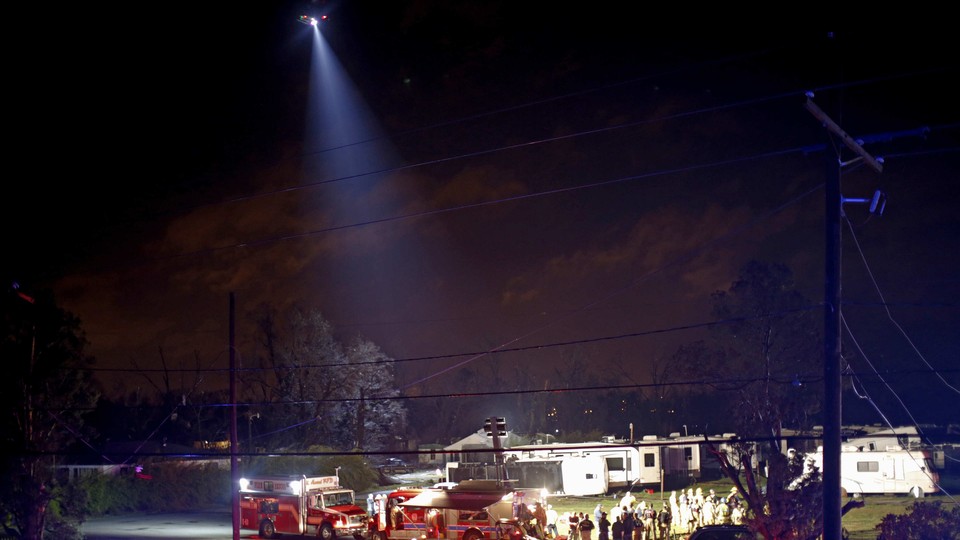 A deadly storm that hit Louisiana, Mississippi, Alabama, and Florida on Tuesday spun off tornados that killed three people and injured others.
Worst damaged was the Sugar Hill RV Park in Convent, Louisiana, a community along the Mississippi River about an hour from New Orleans. The storm hit in the late afternoon Tuesday and nearly half of the community's 300 mobile homes were destroyed. Rescuers rushed people to the hospital, and by Wednesday morning, two people had died and many more were critically injured. Governor John Bel Edwards called it a "
modern miracle
" that more people had not been killed.
"I want to thank all of the responders here," the governor said. "We've got a lot of work still going on. There are a lot of people unaccounted for, but that doesn't mean there are any more injuries or any more fatalities."
In some of the worst-hit parishes in state, the governor declared a state of emergency as rescuers and dogs picked through the wreckage to find the missing.
The other death came from Lamar County, Mississippi, where a
73-year-old man was reportedly killed
. As it headed toward the Atlantic, the storm destroyed homes and buildings and the Mississippi governor also declared a state of emergency for hard-hit areas. Tens-of-thousands of people were left without power, and more than 20 homes in the state had been destroyed.
In Alabama, people reported tornadoes and severe hail. In Florida, 24 homes were destroyed and trucks and cars flipped on the highway. Throughout the night, the National Weather Service posted updates and alerted people to stay vigilant, and by Wednesday morning, in northern Florida and parts of Georgia, a tornado watch was still in effect.
Around 20 tornadoes had spun out of the storm,
The Weather Channel reported
, though those still needed confirmation by the National Weather Service.