The East Coast Digs Out
Millions of people emerged Monday from a weekend-long blizzard that brought dozens of inches of snow to mid-Atlantic states.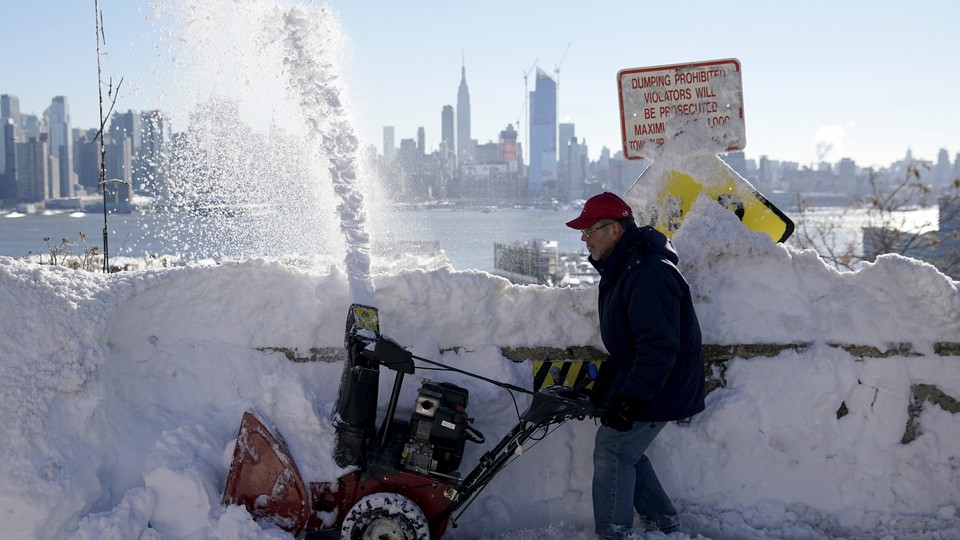 Three days after the first flakes began to fall, the East Coast is starting the long process of digging itself out from piles and piles of snow.
Commuters faced limited rail service and icy driving conditions Monday morning as crews raced to clear roads. Federal government offices in Washington were closed, as were plenty of schools in various states.
Service has been
restored
on all subway lines in New York City and most regional rails in Philadelphia, while the Washington metro is offering limited service on trains and buses. Hundreds of flights were
canceled
Monday, and Amtrak offered fewer trains than usual along the northeast corridor.
At least 31 people have died as a result of the snowstorm, the AP
reported
.
Before it hit Friday, the snowstorm had the makings of the "Big One" and appeared "textbook," according to the winter-weather expert who literally wrote the textbook on northeast snowstorms. It was indeed big, dumping up to 24 inches of snow in at least 14 states and more than 30 inches in some areas. The blizzard was the second-biggest snowstorm in New York City history, with 26.8 inches measured in Central Park by the end of Saturday.
The snowstorm effectively shut down major cities, and residents were urged to stay home and off the roads. As the storm raged, more than 85 million people—or more than one in every four Americans—were covered by some kind of blizzard or winter-storm advisory on Friday,
according to weather.com.
Governors in
Maryland
,
Virginia
,
North Carolina
,
Georgia
,
Tennessee
,
West Virginia
, and
Pennsylvania
declared states of emergency, which free up resources for storm response. Washington, D.C. declared a snow emergency, and shut down all Metro and bus service for the weekend. Thousands of flights to mostly East Coast airports were canceled.
At least 13 people were killed in car or snowplow-related accidents in New York, Virginia, North Carolina, South Carolina, Tennessee, and Kentucky. Ten people died while shoveling snow in New York, Virginia, Maryland, Delaware, Pennsylvania, and Kentucky. Four people died of carbon monoxide poisoning inside their cars in New Jersey, Pennsylvania, and South Carolina. Two people died of hypothermia in Virginia, and one teenager was struck by a truck and killed while he was sledding in Ohio.