The Latest in the Oregon Standoff
The local sheriff has asked the armed protesters to leave the Malheur National Wildlife Refuge. Protesters say they will go if the "county people tell us to leave."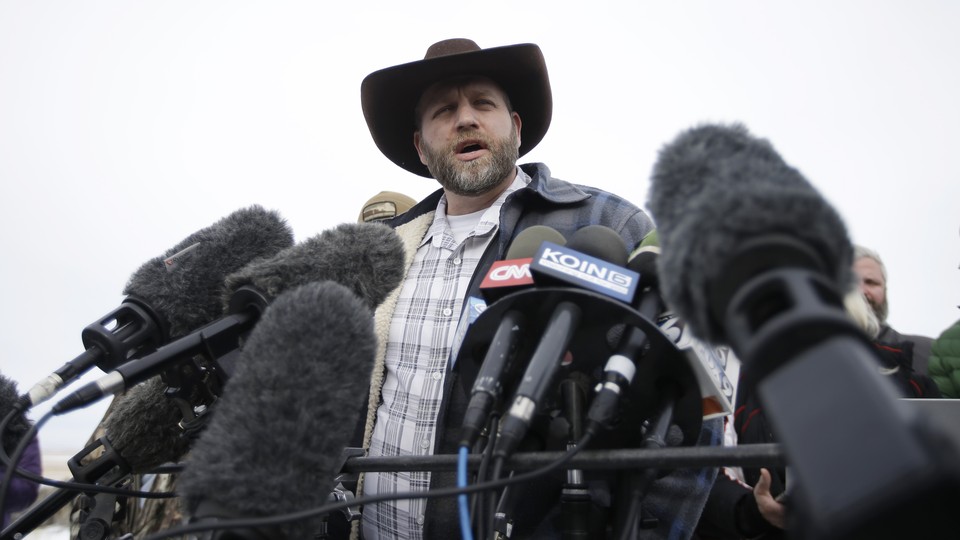 Here's the latest from the standoff in Oregon:
—"Go home." That's the message from David Ward, the sheriff of Harney County, Oregon, to the armed group that has taken over the Malheur National Wildlife Refuge. "You said you were here to help the citizens of Harney County. That help ended when a peaceful protest became an armed and unlawful protest."
—Ryan Bundy, one of the leaders of the group that is now calling itself Citizens for Constitutional Freedom, told Oregon Public Broadcasting that the group would leave if the local community asked it to. "This is their county. We can't be here and force this on them," he said Monday. "If they don't want to retrieve their rights, and if the county people tell us to leave, we'll leave."
—His brother Ammon Bundy told a news conference that the group was forced into their actions. "It has been left to us to decide whether we allow these things to go on or whether we make a stand," he said.
—The "these things" he's referring to is the fate of Dwight Hammond, 73, and his son Steven Hammond, 43, who were convicted in 2012 of committing arson on public lands in 2001. They had claimed they set fire to the lands, which they leased from the government for grazing cattle, to fight off invasive species. Their actions got them five years in prison, the mandatory minimum for arson. They argued that was unconstitutional, and a trial court agreed and reduced their prison terms, but an appeals court eventually upheld the federal law, and a judge imposed the mandatory sentence last October. The Hammonds turned themselves in on Monday. Their attorney says the protesters do not speak for the Hammonds.
—At issue is the ownership of federal lands, long a source of tensions in the West between the federal government and ranchers. The Oregonian notes:
Three-quarters of Harney County's land is federally owned, a reality that, here and elsewhere in the West, has long fueled debate about the ownership and management of federal lands. Locals who rely upon federal lands to graze cattle and sheep say they worry every time an environmental concern arises or a particularly bad wildfire season hits. Often those issues come with new regulations on their use of the land.
Consequently, the newspaper adds, the armed group that has taken control of federal buildings at the refuge have outlined plans to turn the land over to local ranchers and loggers.
— The FBI, which is leading the response to the standoff, has been mostly silent about its plans. The agency is being assisted by the Oregon State Police, as well as deputies from sheriff's offices around the state. The standoff, as my colleague David Graham reports, is prompting a debate over law enforcement's reaction to protests nationwide, mandatory-minimum sentences, and even the terms we use to label protesters.