A Dramatic Turn in the Oregon Standoff: Eight Arrests and a Death
The militia leaders Ammon and Ryan Bundy were taken into custody and their spokesman, LaVoy Finicum, killed after an encounter with the FBI and state police.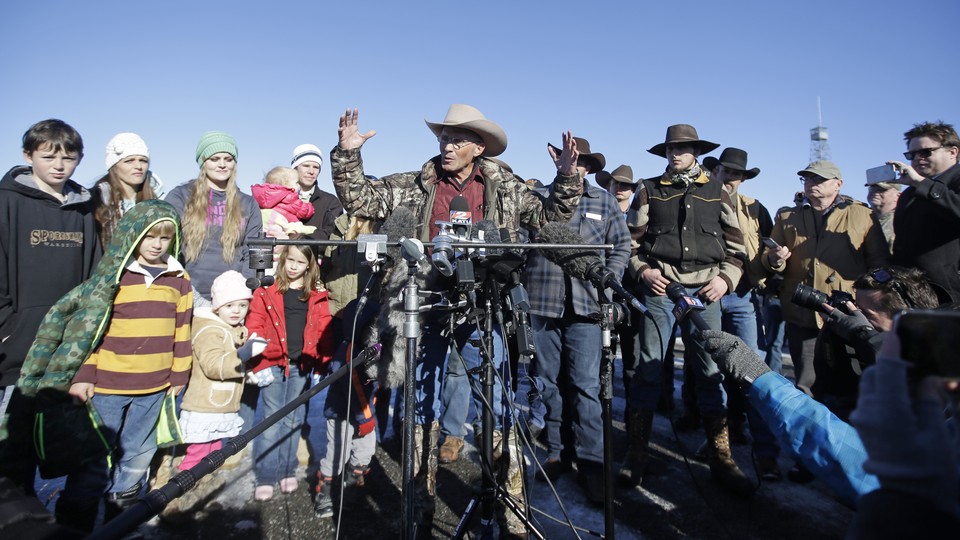 Updated January 27 at 2:33 p.m.
For three weeks, a ragtag militia led by Ammon Bundy has illegally occupied the Malheur National Wildlife Refuge in Oregon. And for three weeks, residents and federal officials have worried about the potential for violence to break out, and wondered how the stalemate might be resolved. Suddenly, there's intense movement to end the occupation.
On Tuesday, eight people were arrested in connection with the occupation, including Ammon Bundy and his brother Ryan. One man, the militia spokesman LaVoy Finicum, was killed in a shootout with police. Officials have now tightened roadblocks around the refuge and during a press conference Wednesday signaled their intention to bring the occupation to an end as quickly as possible.
"I would say the armed occupiers have been given ample opportunity to leave the refuge peacefully," said Greg Bretzing, the FBI agent in charge of Oregon. "They have been given opportunities to negotiate. As outsiders to Oregon, they have been given the opportunity to return to their families and work through the normal legal process to air grievances. They have chosen to threaten and intimidate the America they profess to love."
The arrests and death happened Tuesday afternoon, when Oregon State Police and the FBI officers intercepted several militia members, including Finicum and the Bundys, on Highway 395 around 4:25 p.m. The group were on their way from the refuge to the town of John Day, about 100 miles away, for a meeting. Law-enforcement officials have not provided details on what happened next, but The Oregonian reports that the group resisted arrest, and shots were fired. It's not clear who shot first.
"I'm disappointed that a traffic stop that was supposed to bring a peaceful resolution to this ended poorly," an emotional Harney County Sheriff Dave Ward said Wednesday. The various law-enforcement agencies involved developed "the best tactical plan they could to bring these guys down peacefully. It didn't have to happen. We all make choices in life. Sometimes our choices go bad."
Authorities say one other person, who is reported to be Ryan Bundy, sustained non-life-threatening injuries. In addition to Ammon and Ryan Bundy, those arrested on the highway include Shawna Cox, Ryan Waylen Payne, and Brian Cavalier. Peter Santilli and Joseph Donald O'Shaughnessy were arrested later in Burns, while Jon Ritzheimer surrendered in Arizona. All of them face a federal felony charge of conspiracy to impede officers of the United States from discharging their official duties through the use of force, intimidation, or threats. The charge carries a fine or a maximum of six years in prison. Several have been booked into the Multnomah County jail in Portland.
The militia members represent a range of causes, but the central animating spirit of their protest is opposition to the federal government's control of land in the western United States. The occupation was inspired by the conviction of Dwight and Steven Hammond for arson on federal land, though the Hammonds said they do not support the Bundy gang. The Bundys' father, Cliven, conducted a lengthy standoff in Nevada with federal officials from the Bureau of Land Management in 2014, after Cliven Bundy refused to pay fees owed to the government for grazing his cattle on public land.
"Some of these folks have spent a lot of time in town, trying to stir some issues in the community," a visibly emotional Ward said Wednesday. "If it was simple as waiting out some folks in some buildings, we could have waited a lot longer. But this has been tearing our community apart."
Finicum, 55, had become a spokesman for the group occupying the refuge. He was also present for the 2014 Nevada standoff. Finicum had previously said he'd rather die than be arrested. "My dad was such a good good man, through and through," his daughter, Arianna Finicum Brown, told The Oregonian. "He would never ever want to hurt somebody, but he does believe in defending freedom and he knew the risks involved." He was wanted by police. Although multiple sources, including family, have identified him as the deceased, police did not yet offer a confirmation Wednesday.
Finicum seemed to foretell the dramatic events on Tuesday during an interview on Monday. "They're doing all the things that shows that they want to take some kinetic action against us," he said.
Ritzheimer had gained national attention for a pair of videos. In the first, he filmed himself explaining to his daughters why he was away for the holidays, saying, "Daddy swore an oath." In a second, he complained about people sending sex toys to the refuge as a gag.
While making clear that their occupation was illegal and that they would be prosecuted, the FBI had kept a low profile, sitting back to wait out the occupiers. But patience had started to wear thin among Oregonians. Although many locals share the Bundy gang's antipathy toward federal control, the community overwhelmingly opposed the occupation, which had disrupted their lives and brought scores of gun-toting outsiders to town. Local officials had repeatedly asked the militia to leave. Last week, Governor Kate Brown, a Democrat, sent a letter to FBI Director James Comey and Attorney General Loretta Lynch imploring them to end the standoff as quickly as possible.
A meeting between Ammon Bundy and the FBI was canceled on Friday amid a dispute over how to conduct the meeting: Bundy wanted the press to be present, while the FBI wanted to meet privately. One militia member posted a video showing Bundy talking to an FBI negotiator on Tuesday.
Finicum's death adds a sad note to a story of piracy, illegal seizure, and futility. Federal officials had hoped to avoid violence in resolving the standoff, haunted by public backlash to the 1990s incidents at Waco and Ruby Ridge. Yet the Bundy gang's seizure was unlawful, and its demands were clearly unrealistic: "It needs to be very clear that these buildings will never, ever return to the federal government," Finicum told The Washington Post this month.
Even with its leaders arrested, there was no indication that the militia was ready to leave the refuge. While occupiers had come and gone freely throughout the standoff, police have now used roadblocks to seal off the refuge. During Wednesday's news conference, they said that anyone who wanted to leave could still leave through checkpoints where they would be identified, and invited them to speak to an FBI negotiator if they had other questions. They also promised residents that they would work to bring the standoff to a peaceful solution. But they made clear that they were done tolerating the standoff.
"If we have issues with the way things are going in our government, we have a responsibility as citizens to act on those in an appropriate manner. We don't arm up and rebel," Ward said. "This can't happen anymore. This can't happen in America, and it can't happen in Harney County."