How Is the Wounded Warrior Project Spending Its Money?
The popular veterans' charity takes in hundreds of million of dollars each year, but former employees allege it's spending that cash frivolously on staff perks.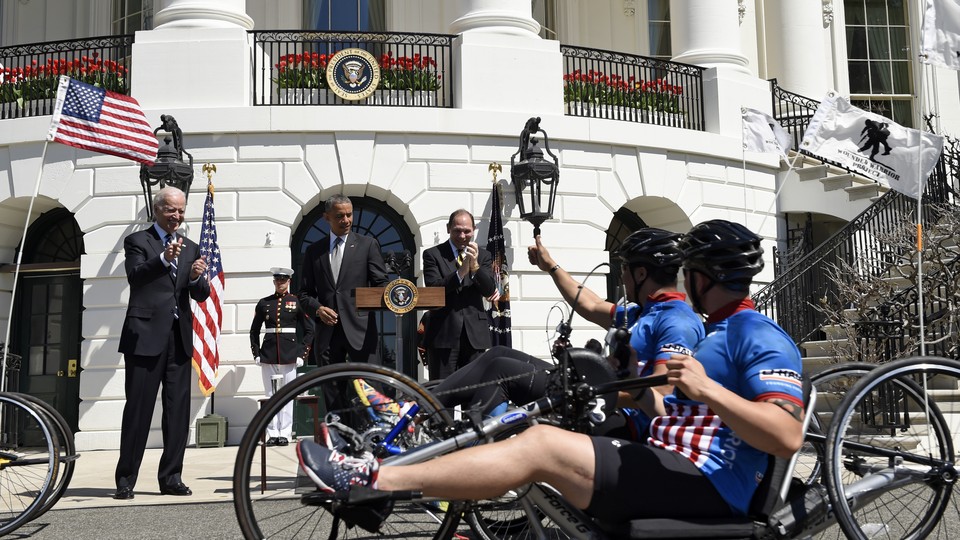 The Wounded Warrior Project's stated mission is "To foster the most successful, well-adjusted generation of wounded service members in our nation's history." But a series of reports allege that Wounded Warrior's true goals are to foster a successful image and well-compensated employees.
According to new investigations from The New York Times and CBS News, former employees accuse the company of spending lavishly on perks for employees, including travel, conferences, hotels, and dinners.
"You're using our injuries, our darkest days, our hardships, to make money. So you can have these big parties," Army Staff Sergeant Erick Millette, a former WWP public speaker, told CBS News. "Going to a nice fancy restaurant is not team building. Staying at a lavish hotel at the beach here in Jacksonville, and requiring staff that lives in the area to stay at the hotel is not team building."
These are not the first reports to take issue with WWP. The Daily Beast's Tim Mak has been reporting on the group for years. Mak reported on concerns that WWP was ineffective and that it was something of a bully within the circle of veterans'-charity groups. But WWP also earns a solid rating from Charity Navigator, which ranks charities on metrics include transparency and effectiveness.
The group says it provides a variety of services to veterans, helping them readjust to civilian life, providing assistance in recovering from injuries, and aiding them in finding jobs. Leading brands and figures have participated in events like the Soldier Ride, including President Obama.
The new reports come just as the charity is playing a walk-on role in another news story: Donald Trump's boycott of Thursday's Republican debate. Trump is holding a rival event, with proceeds to go to veterans' groups; his campaign mentioned WWP as a recipient, but it's unclear whether that's really the case. He previously demanded that CNN give $5 million to WWP or other groups as a fee for debating, though he later backed down. Trump's own personal history of support for veterans is, The Daily Beast's Michael Daly points out, somewhat checkered.
But WWP's critics say its history of support for veterans is also somewhat checkered. The group was formed in 2003 by John Melia, a Marine veteran wounded in Somalia in 1992. It's now enormous—WWP brought in $372 million in 2015. Many of its donations come from small donors eager to thank veterans. Everyone seems to agree that at one time, WWP was good at that. The critics charge that things went wrong around 2009, when Melia left, apparently after a power struggle with CEO Steve Nardizzi.
That's when WWP started doing things like hosting a four-day, $3 million conference in Colorado for its 500 staff members. Many staffers spoke to the Times and CBS to criticize wasteful spending.
Nardizzi says the spending is essential to keep fundraising strong and and achieve WWP's goals. "I look at companies like Starbucks—that's the model," he told the Times. "You're looking at companies that are getting it right, treating their employees right, delivering great services and great products, then are growing the brand to support all of that." Nardizzi made $473,000 in 2014.