D.C. Councilmember Mary Cheh Introduces Leafblower Bill
Editor's Note:
This article previously appeared in a different format as part of The Atlantic's Notes section, retired in 2021.
As a reminder, the updates in this thread are part of an unfolding real-time chronicle of community efforts in D.C. to deal with an environmental, public-health, and civic-life anomaly. That anomaly is the use of two-stroke gasoline-powered engines, which are so polluting that they have been banned in most other applications, for leaf-blowing equipment and other lawn machinery. You can read more of the background in this note and this one, plus this one about the good news of cleaner-tech, much quieter alternatives.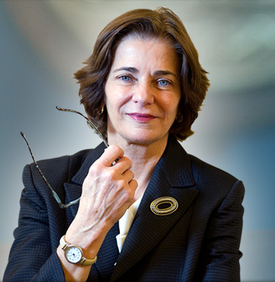 Our goal locally is to hasten along the inevitable: the shift to equipment that is much less dangerous to its operators (who in D.C. as in most big cities are mainly hired members of lawn crews, mainly low wage, largely non-English speaking) and imposes much less of a public-health and noise-print burden on the community.
The latest news on this front comes from D.C. Councilmember Mary Cheh, who has been active on these issues before. Yesterday she introduced legislation proposing that D.C. phase out these hyper-polluting gas engines over the next six years. (Useful fact #1: Running a leafblower with a two-stroke engine for just 30 minutes creates as much air pollution as driving a Ford pickup truck nearly 4,000 miles. Useful fact #2: Cities in Indonesia, Thailand, and the Philippines have been banning two-stroke engines as being too dirty and polluting. Yet via lawn equipment these engines are still in use in the U.S.)
You can read the background to Mary Cheh's move, plus see the draft legislation itself, in this piece by Rachel Kurzius in DCist. There is also coverage in The Daily Caller and in The Hatchet from George Washington University, where Cheh teaches law.
***
Also in recent press coverage is a letter in the latest issue of the Current newspapers (page 8 of the PDF here). It is from D.C. resident Joey Spatafora and addresses a local political figure who said he opposed any change in leafblower rules:
Multiple apartment complexes and an assisted-living facility nearby all employ landscaping contractors who use gasoline-powered leaf blowers for "general upkeep" of the grounds, in which they rarely — if ever — actually pick up anything. The leaf blowers are being used as a sort of gasoline- powered broom to "sweep" lawns, sidewalks, driveways — any surface that they want to "manicure."

Nothing pierces the constant din of Connecticut Avenue traffic, trucks, ambulances, fire engines and accidents like a gasoline-powered leaf blower…. This is not the same quality of noise produced by lawn mowers, weed wackers, et cetera. This is a different spectrum and decibel level of sound. I do not believe that homeowners — or, more importantly, apartment complexes and landscaping companies that do business in D.C. — have the right to inject high-frequency, high-decibel noise into my apartment almost daily at such a level that I cannot even conduct a simple business phone call or concentrate on work.

There are reasonable, effective, community-friendly alternatives. Please talk to the maintenance staff at the Ponce de Leon and Parker House buildings on upper Connecticut Avenue, my heroes. The grounds manager there will talk to you about the benefits of low-noise electric leaf blowers — no spark plugs, gasoline, backpack or earplugs to hassle with, and just $70 at Lowe's.
As mentioned throughout these reports, I originally was sensitized to leafblowers because of the noise, which like Spatafora I find uniquely disconcerting. But I decided it was worth trying to do something only when I learned about the public-health issues — and, crucially, the emergence of new, cleaner, quieter alternatives. We'll let you know what comes next.