Cleveland Cop Michael Brelo: Acquitted but Fired
Six officers involved in the November 2012 shooting of Malissa Williams and Timothy Russell will be dismissed.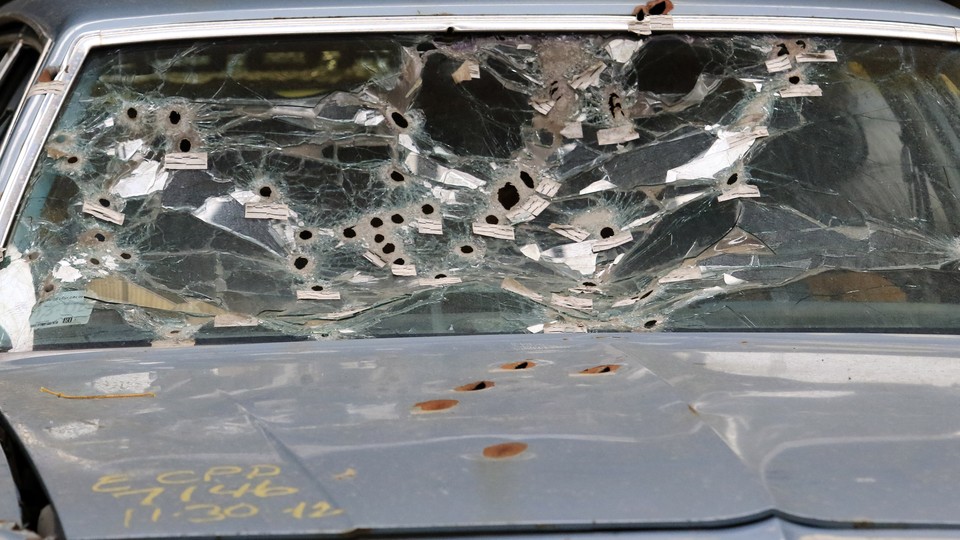 If you're a police officer in Cleveland, killing unarmed civilians in a hail of bullets may not get you convicted—but it might get you fired.
On Tuesday, the city of Cleveland announced it will dismiss six officers who were involved in the November 2012 shooting of Malissa Williams and Timothy Russell. After officers mistook the sound of the car backfiring for a gunshot, they pursued the pair on a high-speed chase through the streets of Forest City, before firing 137 shots over less than 20 seconds, killing both occupants of the car.
Cuyahoga County Prosecutor Timothy McGinty charged one of the officers, Michael Brelo, with two counts of voluntary manslaughter. Brelo, 31, had stood on the hood of Williams and Russell's car and fired 15 shots at close range into the windshield of the car, after the other officers stopped firing. But in May 2015, a judge acquitted Brelo, reasoning in part that they could not determine who fired the fatal shots. As Matt Schiavenza reported at the time, Clevelanders, especially African Americans, were furious about the outcome.
Although Brelo won't face criminal sanctions, the city is now moving to fire him and five other officers in the case. In practical terms, the city has to initiate termination proceedings, and can't immediately fire them. Mayor Frank Jackson said on Tuesday that he expected that appeals would drag the process out for years. Several other officers will face suspensions. Cleveland officials said it took so long to reach this point because the case was unusual. "This incident is unprecedented," said Commander James Chura. "It took an investigation just as unprecedented to get to the truth." (As David Jaros explained last year, however, police discipline tends to be conducted with a meticulousness often missing elsewhere in the criminal-justice system.) Brelo had been suspended without pay.
The Northeast Ohio Media Group has more details:
Eighteen of the 46 supervisors on duty that night were involved in the pursuit. Of them, 12 received administrative charges. One was terminated, two were demoted and nine were suspended anywhere from three to 30 days.

Of the 277 officers on duty, 105 were involved in the chase. Seventy-four were brought up on administrative charges, with 63 being suspended anywhere from one to 10 days. Seven received non-disciplinary letters, one received a written reprimand and three officers had their administrative charges dismissed.
Three days after the verdict in the Brelo trial, the city of Cleveland reached an agreement with the U.S. Department of Justice to reform its police department, after an investigation found a pattern of excessive force—including in the November 2012 incident.
McGinty's failure to convict Brelo would prove to be an augur of things to come. Almost exactly two years after Williams and Russell's deaths, Officer Timothy Loehmann shot and killed 12-year-old Tamir Rice. In December 2015, McGinty made the surprise announcement that a grand jury had opted not to indict Loehmann or his partner, Frank Garmback, in the shooting. The news was a fresh outrage to many people who had seen the Rice case as one of the purest examples of inexcusable police violence to crop up over the last two years. Critics accuse McGinty of being at best bad at his job and at worst lenient on police killings.
Without the aid of the criminal-justice system, firings seem to be the only way to achieve even a partial and belated response to the November 2012 shootings—an incident that no Cleveland official is willing to defend. Timothy Loehmann, meanwhile, remains on the force, serving on desk duty.