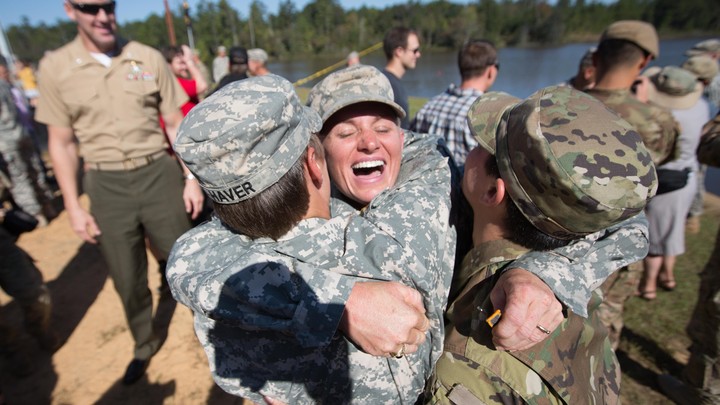 Women will now be eligible for all combat jobs in every branch of the armed forces—more than a century after they were first officially allowed to serve in the U.S. Military as nurses.
Defense Secretary Ash Carter said Thursday that, starting in January, women will be allowed to serve in all front-line combat roles, including in infantry units, in the U.S. Army, Navy, Marine Corps, and Special Operations Command. About 10 percent of military positions, or 220,000 jobs, currently remain closed to women, he said.
The U.S. armed forces "cannot afford to cut ourselves off" from half of the U.S. population, he said.
"There will be no exceptions," Carter said. "This means that as long as they qualify and meet the standards, women will now be able to contribute to our mission in ways they could not before. They'll be allowed to drive tanks, fire mortars, lead infantry soldiers into combat.
"They'll be able to serve as Army Rangers and Green Berets, Navy SEALs, Marine Corps infantry, Air Force parajumpers, and everything else that was previously open only to men."
The policy change may have implications for military drafts, from which female members of the armed forces have been exempt.
"I don't know how that will turn out," Carter said in response to a question about the potential for women being required to register for selective service, as most men now do when they turn 18. "It is an issue that's out there. Unfortunately, it's subject to litigation."
The last several years have been historic for women in the U.S. Military. In January 2013, the Defense Department opened to women thousands of jobs that were previously only available to men. Six months later, the Pentagon announced it would allow women in combat roles by 2016. This August, Captain Kristen Griest and First Lieutenant Shaye Haver became the first women in history to graduate from  U.S. Army Ranger School, the most physically and mentally demanding program in the Army. Major Lisa Jaster followed in their footsteps in October.
There were skeptics, of course. The commandant of the Marine Corps asked the Pentagon to exclude women from certain ground combat jobs. Some, including members of Congress, called the Pentagon's decision politically motivated, and said putting women in combat roles would weaken the military's capabilities. In August, some accused Ranger School officials of lowering its standards and giving their female students "special treatments." The school denied such claims.
On Thursday, Carter said that job placement "must be based on ability, not gender."
"Defending this country is our primary responsibility, and it cannot be compromised," he said. "That means everyone who serves in uniform—men and women alike—has to be able to meet the high standards for whatever job they're in."
We want to hear what you think about this article. Submit a letter to the editor or write to letters@theatlantic.com.