Taxpayer Funds and the Walter Scott Settlement
North Charleston residents will cover the majority of the $6.5 million payment in the wrongful-death shooting caught on video earlier this year.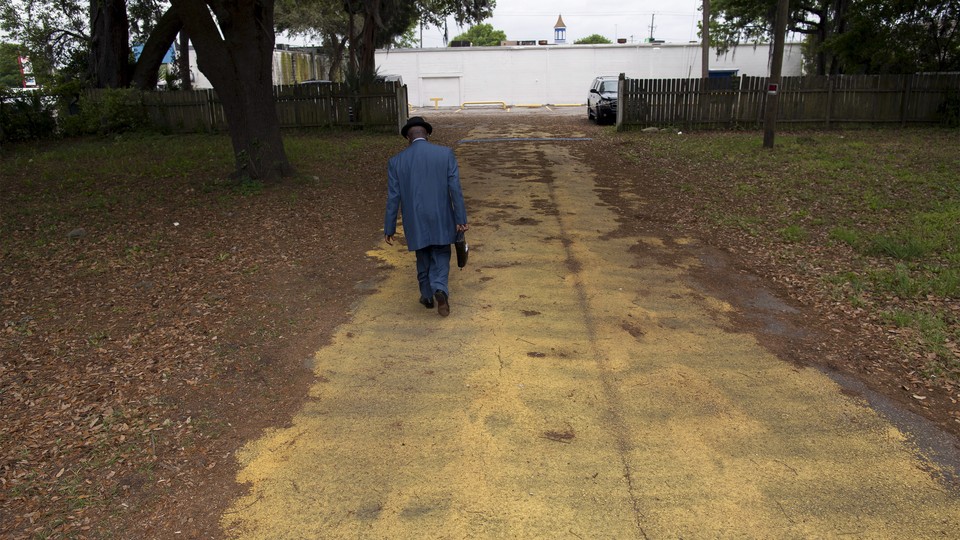 Earlier this year, the city of North Charleston agreed upon a $6.5 million settlement in the civil suit brought forth by the family of Walter Scott, an unarmed black man who was shot to death while running away from a police officer last April. The high-profile killing of the 50-year-old South Carolina man was infamously caught on camera.
This week, Scott's family filed papers to finalize the settlement. The documents provide some insights into how the massive payout would be constructed. The first and most salient point of interest is the role of taxpayer funds. According to the Post & Courier, all but $1 million of the settlement will come from a city fund. "The S.C. Insurance Reserve Fund, which backs many governments in the state, will [also] contribute $1 million," the report noted, which is "the maximum allowed by law."
Major settlements between city governments and the families of black men killed by police are an increasingly common consequence of a horrifying trend in recent months. As my colleague Matt Ford noted back in October, "the Scott family's settlement is comparable to those received by families in other cases of officer killings of unarmed black men. New York City settled a lawsuit by Eric Garner's family in July for $5.9 million. Baltimore agreed to pay $6.4 million to the family of Freddie Gray in September."
These settlements have also skyrocketed at a staggering rate in the past five years. In July, a study of public records by The Wall Street Journal revealed that cities with the ten largest police departments in the country paid nearly $250 million in settlements in 2014, a steady increase from 2010 when they paid out $168 million. "Those cities collectively paid out $1.02 billion over those five years in such cases, which include alleged beatings, shootings and wrongful imprisonment," the report noted.
Some officials have pointed to the closing of old cases while others have cited the rise of video footage as a reason for the surge in settlements.
With regard to recent high-profile cases, some might argue that these large settlements have become a grim stand-in for justice. Earlier this month, protestors gathered in New York City to protest the one-year anniversary of a grand jury's decision to not indict Officer Daniel Pantaleo in the death of Eric Garner. And, earlier this week, a mistrial was declared in the trial of Officer William Porter, the first of six Baltimore officers to be charged in the death of Freddie Gray.
Following the death of Walter Scott, Michael Slager was immediately fired from the North Charleston Police Department. He is being kept in jail until late next year when his trial is slated to begin. As Ford observed, "Civil lawsuits brought by the families of Tamir Rice in Cleveland, Akai Gurley in New York City, and Michael Brown in Ferguson are ongoing."