Jason Van Dyke's Not-Guilty Plea
The officer in the Laquan McDonald case is charged with murder.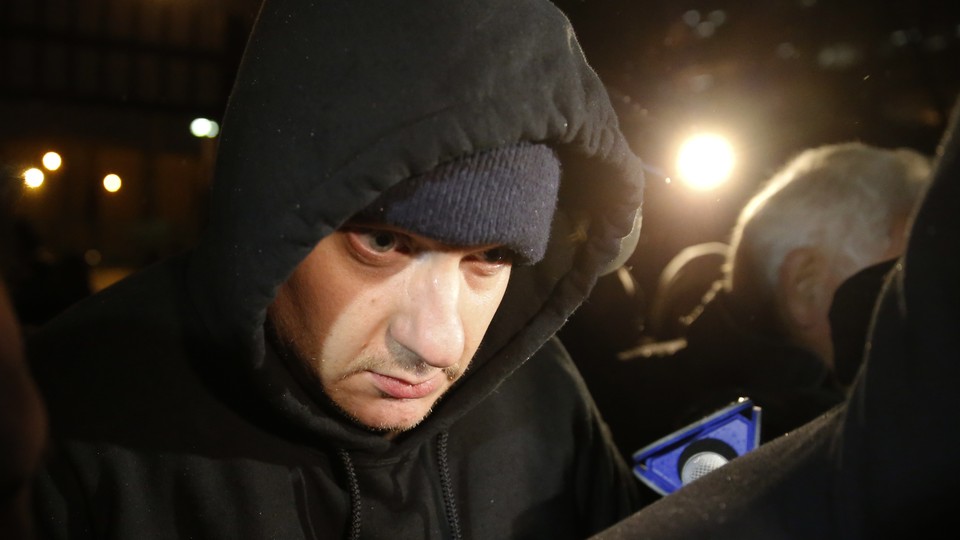 Jason Van Dyke, the Chicago police officer who shot Laquan McDonald, a black teenager, in 2014, 16 times, has pleaded not guilty to murder charges.
Dan Herbert, Van Dyke's defense attorney, told reporters that his client was "hanging in there" and wanted to tell his side of the story. Last month, after months of stalling, and protests, prosecutors charged Van Dyke with murder in the shooting of 17-year-old McDonald in October 2014. McDonald, who had a knife, appeared to be veering away from police when he was shot 16 times.
My colleague David Graham explains what happened next:
The official account of McDonald's shooting, published the day after he died in the Chicago Sun-Times*, turned out to be almost completely contradicted by the video. Then, police and city authorities stonewalled the release of the video of McDonald, making it public only when ordered to do so by a judge. While the contents of the video had been known for some time, a prosecutor announced the first-degree murder charge only Tuesday, hours before the video went public. (She said she had decided to charge Van Dyke weeks ago but was announcing the charges because of public-safety considerations.)
Van Dyke is no longer being paid by the police; he has been free since he posted bond last month.
McDonald's shooting and the city's response to it put pressure on Mayor Rahm Emanuel, who fired Garry McCarthy, his police chief. The Justice Department announced it would investigate the practices of the Chicago police.
But there have also been calls for Emanuel, as well as Anita Alvarez, the state's attorney who is prosecuting the case, to step down—calls that increased over the weekend after police shot and killed two people, one of whom appeared to be mentally ill and the other a bystander. The shooting prompted Emanuel to cut short his vacation to Cuba.