No Indictment in the Tamir Rice Shooting
A grand jury has declined to charge two Cleveland police officers for their role in the shooting last year of the 12-year-old black boy who was holding a pellet gun.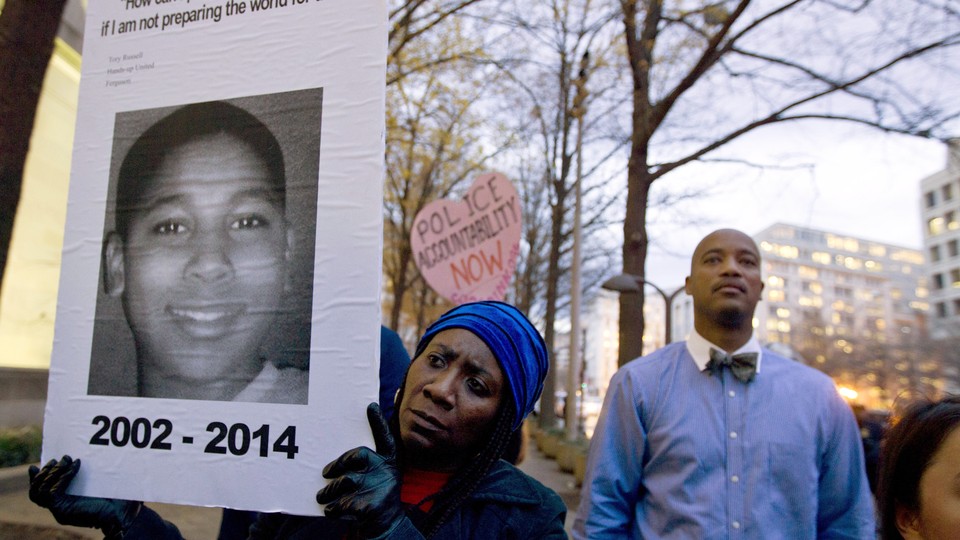 Updated on December 28 at 3:45 p.m. ET
A grand jury has declined to indict two Cleveland police officers for their role in the shooting last year of Tamir Rice, a 12-year-old black boy who was holding a pellet gun.
Tim McGinty, the Cuyahoga County prosecutor, announced the decision on Monday, saying the two officers who were involved were reasonable in their belief that Rice had a weapon. He called it a "perfect storm of human error."
"The outcome will not cheer anyone, nor should it," McGinty said.
Patrolman Timothy Loehmann, a rookie, and Frank Garmback, his training partner, were responding to a call in November 2014 about a man waving a gun near a city park. Loehmann shot and killed Rice within moments of the police cruiser skidding to a halt near Rice, who was holding a pellet gun. The shooting was captured on video and sparked outrage, especially as it came soon after the high-profile police-involved killings of Michael Brown in Ferguson, Missouri, and Eric Garner in New York.
McGinty called Rice's death "an absolute tragedy, but it was not, by the law that binds us, a crime."
He said he'd informed Rice's mother of the decision before Monday's public announcement, calling it a "tough conversation."
In a statement, the Rice family's attorneys said:
It has been clear for months now that Cuyahoga County Prosecutor Timothy McGinty was abusing and manipulating the grand jury process to orchestrate a vote against indictment. Even though video shows the police shooting Tamir in less than one second, Prosecutor McGinty hired so-called expert witnesses to try to exonerate the officers and tell the grand jury their conduct was reasonable and justified.  It is unheard of, and highly improper, for a prosecutor to hire "experts" to try to exonerate the targets of a grand jury investigation.
Ohio Governor John Kasich, a Republican who is seeking his party's presidential nomination, said in a statement:
In a statement, the U.S. Attorney's Office for the Northern District of Ohio said in a statement the Department of Justice, the FBI, and the U.S. Attorney's office were monitoring the developments, and would continue their independent review of the events that led to Rice's death.
"Additionally, the Department of Justice continues in its efforts to pursue ongoing and comprehensive reform pursuant to the consent decree in the federal, civil pattern and practice case filed before Chief Judge Solomon Oliver in the United States District Court for the Northern District of Ohio," the statement said.
Monday's decision comes a month after an independent inquiry commissioned by McGinty said Loehmann acted reasonably, adding it would be a "tragedy" for him to be punished—the third report to make the same finding. As my colleague David Graham reported, activists and Rice's relatives say the reports were being released in an attempt to justify a decision not to charge Loehmann for Rice's death. Here's more:
In Rice's case, as in many cases of alleged police brutality, there are two separate planes of discussion. The first is the question of whether officers did was strictly allowed under the rules. Unsurprisingly, reviews by law enforcement tend to lean toward vindicating police decisions. (This is one reason why so few police officers are prosecuted for the many cases in which they shoot civilians—their actions are usually ruled justified.)

The second is whether the actions that are legally permitted are right and just—whether there's a gap between what police deem justified and what citizens find acceptable. For example, when video of Sandra Bland's arrest was released, experts generally said that what Texas Trooper Brian Encinia did was within his rights—but many questioned the wisdom of his approach. Reports like Katsaris's may find officers' actions to be justified, but in doing so they raise the question of whether, as the old expression has it, the scandal is what's legal. Comparing the death of a child to a police officer losing his job isn't likely to help.
In June, a Cleveland judge ruled there's probable cause to charge the two officers involved in the shooting.