Syrian Refugees in Texas
Twelve Syrian refugees, including six children, will arrive Monday in Dallas and Houston despite the state saying it does not want them.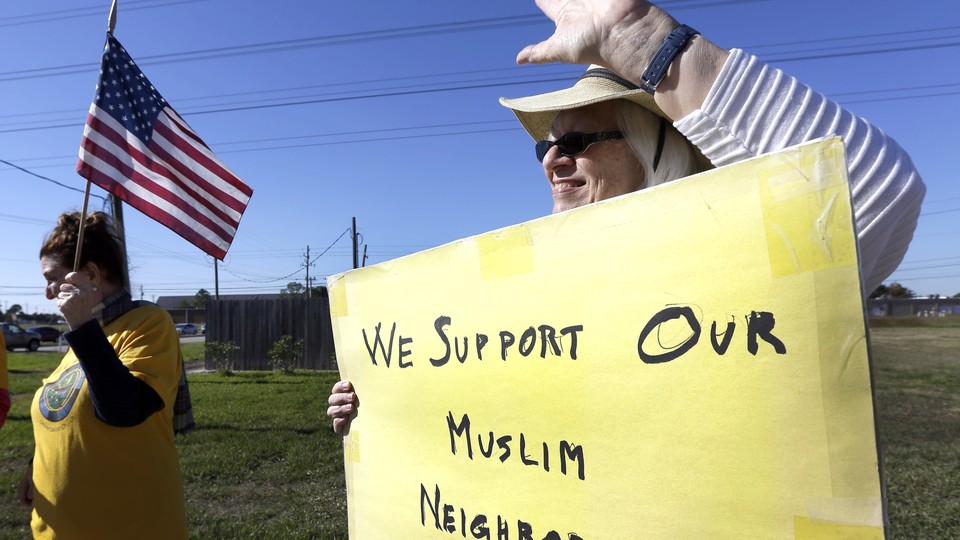 Twelve Syrian refugees, including six children, will arrive Monday in Dallas and Houston despite Texas saying it does not want them. An additional nine Syrian refugees will arrive Thursday in Houston.
The development comes just days after Texas withdrew its request for a temporary court order that would have halted the resettlement. The state's lawsuit against the federal government and a refugee-resettlement agency is moving ahead, however. In that suit, Texas is arguing that the Refugee Act of 1980 requires the federal government to consult with governors and mayors before relocating refugees to their jurisdictions. A judge could hear arguments in the case this week.
As my colleague Matt Ford reported last week:
States lack the constitutional mechanisms to directly bar refugees under current Supreme Court precedent. From a legal standpoint, refugees fall under immigration policy, which the Constitution exclusively delegates to the federal government, not the states. In 2012, for example, the Supreme Court struck down part of an Arizona law targeting undocumented immigrants because it conflicted with federal immigration law.

Instead, Texas is challenging the resettlement based on the language of the Refugee Act of 1980, which requires the federal government to "consult regularly (not less often than quarterly) with State and local governments and private nonprofit voluntary agencies" about the sponsorship and distribution of refugees "before their placement in those States and localities.
Texas Governor Greg Abbott began his effort to block the resettlement of Syrian refugees on November 17, just three days after the deadly Paris attacks. Those attacks were carried out by at least one person carrying a Syrian passport who was known to have crossed into Europe as a refugee. That passport was later shown to be a fake. The nearly five-year-long Syrian civil war has spawned a humanitarian crisis, killing hundreds of thousands, and creating more than 4 million refugees. The conflict has also created a brisk trade in false Syrian passports because Syrians fleeing the civil war are more likely to be given refugee status in Europe.
That process of granting asylum, as we have previously reported, is much more stringent in the U.S. than in Europe. Refugees undergo a more rigorous screening than any other visitor to the U.S. The bulk of asylum-seeker are first referred for asylum status by the U.N. U.S. officials then conduct in-person interviews in the countries where the applicants are present, and then rule on the application. The entire process—from referral to asylum—takes between 18 months and 24 months.
But the Paris attacks raised fears of similar terrorist attacks in the U.S. Governors in 30 states, besides Texas, also issued statements against Syrian refugee resettlement.
The U.S. has taken in fewer than 2,000 Syrian refugees so far, of which 238 have been resettled in Texas. The overall number of Syrian refugees in the U.S. is likely to increase  to 10,000 next year.