More U.S. Special Forces Are Iraq-Bound
Defense Secretary Ash Carter says they will assist rebels fighting the Islamic State and be in a position to carry out "unilateral" strikes in Syria.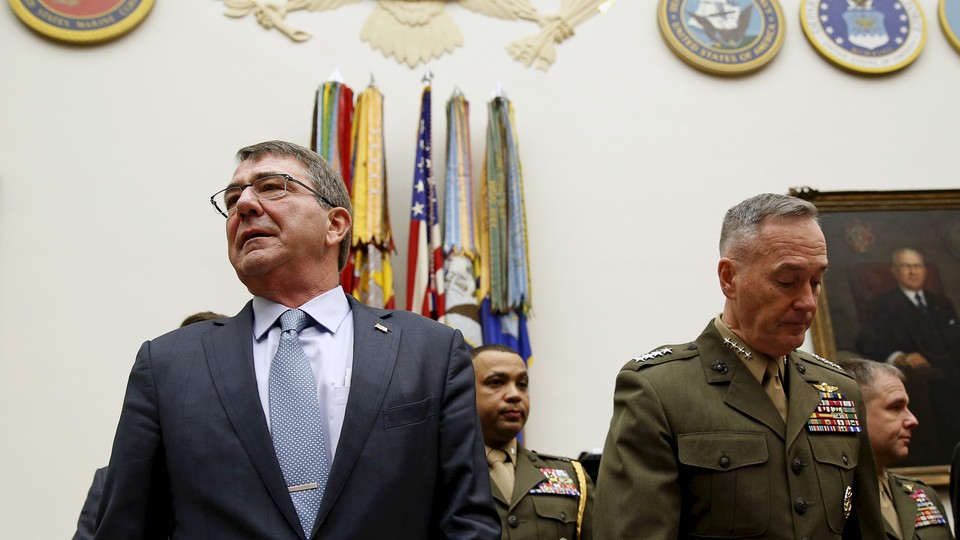 The United States will send special-operations troops to Iraq to aid in the fight against the Islamic State, Defense Secretary Ashton Carter said Tuesday.
Carter said at a House Armed Services Committee hearing that the Defense Department will deploy a "specialized" team to assist local troops fighting the Islamic State.
"In full coordination with the government of Iraq, we're deploying a specialized expeditionary targeting force to assist Iraqi and Kurdish Peshmerga forces to put even more pressure on ISIL," Carter said, using one of the acronyms for the group.
Kurdish fighters have been engaged in battle with Islamic State militants for months in Iraq and Syria. Earlier this month, the fighters, backed by U.S. airstrikes, reclaimed the northern Iraqi city of Sinjar from the Islamic State, which had seized it last August.
Carter said the team's capabilities and operations will expand once it is on the ground.
"These special operators will over time be able to conduct raids, free hostages, gather intelligence, and capture ISIL leaders," he said.
Carter said the team will eventually be able to "conduct unilateral operations" in Syria.
"That creates a virtuous cycle of better intelligence, which generates more targets, more raids, more momentum," he said.
The announcement marks a public escalation in the Obama administration's response to the Islamic State—though news reports have suggested U.S. special-forces have been fighting the group on the ground for months. Late last month, the Pentagon announced it would send special-operations troops to help U.S.-backed rebels in Syria for the first time. The team of about 50 would advise Syrian and Iraqi Kurdish groups, and not take part in ground combat, officials said at the time.
But Tuesday's announcement by Carter comes amid calls by some U.S. lawmakers for a more muscular response against the Islamic State in the wake of the November 13 attacks on Paris that killed 130 people. The group claimed responsibility for the attack. Since Carter last appeared before the House Armed Services Committee in June, the Islamic State has also struck other targets outside of its territory in Syria and Iraq.
In that time, the U.S.-led coalition has also intensified its near-daily bombing against Islamic State targets. Germany and the United Kingdom are seeking approval from their parliaments to strike targets in Syria, as momentum builds for a global coalition against the group.
On Monday, President Obama said at a news conference in Paris that the Islamic State is going to be a "serious threat for some time to come," but he added: "I'm confident that we're on the winning side of this."