The Rising Death Toll From Severe Weather
At least 43 people are dead as a result of storms in different parts of the United States.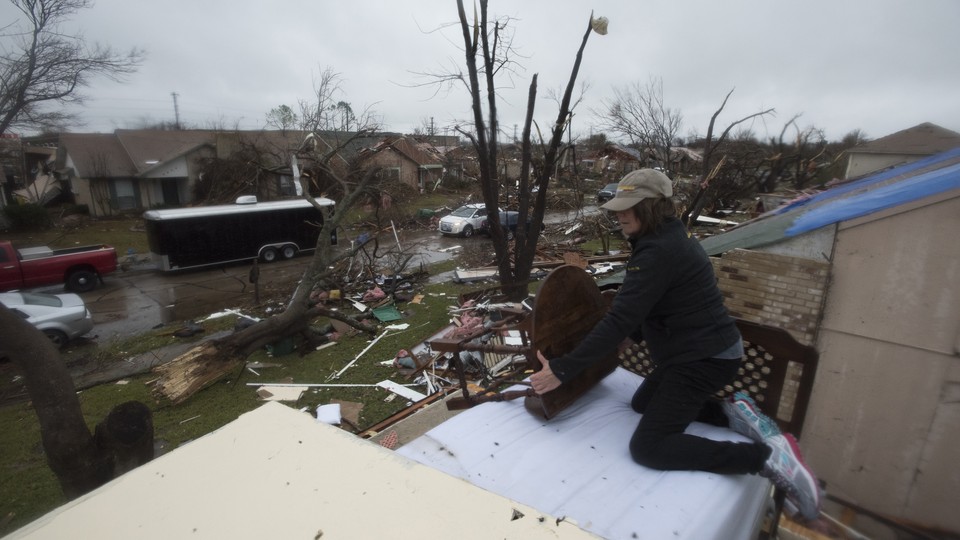 More bad weather is being predicted for the Midwest and South after a week of severe storms left at least 43 people dead, communities devastated, and thousands without power.
The National Weather Service said more snow was expected in the southern high plains, and heavy rains and thunderstorms in the Mississippi Valley. Blizzard warnings remained in effect for parts of the Texas and Oklahoma panhandles, and winter-storm warnings were in effect from central Texas through the Midwest and Great Lakes. Winter-weather advisories and winter-storm watches were also issued for New England, and flood and flash-flood warnings for northeast Texas, the mid-Mississippi Valley, as well as the Tennessee and Ohio River Valleys.
"There will be an ongoing problem for the next 24 hours, but also for the next several days," Texas Governor Greg Abbott said at a news conference Sunday.
The governors of Missouri and New Mexico declared states of emergencies in response to the damage. The severe weather has killed 43 people across the country: Eight people were killed in Garland, Texas, and three others in nearby areas; five in Marion County, Illinois; eight in Pulaski County, Missouri; and 19 in other parts of the Southeast.
One of the tornadoes that struck the Dallas area was an EF-4, the second-most powerful with winds of more than 200 mph, the NWS said.
The severe weather had closed off roads, grounded flights, and disrupted air travel in the affected areas.
Garland, Texas, was among the worst affected communities. Tornadoes struck the city of abut 235,000 people, which is some 20 miles from Dallas, killing eight people and causing widespread damage.
"We literally have structures that don't exist any more," said Officer Joe Harn, a spokesman for the Garland Police Department, told the Wall Street Journal. "We've had bad storms in North Texas before, but this is one of the worst ones. I've never seen this sort of devastation."