No Indictment in the Death of Sandra Bland
A Texas grand jury on Tuesday found no wrongdoing by the staff at a county jail where a black woman was found hanged in July.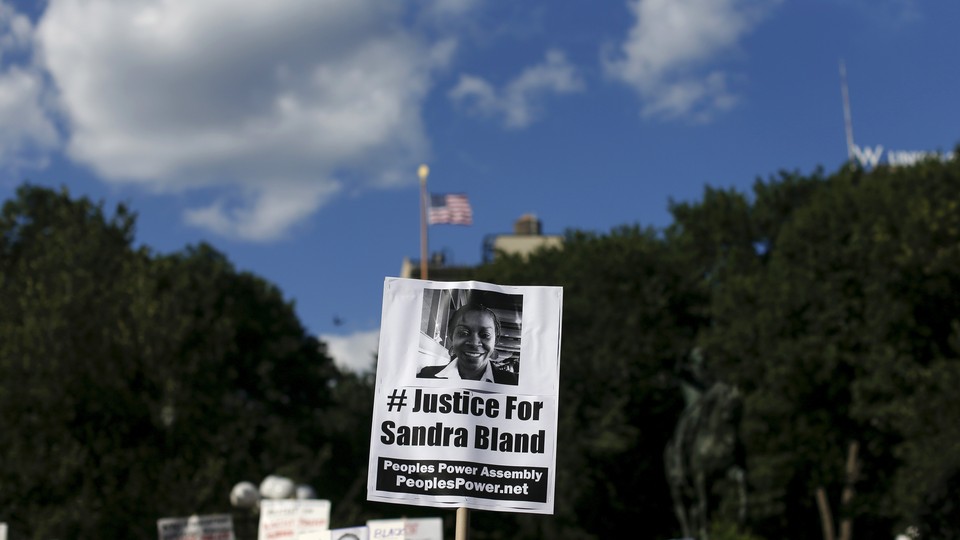 A grand jury on Monday decided not to indict anyone in connection with the death of a Chicago woman who was found dead in an apparent suicide in her jail cell three days after she was arrested during a routine traffic stop this summer in Texas.
The Texas jury had considered the death of Sandra Bland, a 28-year-old black woman, and the conduct of the staff at the Waller County jail where she was held, and not other parts of the case, such as the role of Brian Encinia, the white Texas state trooper who pulled Bland over, said prosecutor Darrell Jordan.
Jordan said jurors would reconvene in January to consider other aspects of the case, which may include actions taken by Encinia, who Texas public safety officials say violated policies of professionalism and courtesy in his encounter with Bland. Encinia has been on administrative duty since her death in July.
On July 10, Bland was driving from Illinois to her alma mater, Prairie View A&M University, where she had gotten a new job, when she was pulled over by a state trooper for failing to use a turn signal in Prairie View, northwest of Houston. The encounter, which was filmed by Encinia's dashboard camera, quickly escalated. The driver and officer exchange heated words, and Encinia eventually threatened to use a stun again against Bland—"I will light you up!"—dragged her out of the car, and arrested her. Bland was taken to Waller County jail, where she was found hanged with a plastic trash bag from a metal barrier in her cell. Medical examiners ruled her death a suicide.
Bland's family disputed the account that she killed herself. As my colleague David Graham wrote in July:
Almost as soon as Bland died, her family and many black Americans assumed the worst. They were skeptical of official explanations and pessimistic about the odds of a thorough and fair investigation. A popular hashtag, #IfIDieInCustody, became a forum to express that skepticism and the fear of being disappeared into a jail—or, like Freddie Gray, a police wagon—and emerging dead or near death, with no explanation and little evidence to explain what happened beyond the official account.
Cannon Lambert, a lawyer for the Bland family, called the grand jury proceedings a "sham of a process," and that family members first learned there was no indictment through news reports.
"We would like very much to know what in the heck they're doing, who they're targeting and if it has anything to do with Sandy and her circumstances," Lambert told The New York Times Monday night.