The Long Radicalization of the San Bernardino Shooters
Syed Rizwan Farook and Tashfeen Malik participated in target practice just days before last Wednesday's massacre.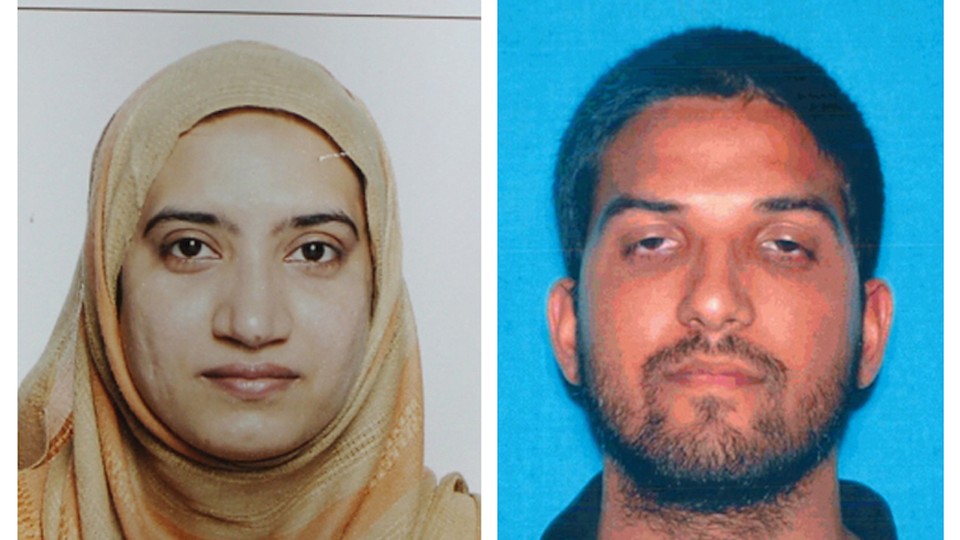 Both Syed Rizwan Farook and Tashfeen Malik were radicalized for quite some time before the couple killed 14 people and wounded 21 others at a civic-services center in San Bernardino,  California, the FBI said.
"As the investigation has progressed, we have learned and believe that both subjects were radicalized and have been for quite some time," David Bowdich, the assistant director of the FBI's Los Angeles office, said at a news briefing.
Bowdich also said both Farook and Malik participated in target practice at ranges in the Los Angeles area. "That target practice, on one occasion, was done within days of this event," he said.
Bowdich said investigators are unsure how the couple was radicalized, who radicalized them, and at what point. News reports about Illinois-born Farook and Pakistan-born Malik provide few details.
The New York Times reports Malik enrolled at Al Huda center, a conservative religious school for women in Multan, Pakistan, after completing a degree in pharmacology at another university nearby. She left the 18-month course at Al Huda before completing it, telling administrators she was leaving to get married, the Times reported.
The Wall Street Journal adds:
Ms. Malik appeared religious even when she started at the university in 2007, wearing a niqab—the all-covering veil that leaves only the eyes exposed—throughout her time there, according to her professors.
Her brother, speaking to the Journal from Riyadh, where her family is based, said: "We are in shock. We don't know what happened to our life."
Malik apparently posted a message of allegiance to ISIS and its leader, Abu Bakr al-Baghdadi, at the time of last Wednesday's rampage.
Farook's father, also named Syed Farook, told La Stampa, the Italian newspaper, that his son was "fixated" on Israel and supported ISIS's ideology. The environmental engineer had worked with the San Bernardino County Health Department for five years before last week's shooting in which most of those killed were his colleagues.
Addressing the nation Sunday night, President Obama said the couple "had gone down the dark path of radicalization, embracing a perverted interpretation of Islam that calls for war against America and the West."
Farook and Faisal, who were killed in a shootout with police, left behind a 6-month-old daughter.