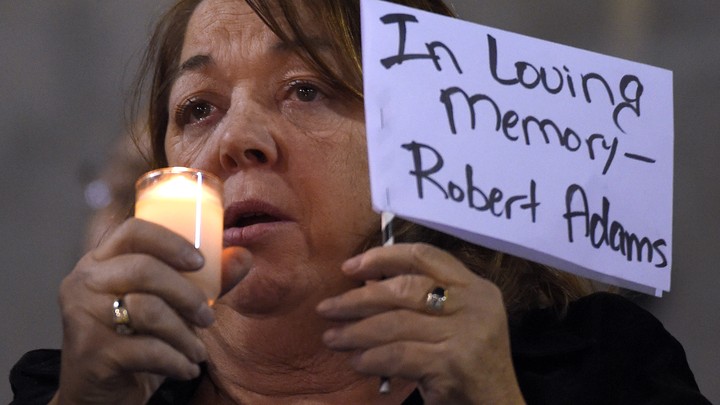 Most of the 14 people who authorities say were killed Wednesday by Syed Rizwan Farook and his wife, Tashfeen Malik, were Farook's coworkers at the San Bernardino County Department of Public Health.
Robert Adams, 40, of Yucaipa: Adams was an environmental health specialist, who had worked for the county's Department of Health since at least 2011. He married his high school sweetheart, Summer, and the couple had a 20-month-old daughter, Savannah.
"When you saw the three of them together, you just wanted to jump in the middle and think, 'I want to have fun too,'" Jenni Kosse, a family friend told The Los Angeles Times.
Isaac Amanios, 60, of Fontana: Amanios was an immigrant from Ethiopia, Kosse told KPCC. He worked hard, she said, to bring his children to the U.S., and when he became a naturalized American citizen, he brought his wife over, too.
"He was so proud of his kids," she told KPCC. "I asked him about them the last time I saw him in October. And his whole face lit up and he took out pictures. He was such a proud dad. And just was an amazing guy."
Bennetta Bet-Badal, 46, of Rialto: Bet-Badal came to America from Iran in to "escape Islamic extremism and the persecution of Christians that followed the Iranian Revolution," her family said in a statement.
She earned a degree in chemistry from Cal Poly Pomona and took a job with the county's health department in 2006. She married her husband, a police officer at Riverside Community College, in 1997. The couple had three children, two boys and a girl.
Aurora Godoy, 26, of San Jacinto: Her husband, James Godoy, said they met in 2003 during a Junior ROTC class. They had a son, Alexander, who will turn 2 next month. Godoy told the L.A. Times his wife was a devoted mother. "It was all about him," he said.
Harry Bowman, 46, of Upland: Little is known about Bowman, except he had two daughters.
Sierra Clayborn, 27, of Moreno Valley: The 2010 graduate of UC Riverside worked as an environmental health specialist for the county. Her sister Tamisha wrote on Facebook:
"When I think of Sierra, only one word comes to mind: She was a lady," Mary Hale, manager of the Fontana apartment complex where Clayborn had lived for a year and a half, told the L.A. Times. "That's not a word I use lightly. She was a super, super lady."
Juan Espinosa, 50, of Highland: The married father of two made his own wine, Kosse told KPCC.
Shannon Johnson, 45, of Los Angeles: Johnson was an environmental-health specialist at the county's public-health department, where he had worked for 10 years.
Daniel Kaufman, 42, of Rialto: Kaufman was one of the few victims who did not work with Farook. He ran the coffee shop at the Inland Region Center, where the massacre occurred. He trained developmentally disabled clients who worked there.
"He was so full of life it was ridiculous," Stachia Chadwick, who knew Kaufman for more than a decade, told The New York Times.
Damian Meins, 58, of Riverside: Meins worked at the environmental health department, and also worked as an extended care coordinator at St. Catherine of Alexandria School in Riverside. His wife was the principal at Sacred Heart School in Rancho Cucamonga. The couple had two children.
The Press Institute of Riverside reports: "Friends describe Damian Meins as a kind, compassionate, loving man with a ready smile. He'd dress as Santa Claus for school pictures at Saint Catherine of Alexandria School."
Tin Nguyen, 31, of Santa Ana: Nguyen had emigrated from Vietnam as a child, graduated from Cal State Fullerton with a degree in health sciences, worked for the county for more than four years, and had planned to get engaged to her longtime boyfriend, San Trinh, next year.
She was "such a good soul," her mother, Vanessa Nguyen, told the L.A. Times. "Only she can understand me—she understood everything I went through."
Nicholas Thalasinos, 52, of Colton: Thalasinos worked as a county environmental specialist. His wife, Jennifer, said he was a "very spiritual believer." The couple were Messianic Jews.
"He had a huge heart and an amazing faith and he wanted to bring as many people as he could to the Lord," Jennifer Thalasinos told KPCC. "That was his goal in life."
Yvette Velasco, 27, of Fontana: Velasco had worked as an environmental-health specialist with the county's Department of Public Health since last year.
A family statement said: "We are devastated about what happened and are still processing this nightmare."
She is survived by her parents and three sisters.
Michael Wetzel, 37, of Lake Arrowhead: Wetzel was a supervising environmental health specialist at the department. He was married and had six children.
"He was an exceptional guy, really he was," Rod Akins, the pastor of the Church of the Woods in Lake Arrowhead, which Wetzel attended, told KPCC. "I mean, a lot of people tend to highlight people once they've passed, but Michael was one of the most caring and generous guys."
We want to hear what you think about this article. Submit a letter to the editor or write to letters@theatlantic.com.