San Bernardino Shooting: A Portrait of a Suspect
Coworkers say Syed Rizwan Farook and his wife, Tashfeen Malik, were living the American dream. Police say the couple killed 14 people in Wednesday's shooting.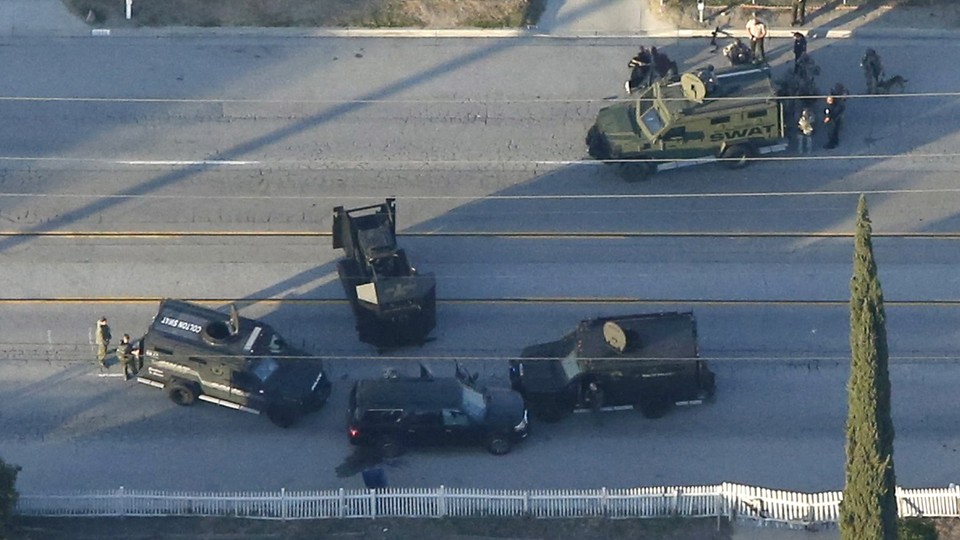 Updated on December 3 at 3 p.m. ET
Syed Rizwan Farook and his wife, Tashfeen Malik, began their Wednesday by leaving their 6-month-old daughter with his mother. The day ended with the San Bernardino police chief announcing Farook and Malik had been killed after a gun battle with officers—hours after they opened fire inside a social-services center, killing 14 people and wounding 17 others.
Farook's family members and coworkers had no answers.
"I have no idea why he would do something like this," Farhan Khan, his brother in law, said. "I have absolutely no idea."
Illinois-born Farook had worked as an environmental engineer with the San Bernardino County Health Department for five years. The New York Times, citing county records, reports he inspected restaurants, bakeries, and public swimming pools.
Farook had attended the health department's holiday party at the Inland Regional Center on Wednesday. Jarrod Burguan, the San Bernardino police chief, said Farook left after some sort of dispute. He said Farook then returned with Malik, in tactical gear, carrying weapons and explosives, at around 11 a.m.  and opened fire.
"They came in with a purpose," he said. "They came in with the intent to do something."
Two of Farook's coworkers told the The Los Angeles Times they were shocked he was named. They said he was quiet and had no obvious grudges. Farook had traveled to Saudi Arabia two years ago, they said, and came back with a wife, Malik, whom he'd met online.
David Bowdich, assistant director of the FBI's Los Angeles office, told reporters Thursday that Farook had traveled overseas, and had made a stop in Pakistan. He returned to the U.S. in July 2014, with a fiancee, Malik, who traveled on a Pakistani passport. The couple were then married, Bowdich said.
They were "living the American dream," Patrick Baccari, a fellow health inspector who shared a cubicle with Farook, told the L.A. Times.
Both Baccari and Christian Nwadike, another coworker, told the newspaper Farook was well-liked and spent much of his time out in the field. He was a devout Muslim, they and others said, but rarely talked about his faith at work.
"He never struck me as a fanatic," Griselda Reisinger, a former coworker, told the L.A. Times. "He never struck me as suspicious."
When Farook's mother, a Pakistan-born woman who hasn't been named, learned of the shooting at the center, her immediate reaction was one of concern, said Hussam Ayloush, the executive director of the Council on American-Islamic Relations in Los Angeles. She then received a call from authorities, he said, informing her that her son was a suspect in the shooting.
Ayloush urged the public not to rush to judgment.
"Is it work?" he said. "Rage-related? Is it mental illness? Extreme ideology?"
Authorities say they are investigating those angles, and haven't ruled any of them out.
San Bernardino Police Chief Jarrod Burguan said the couple had more than 1,600 bullets when they were killed in their SUV. Authorities discovered more than 3,000 rounds of ammunition, as well as 12 pipe bombs, and other tools at the home they rented in Redlands, he said.
"There was obviously a mission here," Bowdich said. "We know that. We do not know why. We don't know if this was the intended target or if there was something that triggered him to do this immediately."