Obama on San Bernardino: 'We Don't Know Why They Did It'
The president said Thursday investigators are considering terrorism and a workplace dispute as possible motives for the shooting.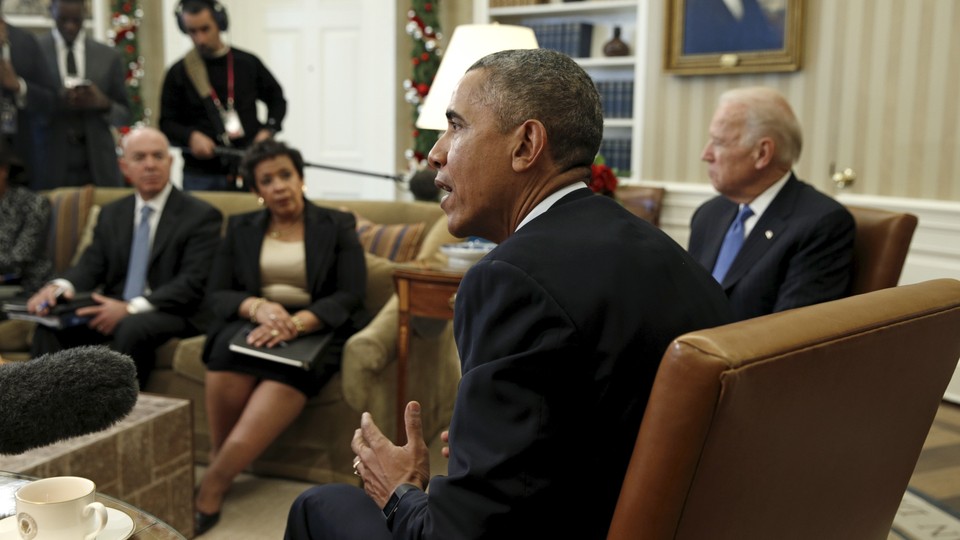 President Obama was here just two months ago.
At the start of October, the president delivered a statement from the White House about a shooting at an Oregon community college that had claimed nine lives.
"I hope and pray that I don't have to come out again during my tenure as president to offer my condolences to families in these circumstances," he said, visibly frustrated, inside the briefing room. "But based on my experience as president, I can't guarantee that."
On Thursday morning, Obama offered his condolences to the friends and family of the 14 people killed and 17 injured in a shooting rampage in San Bernardino, California, a day earlier. This time, Obama spoke to a group of reporters inside the Oval Office, his tone considerably less forceful, almost resigned.
"It's going to be important for all of us, including our legislatures, to see what we can do to make sure that when individuals decide that they want to do somebody harm, we're making it a little harder for them to do it," he said, "Because right now, it's just too easy."
Obama said the shooting investigation has been turned over to the FBI, which will coordinate with local law enforcement. Investigators are considering terrorism and a workplace dispute as possible motives.
"We don't know why they did it," he said. "We don't know at this point the extent of their plans. We do not know their motivations …  it is possible that this was terrorist-related. But we don't know. It's also possible that this was workplace-related."
On Wednesday morning, the San Bernardino County Health Department held a holiday party for employees at the Inland Regional Center, which offers social services to individuals with developmental disabilities. The department had rented out of the center's conference rooms. Syed Rizwan Farook, 28, who'd been with the department for five years, was there, but left "under circumstances described as angry or something of that nature," police said. He returned at around 11 a.m. local time, with his wife, Tashfeen Malik, 27. They carried assault rifles and handguns, and wore "assault-style" clothes, and opened fire. Farook, a U.S. citizen, was a devout Muslim, his colleagues said, but rarely talked about his faith at work.
"We see the prevalence of these kinds of acts of mass shootings in this country," Obama said Thursday. "I think so many Americans sometimes feel as if there is nothing we can do about it."
He called for legislation for stricter gun-ownership laws, saying "we can take basic steps that would make it harder, not impossible, but harder for individuals to get access to weapons."
The San Bernardino shooting is the deadliest mass shooting since 20 children and six adults were killed at an elementary school in Newtown, Connecticut, in December 2012. In response to the Newtown shooting, lawmakers introduced proposals that would regulate assault weapons and expand background checks for gun purchases. Both were defeated in 2013.
Obama signed a presidential proclamation in honor of the shooting victims on Thursday, ordering the flag to fly at half-staff at the White House, all public buildings, military posts, and naval ships in the U.S., and U.S. embassies and consular offices abroad, until Monday.