San Bernardino Shooting: An ISIS Link?
Multiple news organizations are reporting that Tashfeen Malik pledged allegiance on Facebook to Abu Bakr al-Baghdadi. The FBI says it's investigating the San Bernardino attack as an act of terrorism.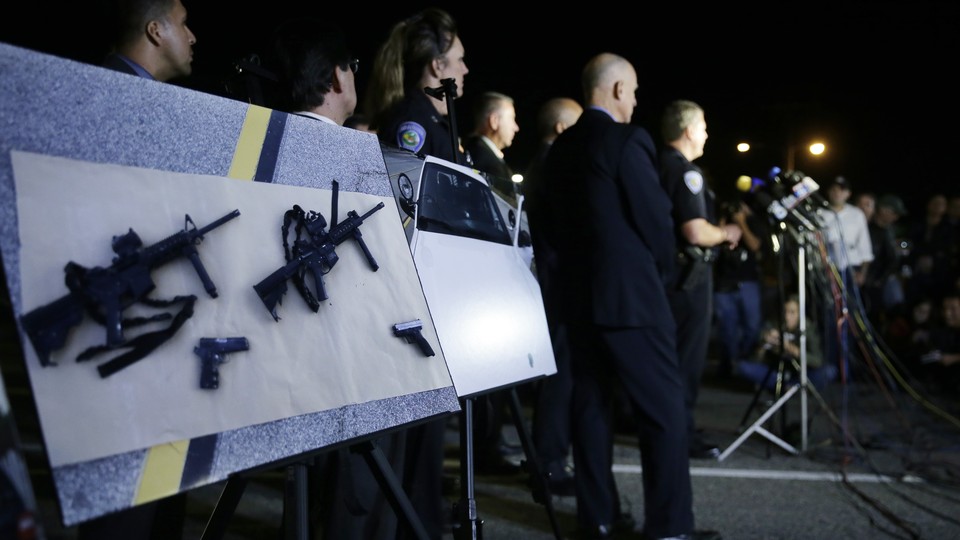 Updated on December 4 at 2:49 p.m.
The FBI says it is investigating the San Bernardino, California, as an act of terrorism. The development comes as multiple news organizations are reporting that Tashfeen Malik, the wife of Syed Rizwan Farook, swore allegiance to Abu Bakr al-Baghdadi, the leader of ISIS, on the morning the couple killed 14 people at a social-services center.
"We are now investigating this as an act of terrorism," David Bowdich, assistant director of the FBI's Los Angeles office, said Thursday.
He said the couple had attempted to destroy their digital fingerprints. Investigators found two cell phones in a a trash can, which they have recovered and are analyzing, along with other digital equipment from the apartment Malik and Farook were renting.
Bowdich said he is aware of the reports of Malik's Facebook post, but would not elaborate. He said he did not know at this point whether the attack was ISIS-inspired.
Unnamed federal law-enforcement officials told The New York Times there's no evidence ISIS directed Malik, 27, and Farook, 28, to launch the attacks.
"At this point we believe they were more self-radicalized and inspired by the group than actually told to do the shooting," one of the officials told the newspaper.
The Times added: "The posting had been removed from the social media site and it's not clear when federal authorities obtained it."
CNN and NBC News are also reporting the Facebook posting, citing multiple U.S. officials and law-enforcement sources. One of CNN's three sources said the Facebook account was under a different name, but the source did not specify how (s)he knew the account belonged to Malik.
CNBC quoted an unnamed official at Facebook saying a post was made from an alias account belonging to Malik as the attack commenced, but it was quickly taken down, and the company notified the FBI.
The Atlantic has not independently verified any of these reports.
Islamic militants are known to use a bayat—or oath of allegiance—to declare their fidelity to groups such as ISIS and al-Qaeda. ISIS, for example, has urged its supporters to record not only their bayats, but also their wills before their actions.
Investigators have publicly refused to speculate on a motive for the shooting, but have refused to rule anything out, including terrorism or whether the attack at the Inland Regional Center was prompted by a workplace dispute. The weapons, massive cache of ammunition, and pipe bombs discovered in the couple's SUV and a home they rented led investigators to say Farook and  Malik were planning something.
"There was obviously a mission here," Bowdich said Wednesday. "We know that. We do not know why. We don't know if this was the intended target or if there was something that triggered him to do this immediately."
The Times reported Friday that in the days leading up to the shooting, the couple deleted electronic information, lending credence to the idea the shooting was premeditated.
Farook was born in Illinois and Malik in Pakistan. They apparently met on a dating site for Muslims. Malik, who lived in Saudi Arabia, came to the U.S. on a K-1 fiancee visa in July 2014 with Farook, who had briefly traveled overseas. The couple was soon married. They had a six-month-old daughter, whom they left behind on the morning of the killings.
Farook had worked as an environmental engineer with the San Bernardino County Health Department for five years, inspecting restaurants, bakeries, and public swimming pools.
Officials say he had attended the health department's holiday party at the Inland Regional Center on Wednesday, left after a dispute, returned with Malik, in tactical gear, carrying weapons and explosives, and opened fire, killing 14 people and wounding 21 others.
This is a developing story and we'll update it as we learn more.