The Potential Terrorism Behind the San Bernardino Shooting
Federal officials say the killers may have been inspired by militant Islamist groups.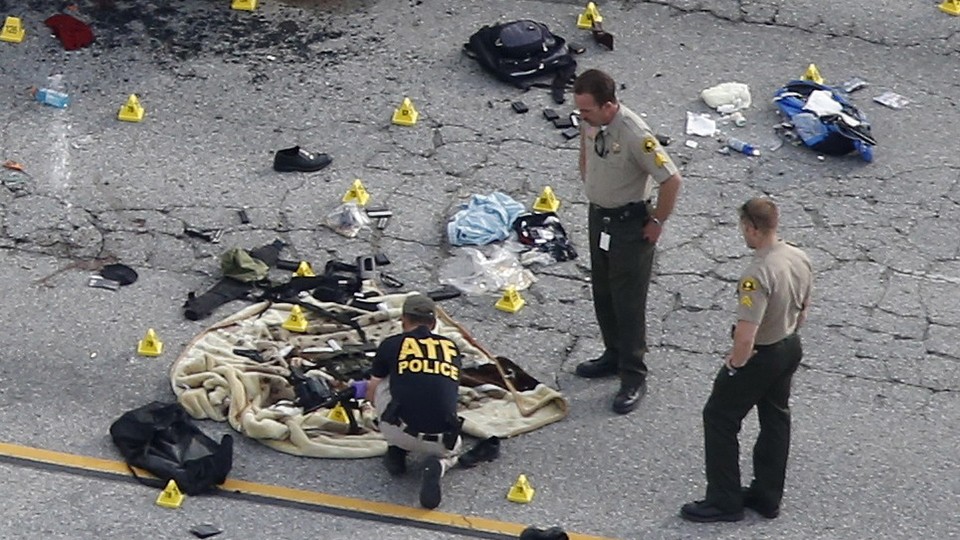 Updated on December 5 at 1:30 p.m. EST
The FBI is investigating the deadly shooting in San Bernardino, California, as an act of terrorism that may have been inspired by Islamist militant groups, officials said Friday.
The shooters—a husband and wife—had turned part of their home into a bomb-making factory, and the woman had apparently pledged allegiance to the Islamic State in a Facebook post around the time she and her husband opened fire at a holiday party on Wednesday, killing 14 people and injuring 21 others.
"The investigation so far has developed indications of radicalization by the killers, and of potential inspiration by foreign terrorist organizations," FBI Director James Comey said at a news conference on Friday, according to The New York Times.
David Bowdich, assistant director of the FBI's Los Angeles office, has said Thursday that his agency was treating the attack as "an act of terrorism."
Investigators believe Syed Rizwan Farook, 28, and his wife Tashfeen Malik, 27, were not part of a larger terrorist network, and likely acted on their own accord. Facebook removed the post—which mentioned Abu Bakr al-Baghdadi, who has declared himself the leader of the terrorist organization—the day of the shooting. Reuters reported that the Islamic State acknowledged the shooting in the group's daly online radio broadcast on Saturday.
"Two followers of Islamic State attacked several days ago a center in San Bernadino in California," the group said.
If investigators conclude that the shooters were inspired by the Islamic State, this week's shooting would be the deadliest terrorist attack by Islamist militants in the United States since September 11, 2001. The assault would also be a product of the Islamic State's latest strategy in spreading terror beyond the land it controls. As my colleague David Graham wrote Friday, "as ISIS has lost physical ground in Iraq and seen its cities pounded by airstrikes, it has shifted its tactics away from controlling territory—that is, the actual work of being a state—and begun calling on sympathizers to launch attacks in Western countries."
The shooting occurred at the Inland Regional Center in San Bernardino, where the county health department had rented out a conference room for its employees, which included Farook, an environmental health inspector. Farook left the event at some point, and returned with Malik at about 11 a.m. local time. They carried assault rifles and handguns and wore masks and military-style vests. After gunning down dozens of people, the couple fled in a dark-colored SUV, and were eventually killed in a shootout with police.
Farook was born in Illinois and Malik in Pakistan. They met on a dating website for Muslims, and Malik arrived in the U.S. last summer on a visa that allows individuals to enter the country to marry American citizens. The couple had a six-month-old child and lived with Farook's mother in Redlands, less than a 15-minute drive from where the attack occurred. Farook's sister has called the shooting "horrific," and her husband said he has "no idea why [Farook] would do something like this." A relative of Malik in Pakistan told the Associated Press  that Malik had grown more religious in recent years.
Officials said the stockpile of ammunition and explosive devices discovered in their home suggested the couple may have planned to carry out more attacks. From the Times:
[Officials] found 12 completed pipe bombs and a stockpile of thousands of rounds of ammunition. … Among the components investigators seized from the couple's house were items common to the manufacture of pipe bombs but also "miniature Christmas tree lamps." A recent issue of Inspire, an online magazine published by an arm of Al Qaeda, included an article, "Designing a Timed Hand Grenade," with step-by-step instructions for making a delayed igniter with a Christmas tree lamp.
Investigators also found evidence that the killers had planned the attack ahead of time:
[I}n their final days, Mr. Farook and Ms. Malik tried to erase their electronic footprints, another sign of premeditation. They destroyed several electronic devices, including two smashed cellphones found in a trash can near their home, and erased emails, officials said.
Investigators will examine the information on these devices in the coming days.
President Obama said Saturday in his weekly address that investigators are "working to get a full picture" of the killers' motives.
"It is entirely possible that these two attackers were radicalized to commit this act of terror," Obama said. "And if so, it would underscore a threat we've been focused on for years—the danger of people succumbing to violent extremist ideologies."
The president called on Congress to pass legislation that would tighten rules governing the purchase of guns. This week's mass shooting, he said, is "another tragic reminder that here in America, it's way too easy for dangerous people to get their hands on a gun."