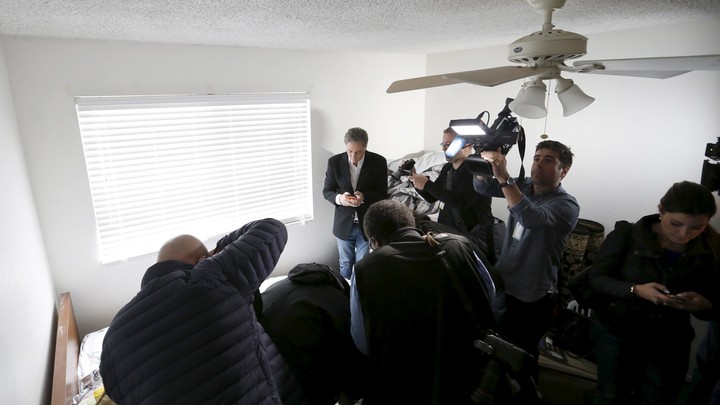 The husband and wife who opened fire at a holiday office party in San Bernardino, California, last week had discussed "jihad and martyrdom" as early as 2013, the FBI's director said Wednesday.
James Comey said at a Senate hearing that Syed Rizwan Farook and Tashfeen Malik "were radicalized for quite a long time before their attack," which claimed 14 lives and injured 21 others.
"Our investigation to date, which I can only say so much about at this point, indicates that they were actually radicalized before they started courting or dating each other online," he said. "As early as the end of 2013, they were talking to each other about jihad and martyrdom."
Comey said the shooters were inspired by foreign terrorist organizations.
"We're working very hard to understand whether there was anybody else involved with assisting them, with supporting them, with equipping them," he said. "We're working very, very hard to understand, did they have other plans?
A week after the rampage, investigators have assembled a fuzzy portrait of the couple who carried out the attack before they were killed in a shootout with police. Farook, 28, and Malik, 27, met on a dating website for Muslims. Malik, who was born in Pakistan and spent 20 years living in Saudi Arabia, came to the United States last July on a K-1 visa that allows individuals to enter the country to marry U.S. citizens. Farook, a native of Illinois, had worked for the San Bernardino County Health Department for five years. Most of the victims of last week's shooting were his coworkers.
On the morning of the shooting, Malik pledged allegiance in a Facebook post to the Islamic State and its self-declared leader, Abu Bakr al-Baghdadi.
Farook's coworkers said he rarely talked about his faith. Malik's relatives in Pakistan say she grew more religious in recent years. Relatives of both have expressed shock and disbelief over their actions.
Farook and Malik lived in a rented apartment in Redlands, about a 15-minute drive from where the attack occurred, with Farook's mother and the couple's six-month-old baby. The husband and wife had turned part of their home into a bomb-making factory and stockpiled thousands of rounds of ammunition. In the days and weeks before the attack, they practiced shooting at a gun range and smashed cellphones and deleted emails in an attempt to conceal their planning. A deposit of $28,500 was made into Farook's bank account before the shooting, its provider unknown.
Comey said investigators are trying to determine "the source of their inspiration." Officials say they do not have any evidence that suggests Farook and Malik were working as part of a larger network. They believe the attack appears to be a product of what President Obama on Sunday called "a new phase" of the threat of terrorism.
"As we've become better at preventing complex, multifaceted attacks like 9/11, terrorists turned to less complicated acts of violence like the mass shootings that are all too common in our society," Obama said in a speech about the shooting. "And as groups like ISIL grew stronger amidst the chaos of war in Iraq and then Syria, and as the Internet erases the distance between countries, we see growing efforts by terrorists to poison the minds of people like the Boston Marathon bombers and the San Bernardino killers."
As my colleague Kathy Gilsinan wrote Tuesday, the process by which a person grows radical involves a complex mix of variables:
"Self-radicalization is not new, and in fact represents the norm that we have dealt with," Jenkins told me. "What is new is that the very effective use of social media by ISIL, ISIS, whatever you choose to call it, has enabled them to reach a larger audience, a younger audience," due in part to the "content of the communications, the vehicle of the communications." …  Still, Charlie Winter, a senior research associate at the Transcultural Conflict and Violence Initiative at Georgia State University, said radicalization does not occur "in a bubble"—passive consumption of propaganda is not enough to transform an ordinary person into a murderer. It's not the case, he said, "that individuals can find themselves on inevitable trajectories toward extremism if they go to the right place on the Internet and start hanging out with the wrong crowd. It's nowhere near as simple as that."
We want to hear what you think about this article. Submit a letter to the editor or write to letters@theatlantic.com.