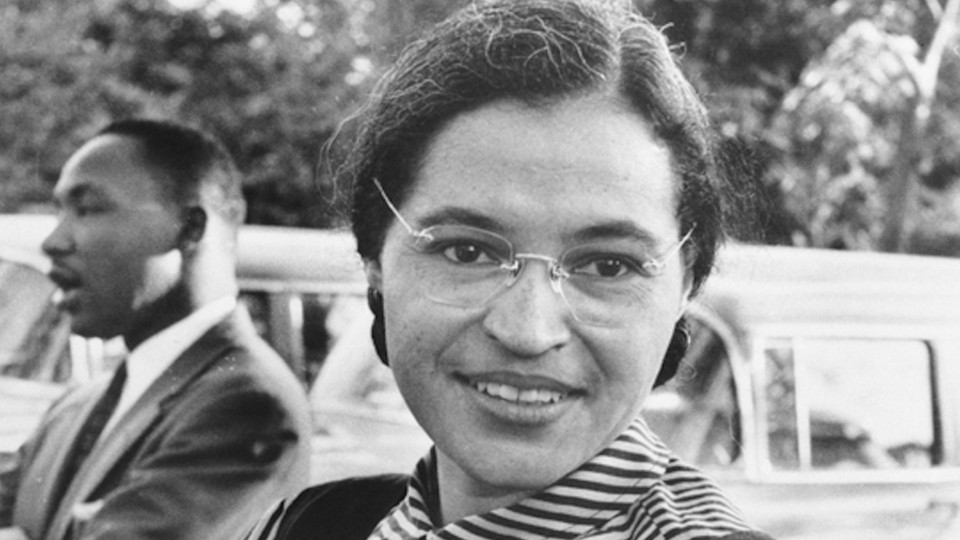 Editor's Note:
This article previously appeared in a different format as part of The Atlantic's Notes section, retired in 2021.
For most of elementary school I learned about Rosa Parks as if she only existed on December 1, 1955. Every February in some Black History Month poster or presentation: Parks sitting on a bus, alongside MLK's dream and George Washington Carver's peanuts. Her life cooled into one day. Rather, one moment: the passive and accidental revolution in Parks's refusal to give up her bus seat to a white man because she was too tired to stand. Pictures of her mugshot and fingerprints from an arrest were mummified with her day-long life, along with that shot of her staring out of bus window. I remember it all collected into her very quiet rebellion.
Jeanne Theoharis contends with this collective misremembering in The Washington Post today, on the anniversary of Parks's 1955 arrest. Theoharis, a Parks biographer, describes how that tired refusal on the bus 60 years ago was not an incongruous burst in the life of a meek Parks.
She was an activist for black women, especially victims of sexual violence at the hands of white men. This historical truth is encapsulated in a line from Danielle McGuire's book on the historic role of black women in the Civil Rights Movement: "The Montgomery bus boycott was the baptism, not the birth, of that struggle."
You can hear about the day directly from Parks here, in a 1956 interview with Sydney Rogers. And on the boycott her arrest catalyzed—organized by another black female activist, Jo Ann Robinson—read Benjamin E. Hays in the December 1960 issue of The Atlantic:
For a year Negroes boycotted the buses in Montgomery, Alabama, and finally the buses were desegregated by federal decree, although the atmosphere was tense and there was fear of race riots. The Montgomery boycott resounded around the world; and no one could mistake what the Negroes in Montgomery were saying.