The Planned Parenthood Shooter's Outburst in Court
The suspect interrupted a hearing on Wednesday, calling himself "a warrior for the babies."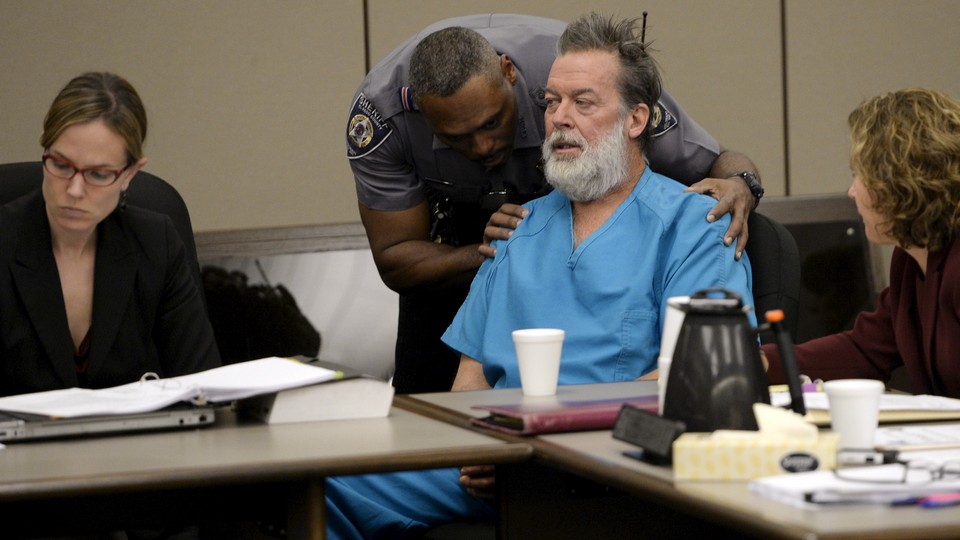 The alleged gunman in a shooting rampage last month at a Planned Parenthood clinic in Colorado interrupted a court hearing Wednesday several times, shouting that he was "guilty" in the crime.
"I'm guilty. There's no trial. I'm a warrior for the babies," Robert Lewis Dear yelled, according to reporters in the room. "Let it all come out. The truth!"
Dear, 57, made the comments during a hearing for prosecutors to announce charges against him for the shooting, in which three people were killed and nine were injured. Dear has been charged with 179 counts, including first-degree murder. He has not yet entered a formal plea.
On the afternoon of November 27, a gunman burst into a Planned Parenthood clinic in Colorado and opened fire. He remained there for about five hours, holding the people inside hostage and firing at police officers gathered outside, before surrendering. Police arrested Dear at the scene and identified him as the shooter a day later. When he was apprehended, Dear allegedly spoke of "no more baby parts" to  police officers.
The three fatalities in the shooting were Ke'Arre Stewart, 29, a veteran of the Iraq war with two young daughters; Jennifer Markovsky, 36, who was accompanying a friend to the clinic; and Garrett Swasey, a police officer with the University of Colorado, Colorado Springs, who responded to scene. Five of the nine people wounded were police officers.