The Arrest of the 'Pharma Bro'
Federal agents arrested Martin Shkreli at his Manhattan home on Thursday morning in connection with securities fraud.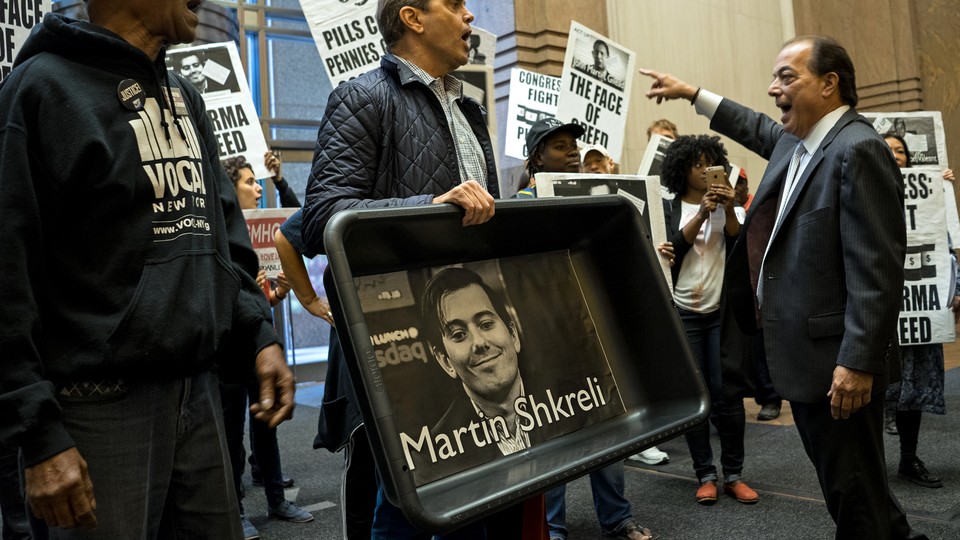 Updated on December 17 at 11:19 a.m. ET
He raised the price of a life-saving drug from $13.50 to $750 and spent $2 million to buy the only copy of a Wu-Tang Clan album—making him the symbol of corporate excess and greed and earning him the monicker "Pharma Bro." And on Thursday, federal agents arrested Martin Shkreli, 32, in connection with securities fraud linked to a company he started.
Shkreli and Evan Greebel, an associate, who was also arrested Thursday, were charged with two counts of securities fraud, three counts of conspiracy to commit securities fraud; and two counts of conspiracy to commit wire fraud. You can read the indictment against them here.
Shkreli ran his companies like "a Ponzi scheme," and "lied to his investors," Robert L. Capers, the U.S. attorney for the Eastern District of New York, said at a news conference in which the indictment against the two men was unsealed.
Bloomberg, which first reported the arrest, noted:
Prosecutors in Brooklyn charged him with illegally taking stock from Retrophin Inc., a biotechnology firm he started in 2011, and using it to pay off debts from unrelated business dealings. He was later ousted from the company, where he'd been chief executive officer, and sued by its board.

In the case that closely tracks that suit, federal prosecutors accused Shkreli of engaging in a complicated shell game after his defunct hedge fund, MSMB Capital Management, lost millions. He is alleged to have made secret payoffs and set up sham consulting arrangements. A New York lawyer, Evan Greebel, was also arrested early Thursday. He's accused of conspiring with Shkreli in part of the scheme.
Shkreli came into the public consciousness in September soon after his company, Turing Pharmaceuticals, bought the drug Daraprim, which is used to treat people with weakened immune systems, as in AIDS and during chemotherapy, and raised its price by 5,000 percent. In the backlash that followed, he was called "a spoiled brat," and "the most hated man in America."
At first, Shkreli appeared unapologetic about the backlash, but as it grew, he appeared to relent, only to backtrack.
"It's a business," he said at a health-care conference this month, "we're supposed to make as much money as possible."
He stayed in the news this month when he bought the only copy of Wu-Tang Clan's new album, Once Upon a Time in Shaolin, and said his decision was prompted by "the opportunity to rub shoulders with celebrities and rappers who would want to hear it."
As my colleague Spencer Kornhaber reported at the time: "The debate is now settled. Wu-Tang has made a horrible mistake."
Bloomberg offers a rationale for Shkreli's hold on our imagination:
The son of immigrants from Albania and Croatia who worked as janitors and raised him deep in working-class Brooklyn, Shkreli both epitomizes the American dream and sullies it. As a youth, he showed exceptional promise and independence and, after dropping out of an elite Manhattan high school, began his conquest of Wall Street before he was 20. …

Shkreli started his career interning for "Mad Money" host Jim Cramer while still a teenager. After recommending successful trades, Shkreli eventually set up his own hedge fund, quickly developing a reputation for trashing biotechnology stocks in online chatrooms and shorting them, to enormous profit.

Widely admired for his intellect and sharp eye, he pored over medical journals and self-trained in biology. He set up Retrophin to develop drugs and acquire older pharmaceuticals that could be sold for higher profits.
The little red guy with a pitchfork on our collective arthritic shoulder, Shkreli is a product, not a cause. Defeating him is treating a symptom, not creating a cure. In mocking his hubris we mock a person for operating within a system that we created and continue to subsidize. It took a firestorm of public outrage stoked by every national news outlet and multiple presidential candidates to get Shkreli to remit. But there are many more Shkrelis, and there will continue to be more Shkrelis.