Peyton Manning Accused
The Denver Broncos quarterback is dismissing as "garbage" claims made in an Al Jazeera documentary that he was supplied with human growth hormone in 2011.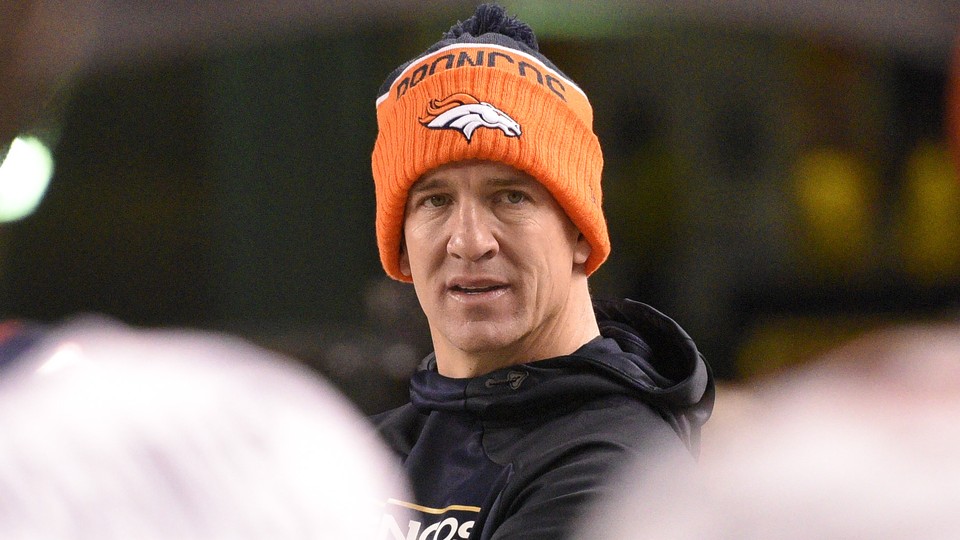 Peyton Manning, the Denver Broncos quarterback, has fiercely denied claims made in an Al Jazeera documentary that he was supplied with human growth hormone in 2011. Manning told ESPN he is "furious" about the report that names him and several other high-profile athletes linked to performance-enhancing drugs.
The Al Jazeera investigation—called "The Dark Side"—is the culmination of months of undercover reporting carried out by British hurdler Liam Collins. Al Jazeera says Collins told pharmacists he interviewed for the piece he was looking to compete in the Olympics in Rio next summer and would do "whatever it takes" to make that happen. The report is scheduled to air Sunday night, but it is already available to watch online.
Al Jazeera's main  source in the allegations against Manning is Charlie Sly, who is identified in the documentary as a pharmacist at the Guyer Institute in Indianapolis. Sly initially told Collins—who captured the exchange via hidden camera—that he had sent human growth hormone to Manning's home address in the name of Manning's  wife, Ashley, in 2011 while the player was in treatment for a neck injury.
Manning says he did go to the Guyer Institute in 2011 for treatment prescribed by the trainers of his then-team the Indianapolis Colts, but says allegations he used human growth hormone are false.
"It's completely fabricated, complete trash, garbage—there's more adjectives I'd like to be able to use." Manning told ESPN. "It really makes me sick."
The other athletes Sly names in the documentary include baseball's Ryan Zimmerman of the Washington Nationals and Ryan Howard of the Philadelphia Phillies; both have denied the allegations.
But the accused athletes aren't the only characters calling this story into question. Sly himself has recanted his claims to Al Jazeera in a video posted to YouTube. He also told ESPN he isn't a pharmacist and that he wasn't working at the Guyer Institute in 2011.
The Broncos released a statement Sunday supporting Manning.
"Knowing Peyton Manning and everything he stands for, the Denver Broncos support him 100 percent. These are false claims made to Al Jazeera, and we don't believe the report."
A page on Al Jazeera America, where the investigative video is posted, details all the denials and Sly's decision to recant, but concludes "the investigation raises questions about whether medical professionals are helping athletes cross to the dark side, and whether doping in sport is reaching new levels."