Obama on San Bernardino: 'We Are in a New Phase of Terrorism'
The president met with intelligence specialists at the National Counterterrorism Center on Thursday.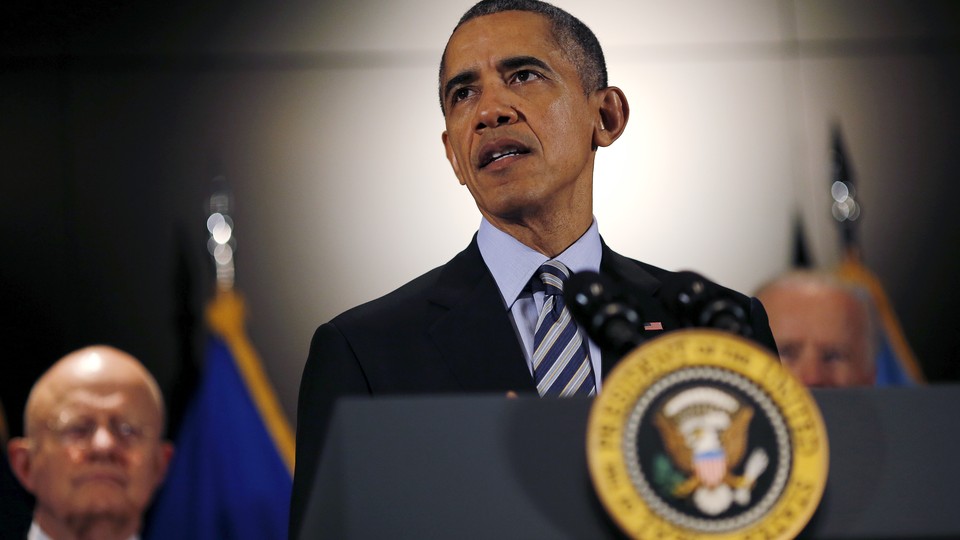 President Obama visited Thursday the federal agency that has the task of analyzing all U.S. intelligence on terrorism as part of a weeks-long effort to calm a nervous public following deadly attacks in San Bernardino, Paris, and elsewhere.
"At this moment, our intelligence and counterterrorism professionals do not have any specific and credible information about an attack on the homeland," Obama said at the National Counterterrorism Center in Virginia. "That said, we have to be vigilant ... we are in a new phase of terrorism, including lone actors and small groups of terrorists, like those in San Bernardino."
Just weeks after after a team of Islamic State terrorists killed 130 people in Paris, a married couple killed 14 people and wounded 21 others in a shooting rampage in San Bernardino, California, allegedly in the name of foreign terrorist organizations. Unlike large-scale, carefully orchestrated attacks, an assault like the one in San Bernardino is "smaller, often self-initiating, self motivating" and "harder to detect," Obama said Thursday.
"And that makes it harder to prevent," he said. "But just as the threat evolves, so do we. We're constantly adapting, constantly improving, upping our game, getting better."
In the days after the attack in San Bernardino, federal investigators determined the shooters, Syed Rizwan Farook and his wife, Tashfeen Malik, were inspired by Islamist extremists and had spoken of jihad online as long ago as 2013. But those communications were "private direct messages," the FBI said, and would not have been detected by U.S. intelligence employees.
Obama said national security officials will use the San Bernardino shooting to"learn whatever lessons we can and make any improvements that are needed."
"In the meantime, what the world doesn't always see are the successes, those terrorist plots that have been prevented," he said. "And that's how it should be. This work oftentimes demands secrecy."
Obama said the government will tighten security surrounding the visa-waiver agreement, a program that allows citizens from 38, mostly Western, countries to visit the United States for three months without visa; and review the K-5 fiancee visa program under which Malik entered the country last year to marry Farook. The president said refugees entering the U.S. "will continue to get the most intensive scrutiny of any arrival."
The president receives an update on potential threats from the National Counterterrorism Center before the holidays every year, but usually in the Situation Room in the White House. Obama was joined on stage during his remarks Thursday by Nicholas Rasmussen, the director of the center, Vice President Joe Biden, secretaries John Kerry of State and Jeh Johnson of Homeland Security, Attorney General Loretta Lynch, FBI Director James Comey, and James Clapper, director of the Office of National Intelligence.
The visit concluded a week of counterterrorism-focused meetings by the Obama administration. On Monday, Obama made a rare trip to the Pentagon, where he met with his cabinet officials and senior national-security advisers in a gathering billed as a "quick update" on the more than 18-month-old campaign against the Islamic State. On Tuesday, Kerry met with Russian President Vladimir Putin in Moscow to push for a diplomatic solution to the Syrian civil war, which could lead to cooperation between Washington and Moscow in their independent responses to the Islamist militant group.
On Wednesday, Defense Secretary Ash Carter met in Baghdad with Iraqi Prime Minister Haider al-Abadi, to whom the administration has offered U.S. attack helicopters to help in ground offensives against the Islamic State in Ramadi. On the same day,  Johnson activated a new terrorism warning system for the country, replacing an existing system that was introduced in 2011 but never activated because of its high threshold for credible or imminent threats. Under the new protocol, the homeland security department will issue periodic announcements about more general threats identified by federal officials.
"Particularly with the rise in use by terrorist groups of the Internet to inspire and recruit, we are concerned about the 'self-radicalized' actor(s) who could strike with little or no notice," the department said on its website.
Obama heads to San Bernardino on Friday to meet privately with the families of the shooting victims, before flying to Hawaii for his annual two-week vacation.