Obama on San Bernardino: 'This Was an Act of Terrorism'
The president addressed the mass shooting in a televised speech from the Oval Office on Sunday.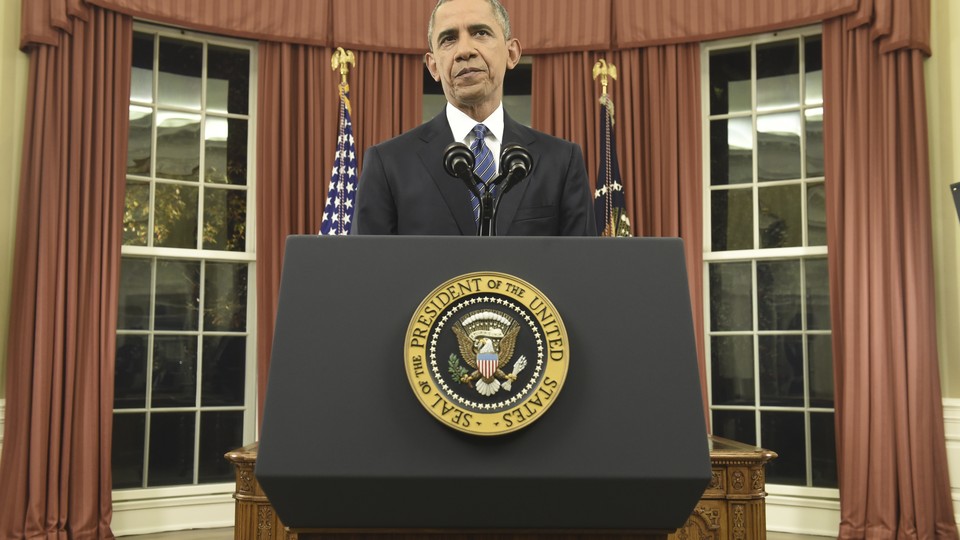 Updated on December 6 at 8:59 p.m. EST
President Obama called a mass shooting in California this week "an act of terrorism designed to kill innocent people." He spoke from a lectern in the Oval Office on Sunday, flanked by framed photographs of his wife and daughters on the desk behind him.
Obama said that investigators do not believe the killers "were directed by a terrorist organization overseas or that they were part of a broader conspiracy here at home."
"But it is clear that the two of them had gone down the dark path of radicalization, embracing a perverted interpretation of Islam that calls for war against America and the West," he said.
His speech was a response to the shooting rampage that killed 14 people and wounded 21 at a conference center in San Bernardino on Wednesday. The killers, Syed Rizwan Farook, 28, and his wife Tashfeen Malik, 27, died in a shootout with police hours later. Farook worked as an inspector at the county health department, and most of the victims were his coworkers, one of whom had shared a cubicle with Farook.
On the morning of the shooting, Malik pledged allegiance to the Islamic State in a Facebook post. Malik, a native of Pakistan, came to the United States last year to marry Farook, who was born in Illinois. Both were devout Muslims. Farook's coworkers said he rarely talked about his faith; Malik's relatives in Pakistan say she grew more religious in recent years.
"As groups like ISIL grew stronger amidst the chaos of war in Iraq and Syria and as the Internet erases the distance between countries, we see growing efforts by terrorists to poison the minds of people," Obama said Sunday.
The attack appeared to have been carefully orchestrated. Farook and Malik wore masks and military-style vests and used assault rifles and handguns—some they had purchased legally, others they had reportedly gotten from someone else. Investigators discovered that the couple had turned part of their home into weapons stockpile. They found thousands of rounds of ammunition, 12 completed pipe bombs, and materials to make more at their rented apartment in Redlands, less than a 15-minute drive from where the shooting occurred. Farook and Malik had smashed cellphones and deleted emails in an attempt to conceal their planning.
The FBI is investigating the attack as terrorism. The agency's director, James Comey, said Friday the attack shows "indications of radicalization by the killers, and of potential inspiration by foreign terrorist organizations."
Obama's primetime speech was intended to reassure a public on edge in the wake of the Paris attacks last month, which were carried out by the Islamic State.
"I know that after so much war, many Americans are asking whether we are confronted by a cancer that has no immediate cure," Obama said. "Well, here's what I want you to know. The threat from terrorism is real, but we will overcome it."
Recent polling has shown that Americans increasingly disapprove of the president's handling of terrorism, and more say the U.S. should send ground troops to fight the Islamic State.
Obama outlined his current strategy for fighting the Islamic State, as he has done repeatedly in recent months: Launching airstrikes against targets in Iraq and Syria and helping Syrian and Iraqi Kurdish fighters on the ground. He warned, as he has also done repeatedly in recent months, against sending Americans into combat, saying "we should not be drawn once more into a long and costly ground war in Iraq or Syria."
The Defense Department this month announced it would send special-operations troops to Iraq to aid local fighters, marking a public escalation in the Obama administration's response to the terrorist group.
Some lawmakers have criticized such intensification, arguing that the Obama administration is mounting its mission against the Islamic State without the authorization for the use of military force, or AUMF, required to do it. The administration has justified its air campaign against the Islamic State, which began in August 2014, using the two most recent AUMFs, which were passed in 2001 and 2002 and permitted the war in Iraq. The Obama administration introduced an updated authorization in February, but it has not yet come to a vote in Congress. Obama on Sunday called on lawmakers to approve the resolution.
In the days after the San Bernardino shooting, the story developed into a wider conversation about terrorism, gun control, and even journalistic ethics. California state lawmakers are considering new gun legislation. Some Democratic members of Congress criticized their Republican counterparts for offering prayers in the aftermath of the mass shooting, and not legislative proposals for how to stop the next one. The New York Times ran an editorial on its front page on Saturday for the first time since 1920, calling for greater regulation of guns.