Obama: 'We Are Hitting ISIL Harder Than Ever'
The president's remarks come less than two weeks after a man and woman shot and killed 14 people in California, allegedly in the name of the Islamic State.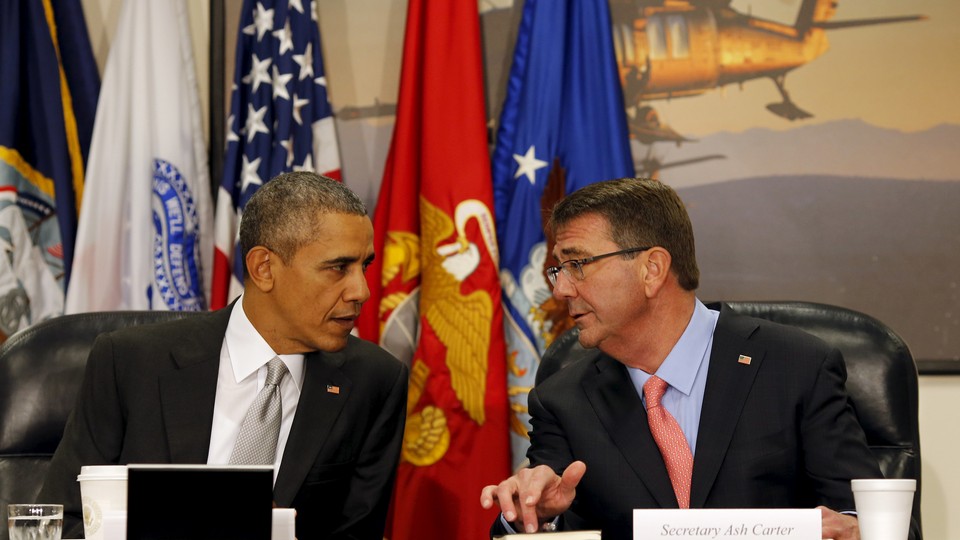 President Obama said Monday the U.S.-led mission against the Islamic State "continues to be a difficult fight."
"We are hitting ISIL harder than ever," the president said, using one of the name for the Islamist militant group, which is also called ISIS and Daesh.
His brief statement to reporters followed a meeting at the Pentagon with his cabinet officials and senior national security advisers, a gathering billed as a "quick update" on the more than 18-month-old campaign against the organization, which rapidly seized control of large parts of Syria and Iraq last summer.
The meeting comes less than two weeks after a husband-and-wife team shot and killed 14 people in San Bernardino, California, allegedly in the name of the Islamic State, shaking a public already on edge after attacks last month in Paris claimed by the group took 130 lives.
Obama reiterated his strategy for defeating the Islamic State, as he has done on a seemingly near-daily basis in recent weeks. He said that, even before the assaults in San Bernardino and Paris, he authorized more action to "intensify our war against ISIL."
Obama said the U.S. launched more air strikes in November than in any previous month in the campaign. He also confirmed the death of Islamic State member Mohammed Emwazi, the British man dubbed"Jihadi John" who beheaded Western hostages on camera, and whom U.S. officials were "reasonably certain" was killed in a strike last month.
"All of this said, we recognize that progress needs to keep coming faster," Obama said. "No one knows that more than the countless Syrians and Iraqis living every day under ISIL terror, as well as the families in San Bernardino and Paris and elsewhere who are grieving the loss of their loved ones."
The Pentagon has dispatched special-forces teams to Iraq and Syria this fall, a first in a mission largely defined by drone warfare since its inception. Last week, U.S.-backed Iraqi forces seized one of the Islamic State's operations centers on the outskirts of Ramadi, a significant achievement in the battle to recapture neighborhoods in and around the Iraqi city under the militant group's control. But White House officials say that win took "a frustratingly long time." Carter said last week his department is prepared to deploy advisers and attack helicopters—if the prime minister of Iraq wants them—to the region to "finish the job."
Obama was last at the Pentagon in July, also to talk about the growing threat of the Islamic State. Monday's meeting included a number of big names: Vice President Joe Biden; secretaries John Kerry of State, Ash Carter of Defense, Jeh Johnson of Homeland Security, Jacob Lew of Treasury, and several of their deputies; Attorney General Loretta Lynch; U.N. Ambassador Samantha Power; national security advisers Ben Rhodes and Susan Rice; James Comey, the FBI director; and General Lloyd Austin, head of U.S. Central Command.
The meeting comes as Americans are increasingly fearful of a terrorist attack on U.S. soil. A New York Times/CBS News poll found last week that 44 percent of the public says an attack is "very" likely to happen in the next few months—the most in such polls since October 2001.
This week has a counterterrorism-heavy itinerary for the Obama administration. Carter left for the Middle East after the president spoke on Monday, Kerry will be in Moscow on Tuesday to meet with Russian President Vladimir Putin, Obama will visit the National Counterterrorism Center on Thursday, and Johnson will announce a new terror warning system for the country in the coming days.