More Questions About the Police in Chicago
Police shot and killed two people on Saturday, including a woman who was accidentally struck.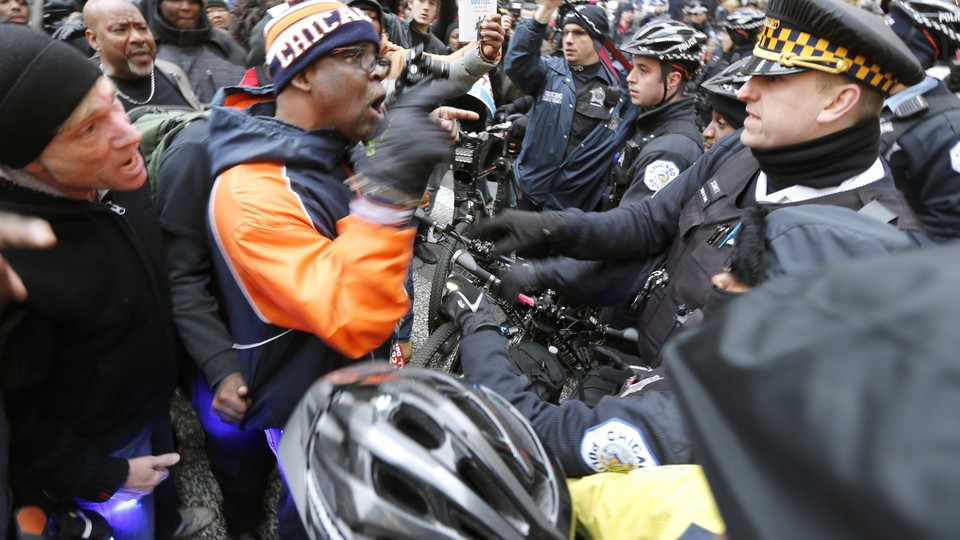 Updated on December 27 at 2:46  p.m. ET
Two people were shot dead by Chicago Police on Saturday, including a woman who police say was "accidentally struck," raising more questions about the conduct of a police department that's already under intense scrutiny.
The Chicago Police  Department said officers responded to a domestic-disturbance call early Saturday. Quintonio LeGrier, 19, was acting strangely and carrying a bat around his father's apartment. Relatives have since said LeGrier struggled with mental-health issues.
Police say that on the scene they were "confronted by a combative subject, resulting in the discharging of the officer's weapon." Bettie Jones, 55, was apparently shot when she tried to answer the front door for the officers—she was the first-floor tenant of a building that shares a front entrance.
The police released a statement late Saturday saying "the 55-year-old female victim was accidentally struck and tragically killed. The department extends its deepest condolences to the victim's family and friends."
But those comments are unlikely to assuage the concerns of many Chicagoans who accuse the police of violence against blacks.
"If you're afraid of these streets to the point where you got to shoot first, you need to turn your badge in," Betty Turner, LeGrier's great aunt, said at a news conference Sunday.
His mother, Janet Cooksey, described LeGrier, a college student, as "happy," but said he had started to exhibit emotional issues.
"He's not an angry child. He's not a violent child," she said. "He's a good child."
She told WBBM-TV: "Seven bullets were put in my son. Seven."
"Eight shots were fired. One hit an innocent lady who was just opening her door. Something is wrong with this picture."
Both Jones and LeGrier were black. The department has declined to release the identities or races of the officers involved in the shooting.
The department has been under intense local and national scrutiny since the release of a dashboard video in November showing the shooting of 17-year-old Laquan McDonald in 2014. Jason Van Dyke, the white officer involved in that incident, has been charged with murder. The Justice Department has also launched an investigation into the use of force by police in Chicago and whether there are any racial disparities in how and when force is applied.
Another issue in this case is police use of force when mental illness may be involved. According to a Washington Post database of U.S. shootings, about one-quarter of those fatally shot in 2015 exhibited signs of mental illness.
A police spokesman told The New York Times that an investigation into Saturday's shooting is underway. The Chicago Police Department also announced a new policy on Saturday: Officers involved in shootings will now be placed on routine administrative duties for 30 days. The Chicago Tribune reports this is a major jump from the previous policy of three days.