Differing Approaches to a Similar Terror Threat
Both the Los Angeles and New York school systems received threats; one of them canceled schools.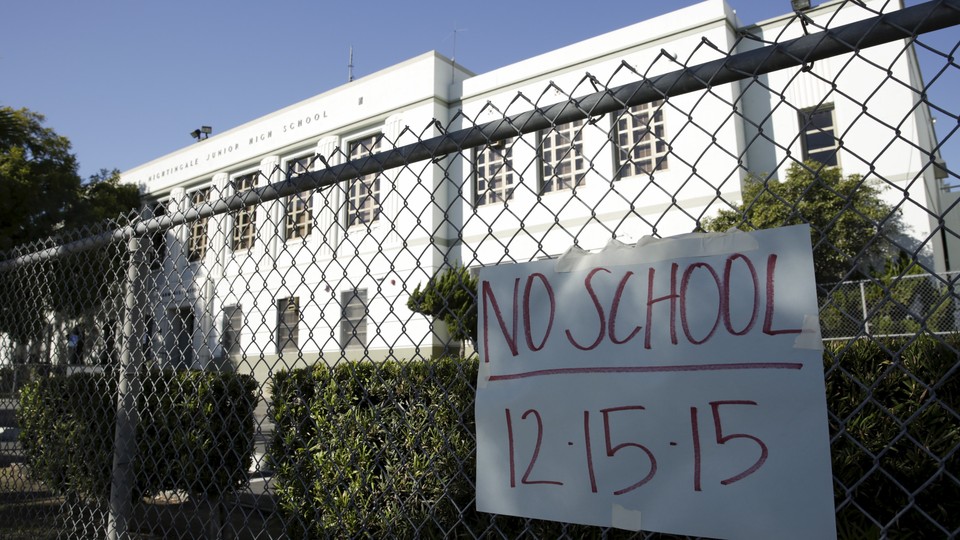 A terror threat on Tuesday that ultimately proved to be a hoax kept more than 600,000 children in Los Angeles from going to school. Meanwhile, thousands of miles east, a similar threat didn't prevent another 1.1 million kids in New York from attending classes.
The Los Angeles Unified School District's decision to shut down on Tuesday earned it some criticism, notably from its New York counterparts. As my colleague Marina Koren noted, New York Mayor Bill de Blasio implied that Los Angeles had overreacted, while NYPD Chief William Bratton, a commissioner emeritus of the LAPD, dismissed the threat as something out of Homeland.
But as officials in Los Angeles took turns defending their decision, which was made less than two weeks after a terrorist attack killed 14 people in nearby San Bernardino, the divergence in responses came as the Department of Homeland Security was finalizing a new National Terrorism Advisory System. On Wednesday, the department rolled out the more comprehensive system.
The newest component of the alert system is called "Bulletins," which provides an intermediate level of warning regarding potential terrorism threats.
NTAS Bulletins will provide information describing broader or more general trends and current developments regarding threats of terrorism. They will share important terrorism-related information with the American public and various partners and stakeholders, including in those situations where additional precautions may be warranted, but where the circumstances do not warrant the issuance of an "elevated" or "imminent" Alert. An NTAS Bulletin will summarize the issue and why it is important for public awareness, outline U.S. Government counterterrorism efforts, and offer recommendations to the public on how it can contribute to the overall counterterrorism effort.
It's unclear how the system might have affected the response to the dual threats in Los Angeles and New York City on Tuesday, but as we noted earlier this month, The National Terrorism Advisory System has not issued a single alert since scrapping the infamous color-coded system in early 2011.