What's Happening at Los Angeles Schools?
Several public school systems in the U.S. received threats Tuesday morning, officials said.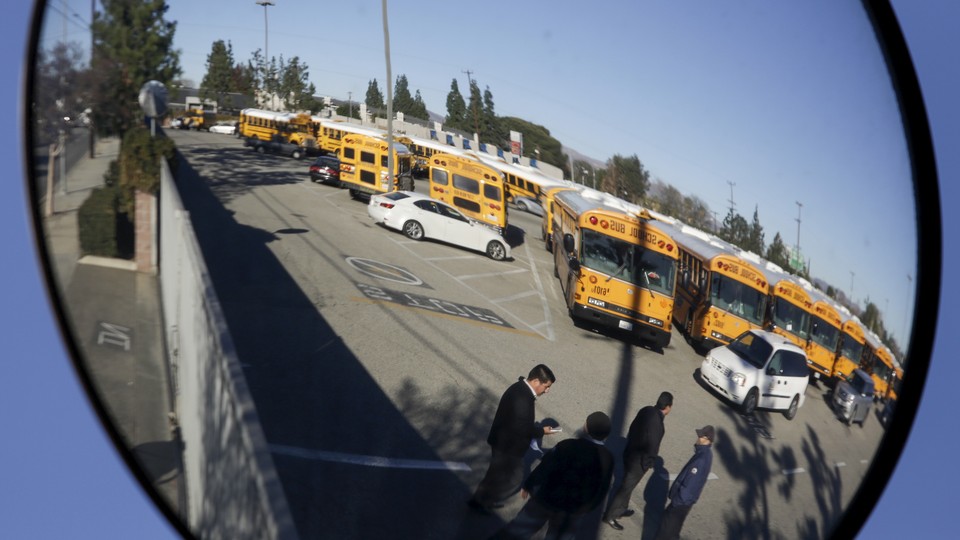 Updated on December 15 at 1:38 p.m. EST
The second-largest public school system in the nation shut down Tuesday morning after officials received a threat against an unspecified number of its more than 900 campuses.
Ramon Cortines, the superintendent of the Los Angeles Unified School District (LAUSD), said that an email was sent to members of the school board Tuesday morning, threatening "many schools" of the system. He advised parents and families to not bring their children to school and ordered searches of all school locations.
The New York Police Department said shortly after Los Angeles officials announced the closures that it too received a similar threat via email against the city's schools Tuesday morning. But officials determined it was not a credible threat and will investigate it as a hoax.
New York City Mayor Bill de Blasio said the threatening email was sent to "a number of different places simultaneously," according to CBS New York.
The message was "written in a fashion that suggests that it's not plausible, and we've come to the conclusion that we must continue to keep our school system open," de Blasio said. "In fact, it's very important not to overreact in situations like this."
New York City Police Commissioner Bill Bratton said the message mirrored recent episodes of a Showtime series about the war on terrorism. "I think the instigator of the threat may be a Homeland fan," he said.
Cortines defended his decision to close the schools at a press conference Tuesday afternoon.
"I could not take the chance as it relates to one student or our staff that serve our students," he said.
Los Angeles officials hinted at their New York counterparts at the same press conference.
"I would say this to people who are critical: It is very easy in hindsight to criticize a decision based on results that the decider could have never known," said Los Angeles Police Chief Charlie Beck. "It is also very easy to criticize a decision when you have no responsibility for the outcome of that decision."
Los Angeles Mayor Eric Garcetti appeared to distance himself from the superintendent's decision to close the schools.
"The decision to close the schools is not mine to make, but it is mine to support as mayor of the city of Los Angeles … it is easy for people to jump to conclusions, and I have been around long enough to know that what people think in the first few hours is not necessarily how it will play out in later hours," he said.
Cortines said the school district receives threats "all that time" that prompt evacuations or lockdowns of particular schools. The threat officials received Tuesday morning, however, was "rare," he said.
LAUSD has more than 640,000 students in kindergarten through 12th grade, according to its website. Schools are scheduled to close for the holidays on Friday.
Cortines cited growing concern over terrorism threats after deadly attacks in California, Paris, and elsewhere in his decision to shut down the school system. The threat came less than two weeks after a husband and wife shot and killed 14 people, allegedly in the name of the Islamic State, at a center in San Bernardino, just over an hour's drive east of Los Angeles.
"I think the circumstances in neighboring San Bernardino, I think what has happened in the nation, I think what happened internationally—I, as superintendent, am not going to take the chance with the life of a student," he said.
Steve Zimmer, the president of LAUSD's Board of Education, said at a news conference Tuesday morning that the decision to close the schools for the day was "appropriate given the situation we are in."
"We need the cooperation of the whole of Los Angeles today," Zimmer said. "We need families and neighbors to work together with our families and employees to make sure our kids are safe throughout the day. We need employers to show the flexibility that a situation like this demands. And we ask you to show the maximum possible flexibility with your employees who are primarily mothers and fathers and guardians today in this situation."
Bratton said the NYPD is working with Los Angeles police and the FBI's Joint Terrorism Task Force to investigate the threats.
This is a developing story and we'll update as we learn more.