Jimmy Carter Beats Back Cancer
The former president said Sunday that his latest tests show no signs of the disease.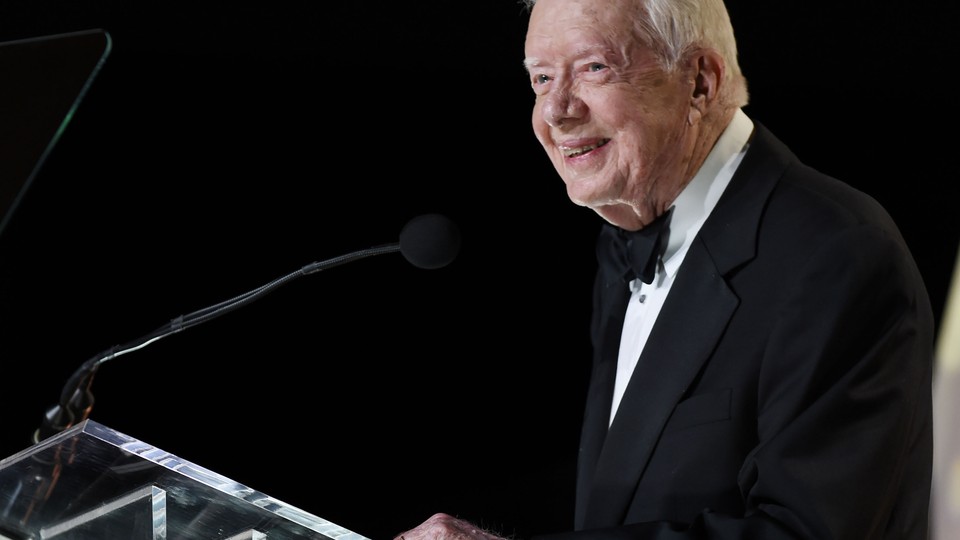 Updated on December 6 at 3:15 p.m. EST
Jimmy Carter is cancer-free.
"My most recent MRI brain scan did not reveal any signs of the original cancer spots nor any new ones," said the former president in a statement published on the website of the Carter Center, his humanitarian organization, on Sunday.
Earlier in the day, Carter had revealed the good news at a Sunday School class he was teaching in his hometown of Plains, Georgia, the Atlanta-Journal Constitution reported.
"He said he got a scan this week and the cancer was gone," said Jill Stuckey, a member of Maranatha Baptist Church who hosts the Carters for dinner regularly. "The church, everybody here, just erupted in applause."
Carter, who turned 91 last month, revealed in August that doctors had discovered and removed a small mass on his liver, which they diagnosed as melanoma. A later scan found the disease had spread to four spots in his brain. Carter put most of his work for his eponymous nonprofit organization on hold, and began immunotherapy treatment.
Last month, the Carter Center said the former Democratic president was "responding well to treatment" and that the cancer did not appear to be spreading. Doctors had even cleared him for travel to Nepal with Habitat for Humanity International to help build homes, a trip he has made 33 times. But the trip was canceled in October by Habitat over safety concerns.
Carter said Sunday he will continue his treatment.
In August, Carter said he thought he "had just a few weeks left" when he learned about the melanoma in his brain. But he remained in good spirits."I'm perfectly at ease with whatever comes," he told reporters, smiling. "You know, I have had a wonderful life. I have had an exciting and adventurous and gratifying existence."
Carter served as president from 1977 to 1981. A year after leaving the White House, he and his wife, Rosalynn, founded the Carter Center, which carries out humanitarian projects in dozens of countries. In 2002, Carter won the Nobel Peace Prize for his work through the center.