The Firing of Chicago Police Chief Garry McCarthy
A week after officials released a video of an officer shooting Laquan McDonald 16 times, Mayor Rahm Emanuel said the superintendent had lost the trust of the community.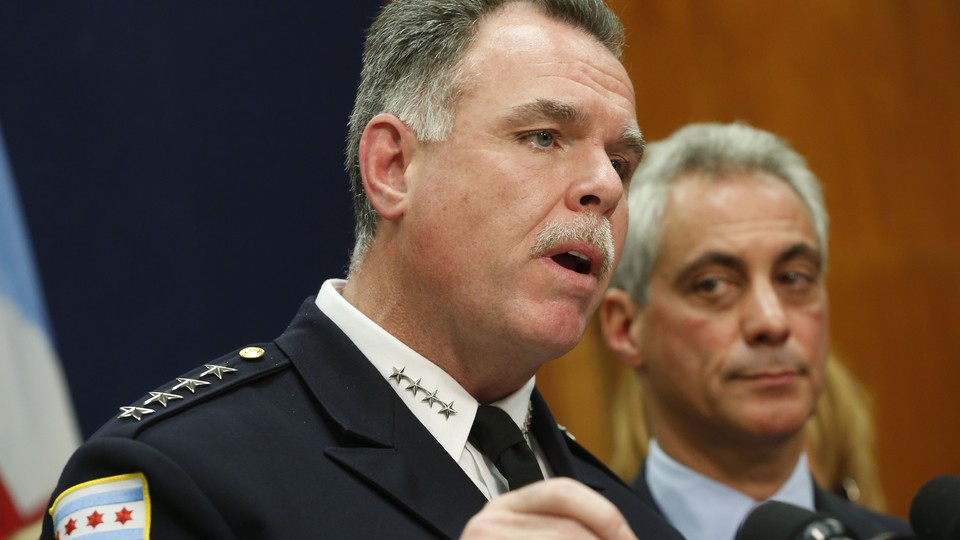 It took 14 months for Chicago authorities to release the videotape of an officer killing Laquan McDonald. But now that the footage is public, events have begun to move much faster.
Mayor Rahm Emanuel fired Police Superintendent Garry McCarthy overnight, the Chicago Sun-Times and Tribune reported. Emanuel announced the move Tuesday morning. The mayor had previously scheduled the press conference to announce the creation of a task force on police accountability.
McCarthy's professional demise seemed pre-ordained by Tuesday. He was at the center of two raging controversies: First, of whether the police department acted improperly in investigating McDonald's death, and second, about whether top city leaders delayed charging Officer Jason Van Dyke because of political considerations. At least one person was going to be fired, and McCarthy was first on the list.
"Superintendent McCarthy knows that a police officer is only as effective as when he as the trust of those he serves," Emanuel said. "After this weekend of effectively handling the protests of the release of McDonald videotape and the handling of Laquan's killer, we talked about the fact that the trust of the police department has been eroded. This morning, I formally asked for his resignation."
McCarthy's firing comes as there is closer scrutiny of the handling not only of the dashcam of McDonald's death, but also of footage from a nearby Burger King. Some 86 minutes are missing from the store's security camera, including the crucial stretch where Van Dyke pulled up and fired 16 shots at McDonald. A Burger King district manager has said police spent hours at the restaurant, then deleted part of the tape. McCarthy blamed the gap on a technical glitch; State's Attorney Anita Alvarez, who is prosecuting the case, said there was no tampering with the tape.
Outside of the specific questions about the investigation, there's also a growing chorus—both within local media, which has been following the story closely for months, and in national media—asking why it took so long for the tape to be released and for charges to be brought against Van Dyke, who is the first on-duty Chicago officer to be charged with first-degree murder in decades. Bernard Harcourt laid out the critique in The New York Times Tuesday:
But the timing, in late 2014, was not good. Then up for re-election, the mayor of Chicago, Rahm Emanuel, was looking ahead to a contested election on Feb. 24, 2015, which would ultimately result in a runoff election on April 7. In Ferguson, Mo., a grand jury was hearing testimony on the police shooting of Michael Brown. The video of Eric Garner being choked to death during an arrest in New York had gone viral. The Black Lives Matter movement was gaining momentum across the country.
While there have been calls for McCarthy's firing, there have also been demands for Emanuel and Alvarez to step down. Those calls echoed in Tuesday's press conference, where one reporter basically accused Emanuel of using his police chief as a scapegoat. "What did Garry do wrong?" he asked. Others demanded to know what responsibility the mayor bore for not reforming the department earlier, or asked whether he would step down.
Emanuel rejected suggestions that politics interfered with the investigation.
"I have said for a long time that … upon the completion of the investigation, the video would be made public, and that is what happens four hours after the completion of that investigation," he said—helpfully omitting the fact the release had been ordered by a federal judge, and that Alvarez said she brought the charges when she did to try to guarantee public safety after the release of the video.
Have you become a distraction, another reporter asked? "I'll let you make that judgment," the famously prickly Emanuel shrugged.
The mayor, who won his second term in April after an unexpectedly close runoff election, picked McCarthy as superintendent in 2011. McCarthy was chosen after a lauded tenure as chief in Newark, New Jersey, where he worked with Mayor Cory Booker and oversaw a reduction in crime rates. McCarthy did not have the same success in Chicago, where murder rates have surged, though Emanuel said Tuesday that McCarthy had taken important steps to drive down crime and should be proud of his service. McCarthy is also co-chair of a coalition of police leaders that called for criminal-justice reform in October.
McCarthy is not the first big-city police chief to fall after incidents of brutality. In July, Baltimore Mayor Stephanie Rawlings-Blake fired Commissioner Anthony Batts in the wake of Freddie Gray's death and subsequent riots. Rawlings-Blake later announced she would not run for reelection. Emanuel, a Democrat who has had a tumultuous term in office following Mayor Richard Daley's long reign, showed no sign Tuesday that he intended to follow Rawlings-Blake's example. He said John Escalante, McCarty's deputy, would take over the force on an interim basis while a search was conducted for a new chief.