Lessons From the Mistrial in the Freddie Gray Case
A jury failed to reach a verdict on any of the four charges against William Porter, the first of six officers charged in the 25-year-old black man's death.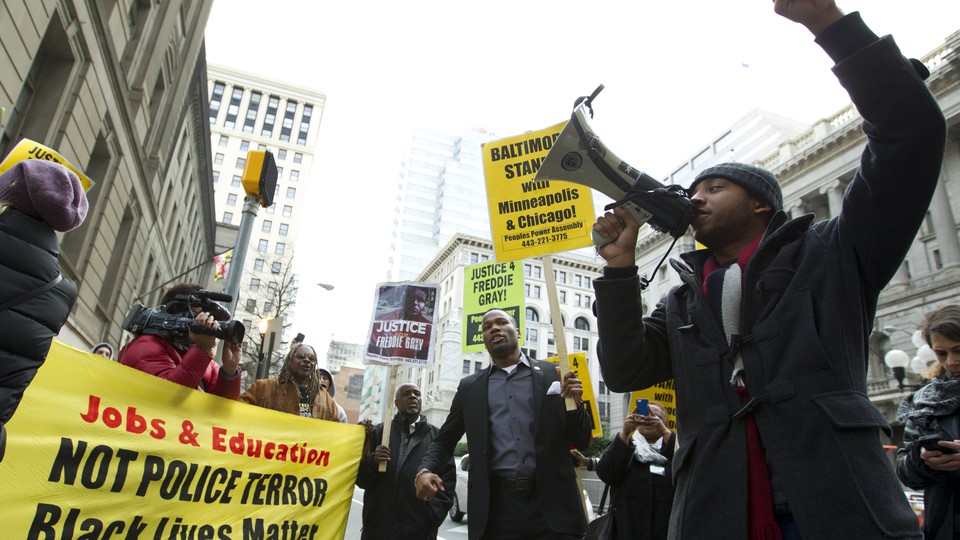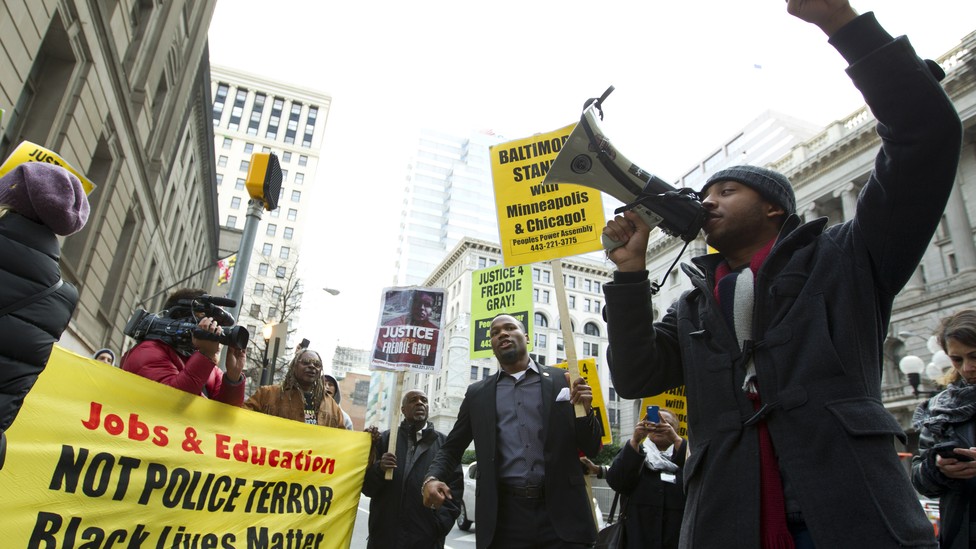 The trial of officers charged with killing Freddie Gray has moved quickly all along: The prosecutor brought charges with nearly unprecedented speed, within two weeks of Gray's death. And now the first trial has ended just as quickly, with a judge declaring a mistrial because of a hung jury, following only three days of deliberation.
It's a stunning result all around. Jurors were unable to agree on either acquitting or convicting Officer William Porter on any of the four charges he faced: involuntary manslaughter, second-degree assault, reckless endangerment, and misconduct in office. Hung juries are not unheard of; while comprehensive statistics are hard to find, they seem to occur in around 5 to 10 percent of cases. But the speed with which Judge Barry Williams decided that the jury would be unable to reach a decision took many experts by surprise.
The result is a serious blow to activists who'd hoped the trial would pave the way for new accountability for police, and it's a huge blow for prosecutors. Still, the result could have been much worse, and some observers of the trial expected Porter to be found not guilty. Lawyers for the defense and prosecution have been instructed to appear in court Thursday to discuss the next  steps, and prosecutors have already declared that they intend to seek a second trial.
In the meantime, the short, inconclusive first trial still illuminates a great deal about the Gray case, Baltimore, and the fight against police violence in general. Here are four takeaways.
It isn't enough to have officers on the beat, in the neighborhood.
It's common to hear that many of America's policing problems could be solved if there were more police out on the beat, in neighborhoods, getting to know people. The first Porter trial, and the Gray case in general, show the shortcomings of that theory. Start with the precipitating incident: Police spotted Gray and vice versa on April 12, and both he and the officers knew each other, setting the stage for mutual suspicion. When Gray ran, the officers gave chase; it's still unclear whether there was any valid reason for his arrest, though Mosby says there was not.
In a fascinating passage in the trial, Porter himself took the stand and described his own relationship with Gray.
"Freddie Gray and I, we weren't friends, but we had a mutual respect," he said, a striking image of the rapport that can develop even where police-citizen relations are strained. "If he wasn't dirty"—carrying drugs—"he'd come over and talk with me."
Porter described finding Gray injured in the back of the van in a way that might be read as either lacking perspective, or as proof of the empathy he felt: "It was traumatic for me also. Knowing I'm in the neighborhood, seeing him every day, not getting a response."
Yet this level of involvement by officers was insufficient to prevent the tense relationship with the community—and the many documented cases of police abuse.
Race is important, but it's complicated.
The Gray case comes amid a long string of examples of police violence against people of color, but it always complicated the simple narratives. In Baltimore, people of color had a long list of grievances against the police department, and there was a litany of evidence of how police mistreated black citizens. But it wasn't just black versus white. Baltimore's mayor and its then-police chief are black, as is Marilyn Mosby, the state's attorney in charge of the prosecuting the case. Although Baltimore's police department is still whiter than its population, it scores better than many big-city departments, and three of the six officers charged in Gray's death—including Porter—are black.
Jury selection in a case like this is especially fraught in a city like Baltimore, where so many members of the jury pool are likely to have come into some contact with the criminal-justice system, whether as victim, suspect, or convict. Half of the 75 potential jurors in this case fell into one of those categories. The jury ultimately included seven African Americans and five whites.
Even though the complaint of black Baltimoreans was with the police as an institution—regardless of whether individual officers were black or white—the racial dynamic in the courtroom caused some discomfort anyway. Unless and until jurors begin speaking out, there's no way to know how race affected their deliberations, but NPR's Jennifer Ludden reported on the unease over the weekend:
An African American studies professor was sitting in on some of the testimony this past week. And he said he had really mixed emotions. He was glad the state had brought charges to hold police accountable, but at the same time, he told us he was uncomfortable watching white prosecutors basically trying to discredit a black police officer.
(Mosby is black, but the prosecutors arguing the case are not.)
It's still very hard to prosecute police officers.
Very little is known about police violence; the FBI just announced a plan to track it, but that won't start until 2017. But there are reliable statistics on two things: Officers are seldom charged when suspects are killed, and when they are charged, they are seldom convicted. One gauge of the success of the police-reform movement underway in this country is whether those numbers shift over time. On a case-by-case basis, any individual case is likely to fail, as it did in Porter's trial. In an ironic twist, Judge Williams himself is a former prosecutor who tried a high-profile police-brutality case and was twice confounded by hung juries.
Prosecutors are wary of charging officers, because they rely on police to gather evidence and build cases. Juries, even in cities like Baltimore where the grievances against police are clear, are reluctant to find cops guilty unless a case is black-and-white. The jury in the Porter trial forced an especially difficult challenge; the central question of what happened to Gray remains largely unanswered.
Prosecutors focused on Porter's failure to seatbelt Gray in a police van, but Porter didn't dispute that. He just argued it was standard practice, even if it did breach departmental policy. Jurors may have been unwilling to convict Porter alone for the sins of the department at large. Yet because there are few intermediate steps for punishing officers—or at least few steps that seem to be used effectively on cops. The choice between bringing a hammer down on a defendant or letting him go scot-free has seldom seemed poorer.
The prosecutors may have miscalculated.
As soon as Mosby announced her set of charges, there were serious questions raised about them. First, she had brought them very, very quickly. Critics complained she'd done so under pressure, hoping to assuage protestors; she said her office had been investigating since Gray's injury, nearly a week before his death. Second, many observers felt that Mosby had overcharged, bringing a stronger set of charges than she could really prove. (That's hardly unusual for prosecutors.)
Prosecutors then made a second set of strategic calculations about how to bring the case. Rather than try all six officer at once, they opted to try them serially. And they began with Porter, apparently in the hope that he would be convicted and then could be compelled to testify against other officers. But whatever advantages Porter's testimony might have given them in a future trial, he proved impossible to convict—at least on the first try.
But they have said they intend to retry the case. As more information emerges over the next hours or days, it may become easier to gauge the likelihood of their success. Was the jury hung 11-1 in favor of acquitting? If so, prosecutors may not even bother. Or did 11 jurors want to convict, while one steadfastly refused? If so, Porter might still be in deep trouble. The answer will have important implications for the rest of the prosecution's strategy and hopes for convicting the other five officers—including Caesar Goodson, who faces a charge of depraved-heart murder. That answer will also have important implications for the city of Baltimore, and for the police-reform movement around the nation.
---
Related Video