A Mistrial in the Freddie Gray Case
The jury said it could not reach an agreement on any of the four charges against Officer William Porter.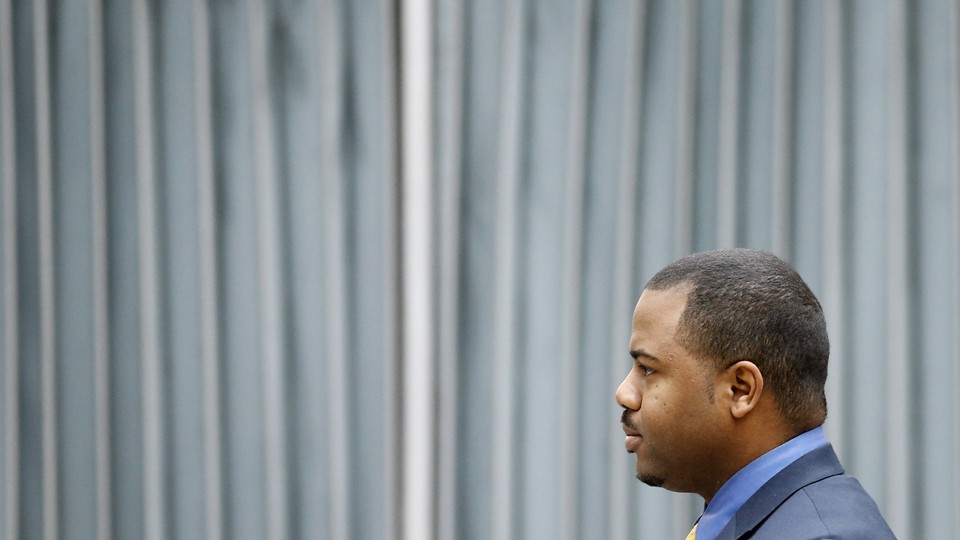 A judge in Baltimore has declared a mistrial in the case of William Porter, one of six officers charged in the death of Freddie Gray, the 25-year-old black man whose death in April while in police custody sparked riots in Baltimore.
After deliberating for more than 16 hours over three days, the jury informed Judge Barry Williams that it could not reach an agreement on any of the four charges against Porter. It's unclear how the jury was split on the charges, and unclear if that information will be made public.
"You have taken your time" and "clearly been diligent," Williams said before dismissing them, and declaring a mistrial.
The date for a new trial will be set Thursday, but the development leaves the trials—and fates—of the other five officers charged in Gray's death on shaky ground.
Mayor Stephanie Rawlings-Blake urged calm.
"In the coming days, if some choose to demonstrate peacefully to express their opinion, that is their constitutional right," she said in a statement. "I urge everyone to remember that collectively, our reaction needs to be one of respect for our neighborhoods, and for the residents and businesses of our city."
The case has deeply divided the city, and there were small protests outside the court after the judge declared a mistrial.
Background:
Gray was arrested in West Baltimore on April 12 and taken face-down in the back of a police van—handcuffed and shackled, but not in a seatbelt— to the police station. By the time he got there, half an hour later, he couldn't breathe or walk, having sustained spinal injuries. He died April 19.
It's unclear why Gray was arrested in the first place. He took off running when an officer made eye contact with him, the city said. Officers pursued—and arrested—him. They said they found a switchblade in his pocket, which is illegal under city code.
We don't know why Gray ran, though he had been previously arrested on minor drugs charges. An investigation by the prosecutor's office in Baltimore found police had no reason to detain Gray, and his arrest itself had been illegal. The knife that officers found in his possession wasn't a switchblade, and hence legal, prosecutors said. Marilyn Mosby, the city's chief prosecutor called Gray's death a homicide in May, and announced criminal charges against six Baltimore Police Department officers, including Porter, involved in the arrest. A grand jury subsequently returned indictments against the six officers.
Porter's role
Porter is the first officer to be tried in the case. He was charged with involuntary manslaughter, second-degree assault, reckless endangerment, and misconduct in office—and faced up to 25 years in prison if convicted of all those charges. He pleaded not guilty.
Prosecutors say he didn't put Gray in a seatbelt— in violation of the police department's policy—and failed to call medical aid when it became clear Gray was injured.
At issue in the case was is an officer's failure to act a crime?
During the trial, which began December 1, prosecutors alleged Porter denied Gray medical care though he was injured. The Baltimore Sun points out "the standards for winning such a case are higher than in civil court, where similar cases have landed."
So while legal experts said it's clear that police officers have a legal obligation to their prisoners, exactly what breaches of that responsibility amount to a crime remains a difficult question to answer.
They also alleged that Porter, by not securing Gray in a seatbelt, had violated department policy. But Gary Proctor, Porter's defense attorney, contended that few officers actually followed the seatbelt procedure. He noted that Porter, a native of West Baltimore, checked on Gray at a later stop and helped to pull him up on to a bench—but did not fasten Gray's seatbelt.
Porter himself told the court he didn't call for medical help because there were no obvious signs of injuries on Gray. He then said he realized the extent of Gray's injuries only on the van's final stop. He said there was mucous around Gray's nose and mouth, prompting him and another officer to put Gray in what he called a "lifesaving position" and waited until a medic arrived. And, he said, he didn't out Gray in a seatbelt in part because he was afraid Gray would gain access to his gun.
As my colleague David Graham pointed out, Gray wasn't the first person injured while riding in a police van.
In 2004, a man named Jeffrey Alston won $39 million from Baltimore after he was paralyzed from the neck down during a police-van ride. The following year, Dondi Johnson Sr. won $7.4 million after a ride left him a paraplegic. In 2013, Johns Hopkins librarian Christine Abbott filed a suit against the department for a "rough ride" after a 2012 arrest that resulted from a noise complaint. Her lawyer alleges she was not buckled and an officer drove "maniacally" as she was taken in, throwing her around the unpadded van. (Abbott is white; Alston and Johnson, like Gray, are black.) Arrestees and advocates say drivers will jam to abrupt stops and take corners hard to toss riders around. In addition to rough rides, my colleague Conor Friedersdorf notes, the Baltimore Police Department has a long and ignominious rap sheet of brutality not befitting a place that calls itself Charm City.
Impact of Gray's death
Protests, mostly peaceful, but also violent, began soon after Gray's death, another high-profile fatal encounter between a black man and police. In apparent response, Rawlings-Blake fired Police Commissioner Anthony Batts, said the city would pay Gray's family $6.4 million to settle any civil claims in his death, and, just days after that announcement, said she won't run for reelection.
Then came Mosby's charges against the other officers—charges, experts say, are stronger than she can get a conviction for.
David Jaros, an associate professor at the University of Baltimore School of Law, told Graham:
There's good reason to think that Mosby was driven by political considerations, and it's quite possible that the charges she filed against the officers are stronger than she can get a conviction for. While that's cause for concern, it's also absolutely typical in criminal cases involving defendants who aren't police...
The other officers:
Officer Caesar Goodson Jr. was charged with second-degree depraved-heart murder, which carries a maximum sentence of 30 years; involuntary manslaughter, two counts of vehicular manslaughter, second-degree assault, and misconduct in office. His trial is scheduled to begin January 6.
Lieutenant Brian Rice was charged with involuntary manslaughter, false imprisonment, second-degree assault, and misconduct in office.
Sergeant Alicia White was charged with involuntary manslaughter, second-degree assault, and misconduct in office.
Officers Edward Nero and Garrett Miller, who initially arrested Gray, were charged with false imprisonment; second-degree assault, and misconduct in office.
All of the officers had been suspended with pay. Their trials are scheduled for early next year.