'Historic' Floods in Missouri and Illinois
Forecasters said Wednesday that areas along the Mississippi River should expect more rising water.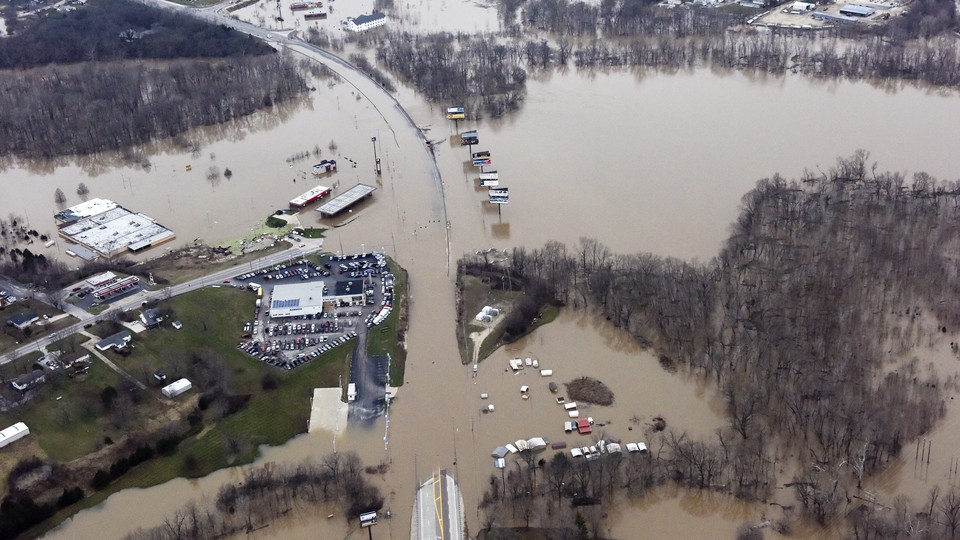 Heavy flooding along parts of the Mississippi River on Wednesday has overtaken levees, inundated buildings, submerged roads, and forced hundreds of people from their homes in Missouri and Illinois.
At least 13 people in Missouri and at least five in Illinois have died his week as a result of flooding brought on by several days of torrential rains.
In some parts of the river, the water has swelled to near-record heights set by massive flooding in 1993. The National Weather Service has predicted "historic" flooding across eastern and central Missouri and central and southwest Illinois later this week.
Missouri Governor Jay Nixon has declared a state of emergency and called up the National Guard to aid in evacuations and monitor road closures. Officials have directed residents of West Alton and Valley Park in Missouri to evacuate and seek higher ground.
Here's one of the scenes in Missouri, from the Chicago Tribune:
In southwestern Missouri, residents of about 150 duplexes and homes in the tourist town of Branson had to evacuate Wednesday when flooding from a manmade lake threatened. But the shopping district along the lake was still open, Fire Chief Ted Martin said, adding, "it has been packed with people, and I don't know where all of them have come from."

Sixty miles to the north in Pleasant Hope, the emergency management director said crews are looking for a missing motorist.

"Nobody that is living has ever seen anything like this," Rick Davis said.
And in Illinois:
Across the river, in Alton, Illinois, dozens of volunteers helped place sandbags ahead of where water is expected to rise. Mayor Brant Walker said in a statement that flooding was expected at least in the basements of the downtown business district.

The normally docile Bourbeuse River reached the roofs of a McDonald's, QuikTrip and several other businesses in the eastern Missouri town of Union, where the river reached an all-time high Tuesday.
The rising waters of the Mississippi threaten to weaken at least 19 federal levees along its shores.
The flooding comes after several days of severe weather in multiple states. Winter storms and tornadoes killed 43 people in Missouri, Illinois, and Texas over the weekend. Garland, Texas, was among the hardest hit, with tornadoes killing at least 11 people and damaged about 600 buildings, most of them residential homes.