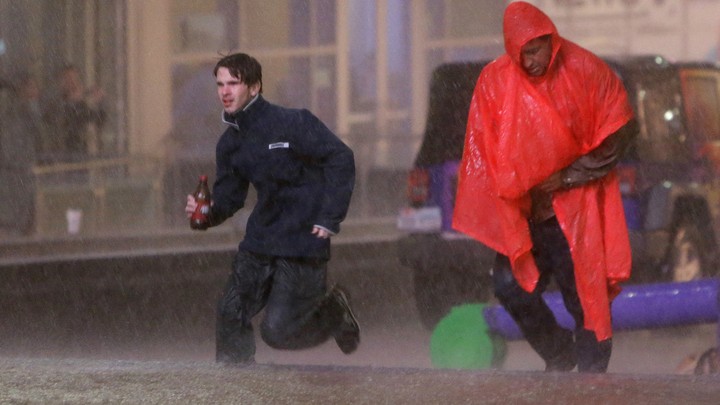 Updated on December 27 at 2:38 p.m. ET
At least 11 people are dead and thousands without power as powerful tornadoes struck the north Dallas area on Saturday night. Meanwhile, five people died in a flash flood in Illinois.
Eight of the deaths occurred in Garland, Texas, near the intersection of Interstate 30 and Bush Turnpike, police spokesman Lt. Pedro Barineau said at a news conference on Sunday. The tornado that hit at about 6:45 p.m. devastated a 2-square-mile area near that intersection. About 600 buildings were damaged, many of them completely leveled, the Dallas Morning News reported.
"It is total devastation," Barineau said at the news conference.
Photographs posted on Twitter showed multiple cars wrecked. A police spokesman told WFAA, the local ABC affiliate, that it was likely the vehicles plunged about 17 feet from a nearby bridge.
VIDEO: Part of #Garland neighborhood wiped out from #tornado. #Dallas Fire Rescue helping with search. @NBCDFW pic.twitter.com/xrjtBI5bgG

— Amanda Guerra (@AmandaNBC5) December 27, 2015
In Collin County, two people were killed in Copeville, and an infant was killed in Blue Ridge, according to county officials quoted by local media.  
About 50,000 people were without power in the region, Oncor, the local utility, said. It's unclear when power will be restored.
Dallas Morning News reported that homes and other structures were damaged in DeSoto, in southern Dallas County. Dozens of homes and buildings, including two churches, were destroyed in Ellis County, the newspaper said.
Separately, flash flooding in Illinois killed five people, Marion County Coroner Troy Cannon said. The three adults and two children drowned when their vehicle was swept away and sank in a creek on Saturday, the AP reported.
The deaths bring to at least 34 the number of fatalities from the unusual storms that have hit the country during Christmas week. Eighteen deaths have been reported in Mississippi, Tennessee, and Arkansas.
More bad weather, including a "crippling blizzard," has been predicted for the Texas and Oklahoma panhandles and parts of New Mexico. The warning is in effect from late Sunday morning through midday Monday.
We want to hear what you think about this article. Submit a letter to the editor or write to letters@theatlantic.com.