The Connecticut Governor's Executive Order on Guns
Dannel Malloy announced Thursday he would ban individuals listed on the federal no-fly list from purchasing firearms.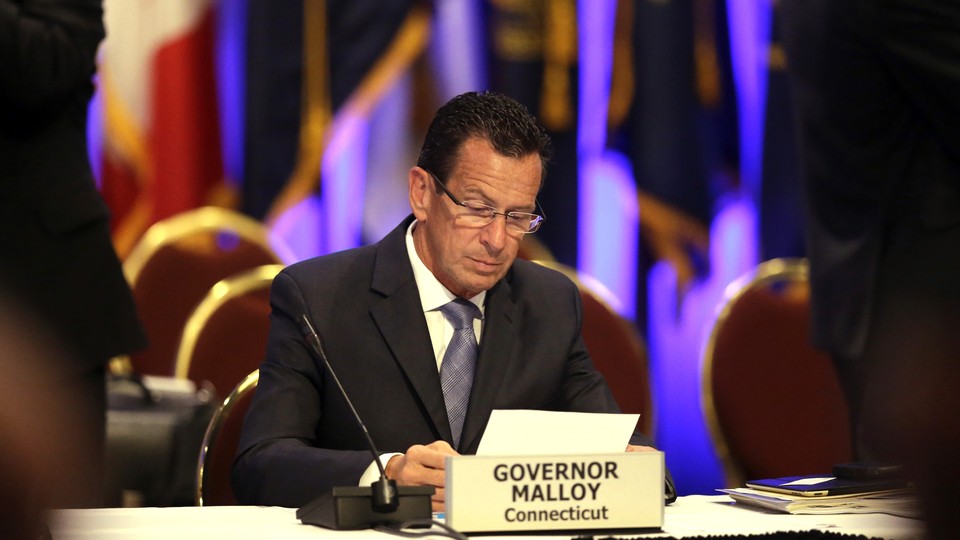 Connecticut's governor announced Thursday he would sign an executive order that would ban people on federal "watch lists" from buying firearms.
"Like all Americans, I have been horrified by the recent terrorist attacks in San Bernardino and Paris," Dannel Malloy said at a news conference. "This should be a wake-up call to all of us. This is a moment to seize in America—and today I'm here to say that we in Connecticut are seizing it."
Malloy said the order will go into effect once the White House, with which he has been working on the policy, grants the state access to some of the government's watch lists. These include the no-fly list, a roster of about 10,000 people who are barred from flying at U.S. airports because the government believes they may have ties to terrorism. The no-fly list is itself controversial, leading to, as my colleague David Graham has reported, "confusion, false positives, and outrage." Many innocent people have been placed on the list, and those on it discover their inclusion only when they try to fly.
Under Malloy's policy, individuals on watch lists would not be eligible to buy handguns, shotguns, rifles, or ammunition in Connecticut. People seeking to purchase guns in the state would need to apply for a permit, undergo a background check, and be cleared against the watch lists. Those denied can appeal the decision.
Malloy, a Democrat, said his state would become the first in the United States to implement a rule linking gun ownership to the no-fly list. President Obama has called for Congress to institute such a measure in the wake of the San Bernardino shooting last week.
"Here in America, it's way too easy for dangerous people to get their hands on a gun," the president said in his most recent weekly address. "Right now, people on the no-fly list can walk into a store and buy a gun. That's insane."
A measure that would have prevented people on no-fly lists to buy guns failed in the Senate a day after the San Bernardino shooting. Republicans argue that stripping people on the list of their Second Amendment rights is a violation of their due process.
Connecticut enacted some of the strictest gun laws in the country in 2013, several months after a gunman killed 20 kindergarteners and six staff members at an elementary school in Newtown before killing himself.
Gun-rights groups criticized Malloy's actions on Thursday.
"Governor Malloy is planning to take what is in our view unconstitutional executive action that would prohibit firearms purchases and seize firearms of individuals who have not been indicted or convicted for any crime," the Connecticut Citizens Defense League said in a statement. "While we are all concerned about terrorism, this approach is very un-American and shameful."