Next for Bowe Bergdahl: A General Court-Martial
The accused deserter, held for years by the Taliban, could face life in prison if convicted.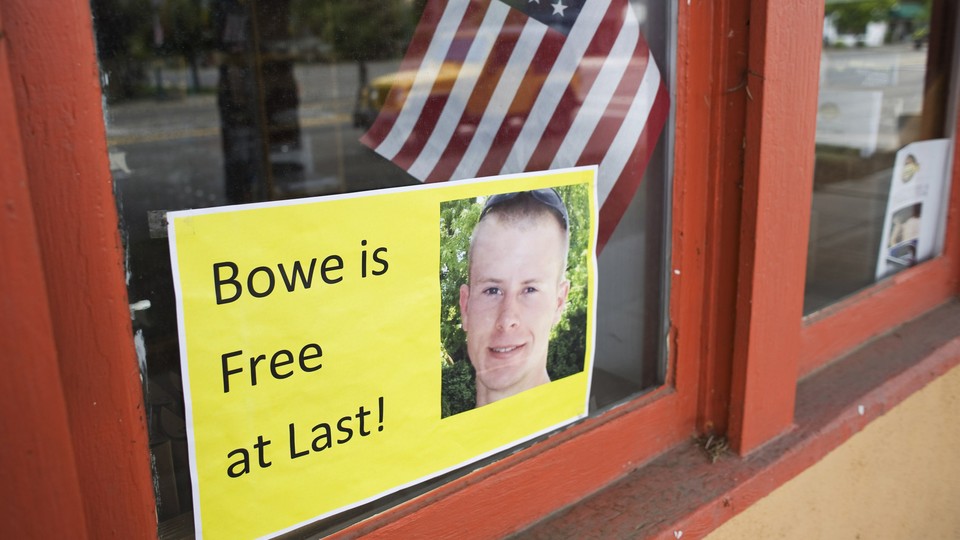 The Army will send Sergeant Bowe Bergdahl to a general court-martial despite the suggestion of an investigator, his attorney said in a statement. He faces life in prison if convicted.
Bergdahl, then a private first-class, wandered off his base in Afghanistan in 2009; whether he intended to complain to an officer elsewhere, aimed to join the Taliban, or had some other motivation remains in dispute. In any case, he was captured by Taliban fighters, held until he was exchanged in 2014 for several prisoners who belonged to the organization, and brought back to the United States.
In the spring, Bergdahl was charged with desertion and an investigative process began to determine whether to send him to court-martial. According to Bergdahl's lawyer, Eugene Fidell, the officer in charge of that process recommended that Bergdahl be subject to a special court-martial, a lesser process more akin to a misdemeanor, and not receive any jail time. But on Monday, General Robert Abrams recommended that Bergdahl go to a general court-martial instead. "The convening authority did not follow the advice of the preliminary hearing officer who heard the witnesses," Fidell said in a statement.
Some military legal experts have expressed doubts the case against Bergdahl can be proven. But the saga has become a political and media fascination. Some Republicans have assailed the Obama administration for making the exchange that freed Bergdahl, saying either the deal was too lenient—it could allow seasoned Taliban fighters to return to the field—or simply ill-begotten, and that Bergdahl should have been left where he was. The White House says it will make efforts to bring home any captured American solider.
"We again ask that Donald Trump cease his prejudicial months-long campaign of defamation against our client," Fidell said in his statement. "We also ask that the House and Senate Armed  Services Committees avoid any further statements or actions that prejudice our client's right to a fair trial."
Bergdahl's story is also the subject of the second season of the popular journalism podcast Serial, which appeared to break the news of the general court-martial via its Twitter account.