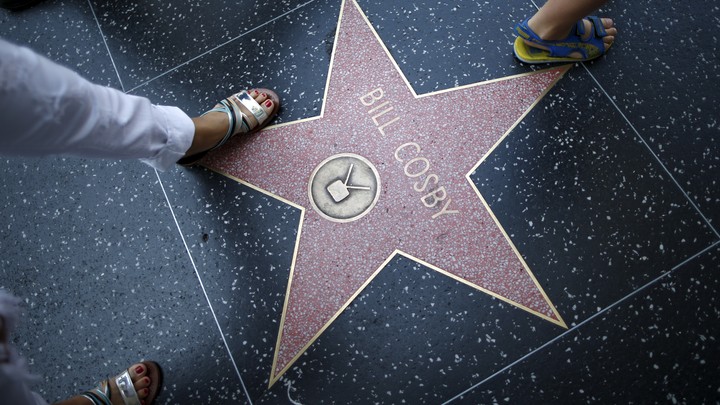 Updated on December 30 at 2:50 p.m. EST
Pennsylvania prosecutors have charged Bill Cosby for allegedly sexually assaulting a woman in Philadelphia more than a decade ago—the first criminal charge filed against the comedian after decades' worth of sexual-abuse allegations by dozens of women began to emerge last year.
Montgomery County District Attorney Kevin Steele said Wednesday at a press conference that his office has charged the comedian with aggravated indecent assault, a felony. In 2005, Andrea Constand, a former Temple University employee, told police Cosby had drugged and violated her at his home near Philadelphia a year earlier. The district attorney's office declined to charge Cosby back then, but prosecutors reopened the case in July, Steele said, after a federal judge unsealed documents from a civil suit that included testimony from Cosby about the incident.
Cosby was arraigned Wednesday afternoon. The charge comes just days before the statute of limitations on felony sex crimes in Pennsylvania—12 years—expires for this case in January.
Steele said Cosby and Constand met through her work on the Temple University's women's basketball program, and that the woman considered Cosby "her mentor and her friend." Steele said the victim had twice rejected sexual advances by Cosby.
"On the evening in question, Mr. Cosby urged her to take pills that he provided to her and to drink wine," Steele said, which rendered the victim "unable to move" and "respond to his advances."
Asked whether Constand is willing to testify at trial, Steele said that "she has indicated she'd be willing to cooperate with us going forward."
The barrage of allegations against Cosby began in late 2014, when comedian Hannibal Buress called Cosby a rapist during a recorded standup performance that quickly spread online. Dozens of women came forward, describing alleged assaults by Cosby that occurred as early as the 1960s. Women brought lawsuits against him in Boston and Los Angeles. Universities that had awarded Cosby honorary degrees rescinded the accolades, and some people demanded the removal of his star on the Walk of Fame.
Cosby, most famous for being "America's Dad" from the successful The Cosby Show, has repeatedly denied the claims. Former Montgomery County District Attorney Bruce Castor previously decided not to charge Cosby in the 2004 incident, saying that court proceedings would portray both Cosby and the victim in "a less than flattering light."
We want to hear what you think about this article. Submit a letter to the editor or write to letters@theatlantic.com.