We Should Go Fight a War. And by 'We' I Mean 'You.'
Editor's Note:
This article previously appeared in a different format as part of The Atlantic's Notes section, retired in 2021.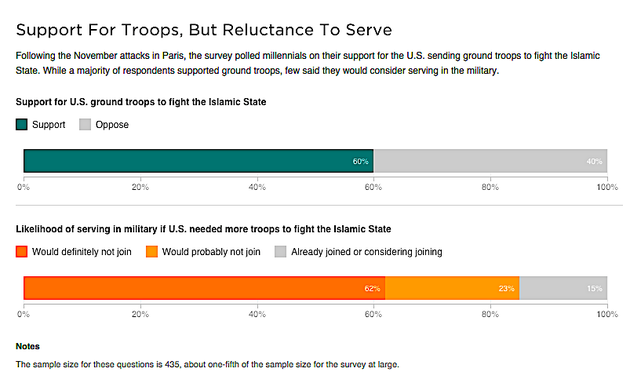 In case you missed it when it appeared last week, let me highlight this graph, created by Katie Park of NPR from data collected by the Harvard Institute of Politics GFK-Knowledge Panel (and used by NPR here). It sums up many of the themes we've been covering in this Chickenhawk thread.
The small print accompanying the graph shows that among Americans ages 18 to 29 who were surveyed, some 60% believe the United States should commit ground forces to fight the Islamic state. And among the same sample group, 62% say they "would definitely not" enlist to join the fight themselves, and another 23% said they "would probably not."
As they say in the cable-TV news-talk business, "We'll leave it there." Thanks to Jordan Steves of the Chautauqua Institution for the pointer to this story (which he did with the subject line, "Chickenhawk Nation, quantified.")
There are lots of threads to follow, but I will be offline again for several more days on a big print-magazine project. If the image above seems too discouraging to leave in this space in the meantime, I can offer instead a more encouraging recent panel by Berkeley Breathed of the revived Bloom County 2015. I've written asking to copy it but haven't heard back yet. You can see it at his site here.