An Arrest After Threats at the University of Missouri
Police detained a person in connection with threats posed on social media that resulted in the cancellation of some campus events.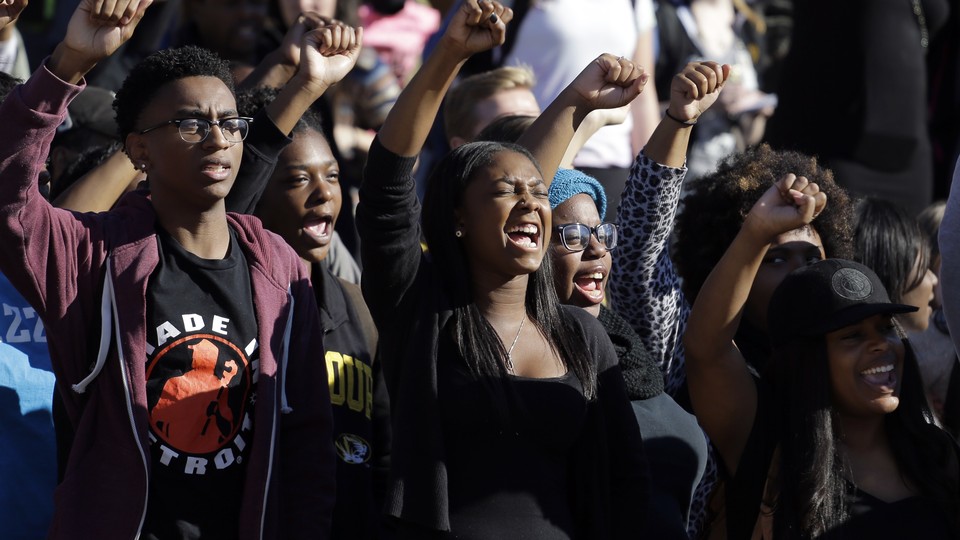 Updated on November 11 at 10:05 a.m. ET
University of Missouri police have arrested a person in connection with threats posed on social media that resulted in the cancellation of some campus events. The arrest comes two days after the university's president resigned following protests over school administrators' response to reports of racism on campus.
"University of Missouri Police have apprehended the suspect who posted threats to campus on YikYak and other social media," the police department said in a statement Wednesday. "The suspect is in MUPD custody and was not located on or near the MU campus at the time of the threat."
A subsequent news release identified the suspect as Hunter M. Park. He was arrested in Rolla, about 90 miles southeast of Columbia, the department said. Rolla is where the Missouri University of Science and Technology, part of the University of Missouri system, is located.
Following the threats Tuesday, the MU Legion of Black Collegians tweeted:
There will be NO SENATE TOMORROW. Stay home, Stay safe. ✊🏾❤️

— LBC (@MizzouLBC) November 11, 2015
The Missourian reported the university's Army ROTC "sent an email telling its students to dress in civilian clothes. … The ROTC canceled its Wednesday morning physical training session." The newspaper added:
On Tuesday morning, a threat was called in during a meeting between members of the Missouri Legislative Black Caucus and student activists at a closed meeting at MU's Gaines/Oldham Black Culture Center. Weimer confirmed the incident, according to previous Missourian reporting.
But MU Alert, the campus-wide emergency-alert website, tweeted late Tuesday:
At issue is how the administrators—including Wolfe—responded to those incidents of racism, and whether that was enough. Students made it clear the answer was no, eventually prompting the resignations.
Concerned Student 1950, the student group that spearheaded the call for Wolfe's resignation, began cleaning up the site on the school's Mel Carnahan Quadrangle where they had camped in solidarity with Jonathan Butler, a graduate student, who went on hunger strike on November 2 to demand Wolfe's ouster.
But as my colleague David Graham reported Tuesday, the story in Columbia has also become one about free speech—and attempts to limit it. The video of a crowd attempting to prevent a photographer from doing his job went viral after the resignations. Melissa Click, an assistant professor of communication, was seen in that video calling for "muscle" to remove the photographer from Carnahan Quadrangle, which the protesters viewed as a safe space.
The university's School of Journalism was planning a vote Tuesday on whether to strip Click of her "courtesy" appointment, but before that vote could take place, Click resigned from the position. Click, who teaches mass media in the Communication Department, also apologized for her actions.
The Missourian reported that Click "would be releasing additional comments on Wednesday after putting together a 'clarifying statement.'"